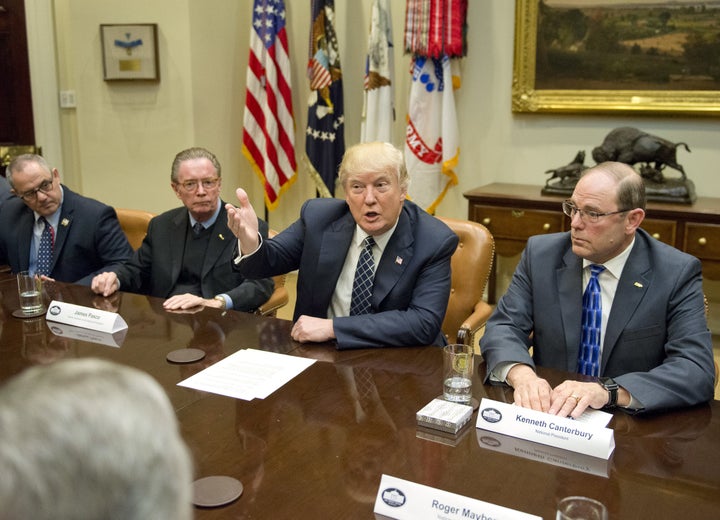 The gun violence prevention movement was thrown into utter turmoil this week after survivors and advocates learned that Everytown for Gun Safety has sponsored the Fraternal Order of Police (FOP) conference for two out of the past three years (2015 and 2017). Everytown volunteers like me are now leaving the organization in droves, disgusted that our leadership would partner with an organization that has been a steadfast ally of the National Rifle Association and defender of racially-motivated police brutality. For too long, gun control groups like Everytown have implemented top-down organizational models that treat gun violence prevention advocates like servants and gun violence survivors like fundraising fodder, giving us little or no say in our own advocacy. That must end now.
The issue is a personal one for me because I am a survivor of gun-related domestic violence. In 2012, my estranged husband attacked me at my home when our young son and my father were present. He attempted to force his way in through the front door, and when that proved unsuccessful, he opened fire. My father and I were each shot twice and injured. Thankfully, my son emerged (physically, but not emotionally) unscathed.
I felt isolated after the shooting, unable to comprehend how violent men in our society can so easily obtain firearms and ammunition (my husband was able to legally own and purchase firearms despite being under a temporary restraining order in Florida). In 2014, I found the support network I so desperately needed when I joined Moms Demand Action for Gun Sense in America (MDA) as a volunteer (MDA and Everytown for Gun Safety had merged just a couple of months earlier in December 2013). I was part of the first Everytown Survivor Network fellowship class. Suddenly, I was surrounded by other survivors who understood how I felt; what I had been through. Everytown gave us the opportunity to share our stories with millions of people across the country. At that point, I felt supported and in alignment with the organization's goals.
Over the years, however, I began to see signs that suggested I was not as empowered as I thought. For example, I was once coached to avoid authenticity in telling my personal story in order to "stay on message." I also saw that survivors who were in the national media got preferential treatment over survivors who were unknown to the public. Or the time I was harassed and threatened by an online pro-gun activist and told by Everytown staff that there was nothing they could do to help me.
Nothing prepared me, however, for the Facebook post I saw this past weekend detailing Everytown's financial support of the FOP. A friend of mine was looking at FOP's website when she noticed that Everytown was listed as a sponsor of their upcoming national conference in Nashville — right alongside the NRA, First Tactical, and Beretta — the company that made the handgun my estranged husband shot me with. She immediately informed her online network of gun violence prevention advocates and survivors, including me.
I could not believe it. For the past 20 years, the Fraternal Order of Police has supported virtually every NRA campaign to weaken our nation's gun laws. The one that stands out for me is the 1996 Domestic Violence Offender Gun Ban. The law prohibits individuals under active restraining orders and those convicted of misdemeanor crimes of domestic violence from owning and buying firearms. FOP lobbied against the legislation and even went to court after it was enacted to get it struck down (they failed).
The FOP's record on the issue of racially-motivated gun violence committed by police is equally deplorable. There are many people of color in the Everytown Survivor Network.
I could go on all day about FOP's noxious record under the leadership of executive director Jim Pasco and national president Chuck Canterbury. Let me share just a few facts:
FOP offered no support whatsoever for the (incredibly modest) background checks expansion legislation introduced by Senators Joe Manchin and Pat Toomey following the murder of 20 children and six adults at Sandy Hook Elementary school.

In 2014, Canterbury told the Washington Post that the lesson of Eric Garner's death caused by an illegal chokehold implemented by an NYPD officer is, "you don't use equal force — you use more force, because equal force doesn't get you anywhere." On the topic of Tamir Rice—a 12 year-old who was shot and killed by police while holding an Airsoft toy gun in Cleveland—Canterbury quipped, "There's nothing in American jurisprudence that says police officers are supposed to get assaulted or killed."

In 2015, Pasco wrote a letter to U.S. Attorney General Loretta Lynch requesting millions in taxpayer funding for the National Shooting Sports Foundation's controversial "Project ChildSafe" program. NSSF is the Newtown-based gun industry trade group that has opposed every gun reform proposal introduced in Congress since Sandy Hook (while supporting a slew of bills that would further gut our gun laws).

In September 2016, FOP endorsed presidential candidate Donald Trump after he promised to: 1) Oppose all gun reform legislation in Congress; 2) Rescind an executive order by President Obama limiting the transfer of military equipment to law enforcement; and 3) Refrain from speaking out against the excessive use of force by police departments against African-American citizens.
When advocates and survivors learned about Everytown's support of the FOP conference, many of us reached out immediately to their leadership and asked them to rescind their decision to sponsor a table at the event. At that point we were told that we were using "inflammatory language" and should wait for Everytown to issue a statement on the matter.
After waiting three long days for a response, on Wednesday, that statement was finally issued by Everytown President John Feinblatt. In it, Feinblatt wrote:
This past weekend we were troubled to learn that former Tulsa, Oklahoma, police officer Betty Shelby, who shot and killed an unarmed black man, Terence Crutcher, was reportedly asked to play a role at the FOP's upcoming convention. We believe the inclusion of former officer Shelby is a gesture that will only inflame the divisions that exist between communities of color and law enforcement–two groups that are critical to the goal of ending gun violence in America at a particularly sensitive moment in our nation's history.
Feinblatt then declared, "For that reason, Everytown and Moms Demand Action have decided not to participate in the FOP's conference." [Everytown's logo is now off the FOP 2017 conference website.]
No mention was made, however, of the money Everytown has already given FOP, and volunteers and survivors want that money back.
Ten thousand dollars could do so much good for survivors in the Everytown Survivor Network. It could provide us with additional training where we get to do self-care and be around each other in a healing space. It could establish a grant program for gun violence survivors out of work due to PTSD and trauma (been there myself). The possibilities are endless.
Furthermore, while yes, the participation of Officer Shelby in the conference (on a panel) is very disturbing, that is far from the only criticism that Everytown's volunteers and survivors have about the FOP. Even if Shelby had never been invited to this conference, Everytown's 2015 and 2017 sponsorship of the conference would have been wrong. That needs to be clear.
Everytown should also make an explicit apology to their Survivor Network and all their volunteers nationwide who do such a great job for the organization. This was not a close call. Anyone can tell the FOP is poisonous organization under Pasco and Canterbury. It has no regard for people of color or victims and survivors of gun violence.
On Thursday, I resigned as an Everytown Survivor Fellow after being blocked by the Survivor Network Facebook page for voicing my concerns about the sponsorship. My conclusion is that dissenting voices have no place in these organizations. You toe the line or you're out.
I feel betrayed by an organization that I've given myself and my story to over and over again. I don't think they understand how difficult it is for gun violence survivors to put themselves out there so soon after these shootings — and even years later. The people who work for them have every right to be upset, and they should be apologizing and allowing for a conversation about how we got to this point, minus the corporate speak.
Maybe this is for the best, though. Many survivors and advocates are now looking at other alternatives. Groups like States United to Prevent Gun Violence, which has incredibly exciting and authentic grassroots groups truly run from the local level, like Nebraskans Against Gun Violence. Or Jessi's Message, created by Aurora survivors Sandy and Lonnie Phillips to honor the memory of their daughter and give survivors a platform to find their voice on their own terms. Or Women Against Gun Violence in Los Angeles, whose co-chair is ex-MDA activist Hollye Dexter.
Authenticity is the future of the gun violence prevention grassroots, not top-down bureaucracy.
CORRECTION: An earlier version of this post stated that Everytown paid $30,000 to sponsor a table at this year's FOP conference. A representative of Everytown stated, "Everytown made a $10,000 grant to the lodge of the FOP's Tennessee local in Nashville, which allowed us to be at the conference." The post has been updated accordingly.
Popular in the Community