Within minutes after the Supreme Court denied hearings from seven states on their appeals to ban marriage by same sex couples, mass media began championing religious freedom. Well, actually media began sensationalizing how this historic decision thwarts religious freedom.
As ordained clergy, my ministry is directly affected by the decision.
But I prefer to call the decision validating.
In the days ahead when you read how this decision negatively affects religious freedoms- be the voice of sanity and sanctity. Media has been woefully silent on the countless large faith communities that affirm marriage between couples of same sex. Many for decades. Thus facts are a beautiful thing.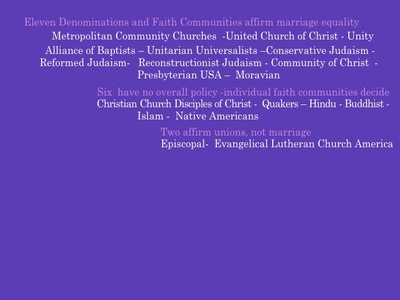 There are eleven denominations that affirm marriage equality- another six have no denomination wide stance and allow for individual regions to make the decision. And two bless unions.
What does this mean for religious freedom? It means faithful loving couples can now marry in front of their home congregation, by the minister/rabbi who has known them and supported them. It means as a minister in the United Church of Christ I can now marry the couples I have known and supported right here in honest to goodness Indiana. It means couples, together for decades, will NOT have to travel to have their marriage blessed and solemnized in another state- as my wife and I did when we could not marry in the Church where I was the Pastoral Associate, First Congregational United Church of Christ, Indianapolis. Wanting our marriage to be before God and Church we were blessed to be married at Faith United Church of Christ in Iowa City. We had a reception back at our home church.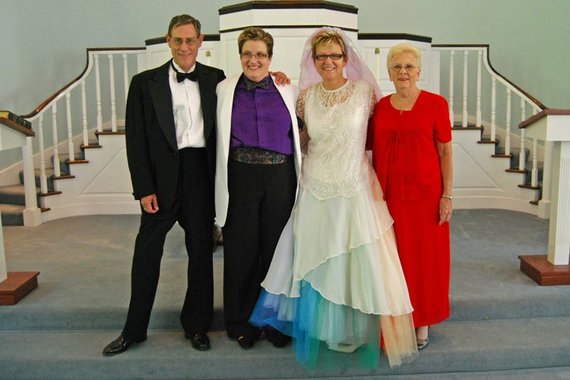 So yes! For those who want to shout religious freedom and this decision YES! For the faithful and the clergy of the United Church of Christ, Metropolitan Community Churches, Unitarian Universalists, Alliance of Baptists, Conservative, Reformed and Reconstructionist Jews, Community of Christ, Moravians, Unity, and Presbyterians USA you have religious freedom! Your denominations and faith communities have publicly supported religious freedom for years.
Then there are the Disciples of Christ, Quakers, Native Americans, Islam, Buddhist, and Hindu communities that affirm same sex marriage. These faith communities leave the decision to individual communities or regions. Buddhist and Hindu defer to the individual's conscience.
Then there are the myriads of independent churches that affirm loving monogamous relationships I rejoice with these congregations- especially The Church Within in Indianapolis, which for decades affirmed holy unions.
No, the SCOTUS decision is not about religion- it is about equality and civil rights, It also allows for religious freedom - no faith community is forced to accept a theological view - however the above named faith communities have for decades been prohibited by law from fully practicing their faith in many states.
Detractors cannot have it both ways, as they have tried. Suffice to say if you truly believe and hold freedom of religion dear- then today is a day of rejoicing.
REAL LIFE. REAL NEWS. REAL VOICES.
Help us tell more of the stories that matter from voices that too often remain unheard.