It was a few days after Labor Day in 2014, and we sat in a hospital waiting room. Our 6-year-old son, Michael, was sedated and getting an MRI, after the sudden onset of double vision and reduced eye movement. The minutes ticked along. Then, they became hours.
Finally, a team of doctors ushered us into a private room with grim expressions on their faces. It was news you never expect and for which you could not be prepared. Our previously healthy, energetic, sports-loving son was diagnosed with DIPG (diffuse intrinsic pontine glioma), a brainstem tumor that typically hits children between ages 4-11 and is essentially terminal on diagnosis. The median survival time is nine months.
Childhood cancer. Two words no one wants to hear. And doctors describe DIPG as "the worst of the worst."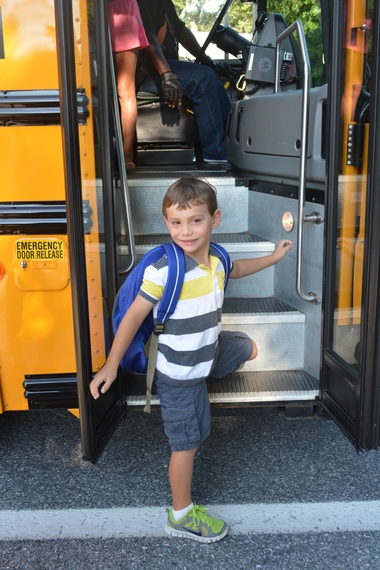 One week earlier, our son boarded the bus for his first day of kindergarten. He proudly wore his new backpack, carrying his lunch box containing a surprise note I had tucked inside. He smiled for first-day pictures while sitting on our front stoop with his little sister. One week earlier, Michael celebrated his birthday, jumping across trampolines with his friends. Now, he was fighting for his life.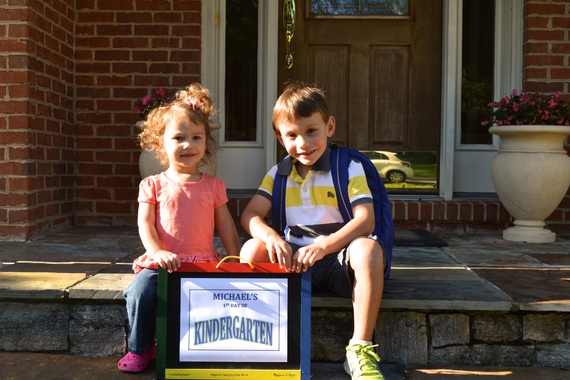 The start of the school year is one of those universal milestones that families celebrate. It is an annual new beginning, when we reflect on how quickly our children grow. Our happy start to kindergarten had turned into the end of life as we knew it.
Suddenly, I was a cancer parent searching for hope to get us through each day while facing my little boy's terminal diagnosis. I was isolated from the ordinary rhythm of life. I was busy scheduling radiation appointments rather than soccer practice. Doctors, needles, and medications consumed Michael's days rather than art class, playing on the jungle gym, and math problems. I was worried about his hair falling out rather than a fresh haircut. Life hummed forward around us, but we lived in a separate world where fear and sadness reigned supreme, despite the forced happy faces we displayed for Michael.
Michael lost the use of his left side by October and used a wheelchair for his remaining months. Each of his motor functions failed, one by one -- walking, speaking, swallowing, and, finally, breathing. DIPG steals the simple joys of childhood, while the kids' minds remain fully intact. He fought to attend school whenever he could, so desperately wanting to be a part of his class. And just three days before he died, he still wanted his teacher to do lessons in our home, even when he could not speak or leave bed. He passed away 8.5 months after diagnosis.
Our story is one of many. Many parents are worried about whether their child will make it through the school year, or to the classroom at all. And other parents, like us, start the year with the sorrow that their child is not there to get dressed in carefully selected first-day clothes. These parents are reminded that while all of their child's peers are moving on, growing, and leading their lives, their own son or daughter was in the unfortunate few lost too soon.
It is quite fitting that September is Childhood Cancer Awareness Month. The juxtaposition of the hustle and bustle of a new school year with the parallel universe where families are fighting simply for their child to survive is a poignant one. It also might make it even more difficult for families with healthy children to know how to approach the month in a way that is appropriately sensitive.
As I confronted the day-to-day challenges of supporting my child's battle with cancer, I often thought that no one could imagine what he was enduring. We felt such deep despair as we watched Michael get poked and prodded, suffer the side effects of the tumor and medications, and lose his carefree happiness -- with no power to change any of it.
But a cancer parent does not expect, need, or want you to know exactly what he or she is experiencing. Rather, families facing childhood cancer just need to feel your support. I suggest you acknowledge these families. Do not let them be invisible. Be a witness. Recognize that they may be suffering as a new school year begins, and tell them you are thinking of their child. If they have a child battling now, suggest a specific thing you can do to help the family, and follow through. Do not shy away from talking about their child for fear of upsetting them. Trust me, they are already thinking of their child and would appreciate knowing you are thinking of them also.
Regardless of whether you know a family involved with childhood cancer, you can help fight these terrible diseases. You have the power to be an advocate and a supporter. There are pediatric cancers like DIPG that steal hundreds of kids' lives every year where there is finally hope for progress, but they urgently need more resources. Donate to fund medical research. Participate in a childhood cancer event. Talk to your friends about childhood cancer. Share the stories on social media. Add these things to your back-to-school checklist this year, and you will make an impact. With compassion and commitment, you can broaden the coalition that is fighting to save these children's lives.