On a recent Thursday afternoon, a heart patient going by the username "larryri" logged into a chat room he'd been monitoring and, for the first time, typed out some thoughts to share with his online peers.
"Because 30 years ago today, a wonderful surgeon touched my heart like no one had ever done, and gave me back the quality I had lost in my life," he wrote. "How I got there and how I got here is a story for another time, but I firmly believe if it wasn't for the research supported and conducted by the American Heart Association, my story would have probably ended in 1984."
Larry in Rhode Island, as he further identified himself in that post, is actually Larry Sadwin, a former national board chairman for the American Heart Association. He's also one of the driving forces behind that website, the AHA's new online Support Network for patients and caregivers.
Larry championed that site because he's keenly aware of how everyone affected by cardiovascular diseases needs it.
He was 8 when his father had the first of three heart attacks. He was a teenager when his grandfather died of heart problems. His sister joins him as a heart patient. And their family spent 12 years caring for their stepfather after a stroke.
I'm proud to turn this spot over to "larryri" so he can to tell his story and share more insight into this valuable new online tool.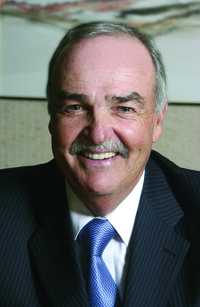 In 1964, I was a senior at the University of Rhode Island. I already was accepted to law school, and was excited about becoming commissioned as an ROTC officer. This designation meant everything because it put me in the ranks of my hero, a major in the Army Air Corps named Sherwood Sadwin. He also was my father.
Then early one Sunday morning, Mom called. Dad had suffered another heart attack. This time, he couldn't be saved. We buried him that afternoon, about eight years after burying his father, Louis, another victim of this horrible disease.
I often say that I've never met a better man than my Dad and perhaps never will. So you can imagine the void created by losing him. Yet the emotional toll was only part of the fallout. His death also rerouted my career. The Army transferred me to a standby unit because of community hardship. When I graduated in June, I didn't go to law school. Instead, I took over our family business, a textiles company.
Having lost my father and grandfather to heart disease, I should've been more aware of my own heart health. I shouldn't have smoked three packs a day for 18 years. Just because I played a lot of tennis and "looked healthy," I shouldn't have believed that proved I was healthy. I should've gotten routine physicals to find out.
You know where this is headed.
In 1982, what I thought was indigestion turned out to be a lack of blood getting to my heart. I had a condition called ischemia. It took all of 37 seconds on a treadmill for the cardiologist to recognize the severity of my condition.
In September 1984, after angina pains caused one too many ambulance rides to the hospital, I met a surgeon who said, "I will fix you." And he did, performing the triple bypass that I celebrated last month.
I wish I could say this closed the book on my medical history.
In 2001, while I was chairman of the AHA, I needed several stents to clear blockages in other coronary arteries. Just last year, I had another operation to clean up a circulation problem in my legs.
I joke that I've received happiness through chemistry and surgery. Yet I really have had a front row seat on the evolution of care for heart patients.
When my father had his first heart attack, he was loaded with morphine, put in a corner of the ER and we were told to hope for the best. After his second heart attack, he and Mom moved their bedroom from the second floor to the first so he wouldn't have to climb stairs. The care I've received over the last three decades keeps getting better, giving me hope for the future.
Early in my journey as a heart patient, I realized that the American Heart Association was a driving force behind the progress. The organization's commitment to research, awareness and education have saved and improved countless lives, including mine.
I've always felt we do a number of things very, very well for patients, such as being strong on prevention and a great resource of research information. But one area where we could improve was being there for patients and families right after an event and providing the soft touch they need -- offering a gentle, guiding hand that pats them on the back or points them in whatever direction they need to be pointed.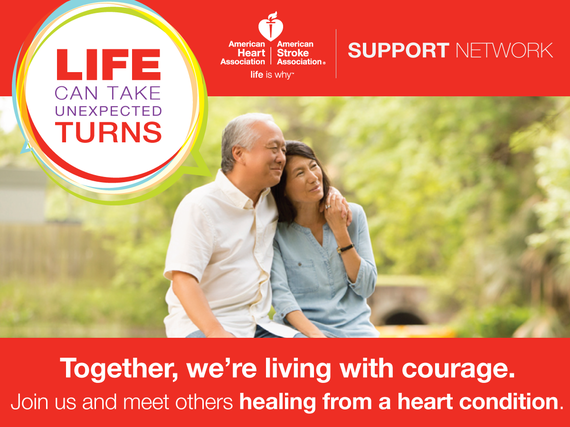 It's been said that when a patient has a heart attack, the whole family gets the disease. I experienced that as a child. It was obvious that life changed in our whole house after Dad's first heart attack. For my mother, life changed again when my stepfather had a stroke.
You learn very quickly just how different life can be on Tuesday than it was on Monday. It's not easy for anyone involved.
After my heart problems began, my wife Joan quit smoking. She and our kids Stephanie and Todd took CPR courses. There were many serious conversations. I went through bouts of depression. I was scared of getting on a treadmill again.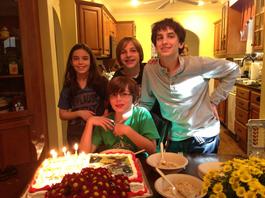 I set a goal of meeting my grandchildren, which helped. I have four grandkids now (Max and Zoe Sadwin, Michael, and AJ Masiello); alas, Stephanie has been diagnosed with high cholesterol and Todd with high blood pressure. Both have their conditions under control, but this serves as more reminders that this disease continues to stalk our family.
While this is uniquely my story, many elements are all too common. That's why all of us survivors and caregivers need a place where we can get together. And in this day and age, a virtual gathering point only makes sense.
The AHA Support Network can be whatever you need it to be. Take as much or as little as you want. Come for advice or a virtual shoulder to cry on. It's a club nobody wants to be part of, but we are, so we need to be there for each other; after all, we're the only ones who truly understand what we're going through.
I realize there are other places on the Internet where you can do this. However, a site supported by the AHA is the real deal. In addition to the emotional support, you know you will receive accurate information.
As we were building the site, I thought the peer-to-peer communications would be the lifeblood of the Network's success. I knew it to be true a few days after my 30-year anniversary post, when I received a reply from a woman named Jenny.
"As someone who is in her first four months since the 'touch of the surgeon's hand,' it's so encouraging to think about '30 years from now,'" she wrote. "There was a time in May that I wondered if I'd see tomorrow. We've all been there. Thank you again for sharing!"
No, Jenny -- thank you. And thanks to all patients and caregivers of heart disease and stroke who become part of our Support Network.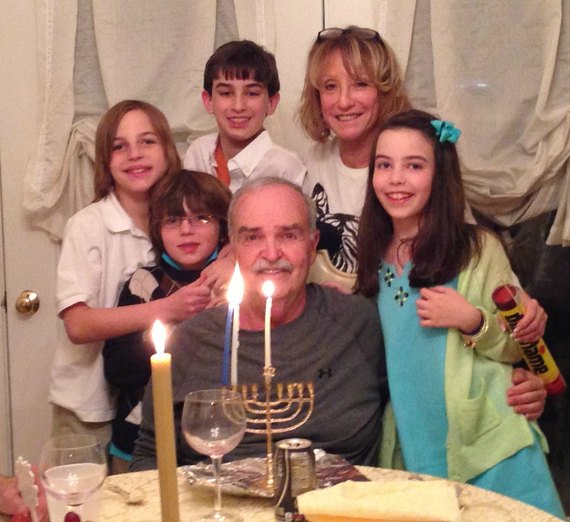 Larry, Joan and their grandchildren