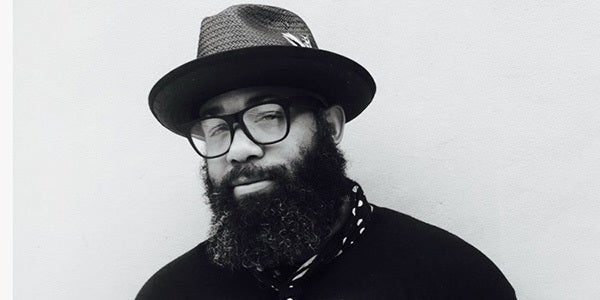 PEL of Pelnyc.com is a young, military veteran turned fashion designer and artist who has a cult-like following for his politically charged, pop culture illustrations, "The Daily Doodles by PEL". He is also the man behind designs for Reebok, Nike, Diamond Supply Co., Uniqlo, Joseph Abboud, clothing lines for hip hop artists' T.I, Pusha T and others. His latest offering, "The Final Countdown" showed him sketching the political news of the day in real time while capturing the fiery climate of a political race that would ultimately shake American history. Done exclusively for his Instagram followers, "The Final Countdown" was an artistic expression of what many people were thinking but were afraid to say while for others, it was their first news source in a razor tight election. With music granted by Wyclef Jean and an exclusive snippet from mega-producer, BINK (Jay-Z, Kanye West, Dr. Dre) sprinkled through his countdown, PEL shows us the common threads in music, politics, and art.
What has the response to your political doodles been like?
The response to the Daily Doodles has been way beyond what I ever expected. I wanted to pull the curtain back and give my audience a first-hand behind-the-scenes look at my work and thought process. I really wanted them to realize that I commit straight to paper and that once the camera is on, I draw. I do not pre-sketch anything.

As a result, I've had incredible conversations around the candidates and the political process, and random encounters with people on the street that follow my work. Overall, it's been very good and I'm proud of "The Final Countdown."
Do you view your doodles as a form of journalism?
I do consider the Daily Doodles as a form of journalism. I just try to put a unique perspective on the news. Many people tell me that I am one of their news sources.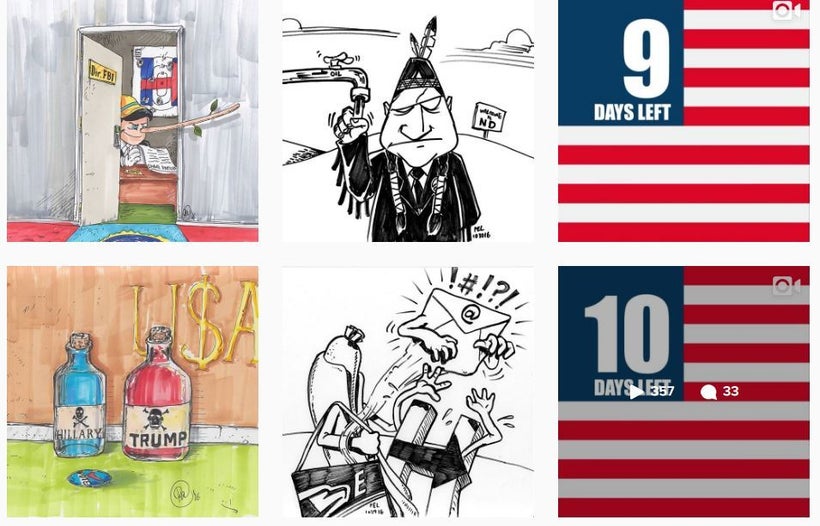 Your interest in politics and pop culture combined with your background makes you pretty eclectic. How did you get your start in Fashion?
I feel like the universe has definitely given me some favor. When I was in the Navy stationed in Virginia Beach (salute to all those who have served with me) I was trying to figure out what my next step would be. I was either going to be a correction officer like my mother or delve further into my military training dealing with computers systems and hardware. I knew I loved clothes and decided to go into fashion.
A few years later, my friend Mike Malbon of Frank151 and Frank's Chop Shop, who at the time owned one of the first Streetwear stores in Virginia Beach, arranged for my designs to be reviewed by Ralph Reynolds, Co-owner of T.I's brand 'Akoo'. That led to a position at Marc Ecko. My first day on the job was a trip to London with Marc and two others. I then began to travel around the world learning about fashion on the cutting room floors throughout Asia. I feel blessed and appreciate all those who have helped me along my journey and those I still have yet to meet.
Where do you get your inspiration when creating clothing lines or sneakers for brands like Reebok, Fila and Joseph Abboud?
Whenever I am tasked to design, I like to deconstruct the theme and or direction I'm given to make sure that whatever I am introducing is not going to dilute their core messaging. After deconstructing the theme, I am able to apply obscure concepts.
For example, I worked with Reebok on the 20-year anniversary of the Reebok FURYLITE in which they picked twenty stores from around the world to give their version of the shoe. I worked with a store called Social Status and my version of the shoe was titled "The Hornet's Nest" tied to the history of Charlotte, NC. The sneakers' original foot-liner has a picture of the Queen where the city gets its namesake, but I turned into a maze with my signature and the Social Status logo in it.
For Joseph Abboud, I focused on the consumer and wanted to do something that was edgy and could sit against their competitors. I love designing and am inspired by the logistics of building a brand while still making a great product. To me, the magic is in the details.
What are some of the celebrity brands you have worked on? One of them was Young Jeezy's brand, 8732 and the other was Birdman's Cash Money's brand, Rich Gang. I also have done work for Universal Music Group and artists on Sony Records.
Tell me about your favorite projects that combine art and fashion.
I am very proud of the work I did for the 25th anniversary of Nike's Airmax 90. The original concept was for me to just do one piece of art and a launch event but I pushed the idea and came up with 25 pieces that would span 25 years. Each work featured the sneaker and depicted important moments in news and pop culture.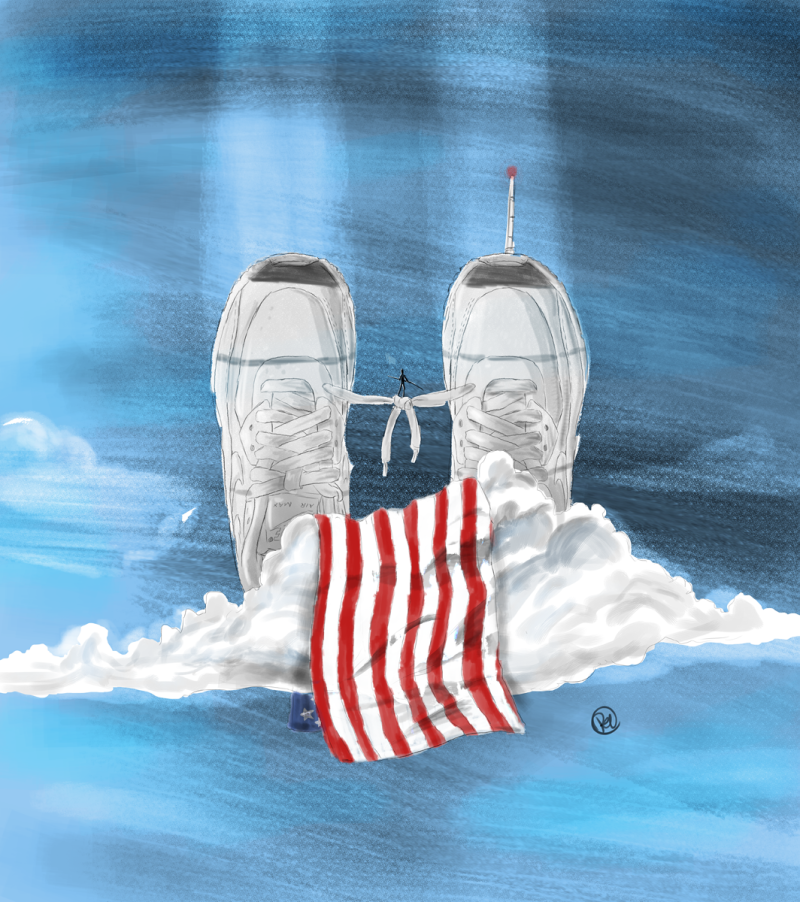 For Fila it was a collaboration with the buyer of a store called 'Wish' in Atlanta, where I was to make the sneaker look like it was tattooed that journaled his life. So I drew each one of the graphics in the same style that I do as my 'Dailydoodles' on Instagram with a marker. I also have a brand that I'm developing called MERSE where I bring some wit to each stitch. I think that there is a common thread that runs across art, fashion and music. They usually cross paths to tell the same cultural message.
When you were in the Military you created art for the nose of a top secret fighter jet that is now part of the Franklin Mint. How did that come about?
I was tasked to paint on the nose of one of the jets to commemorate the attachment and testing of the FLIR (Forward Looking InfraRed), an F-14. The pilot that flew the plane was retired Captain, Dale Snodgrass who has the most flight time on an F-14 and was a consultant on the movie Top Gun. The Franklin Mint ultimately ended up making a diecast collectible of the Flir. I also did a rendition on the Nike AirMax90.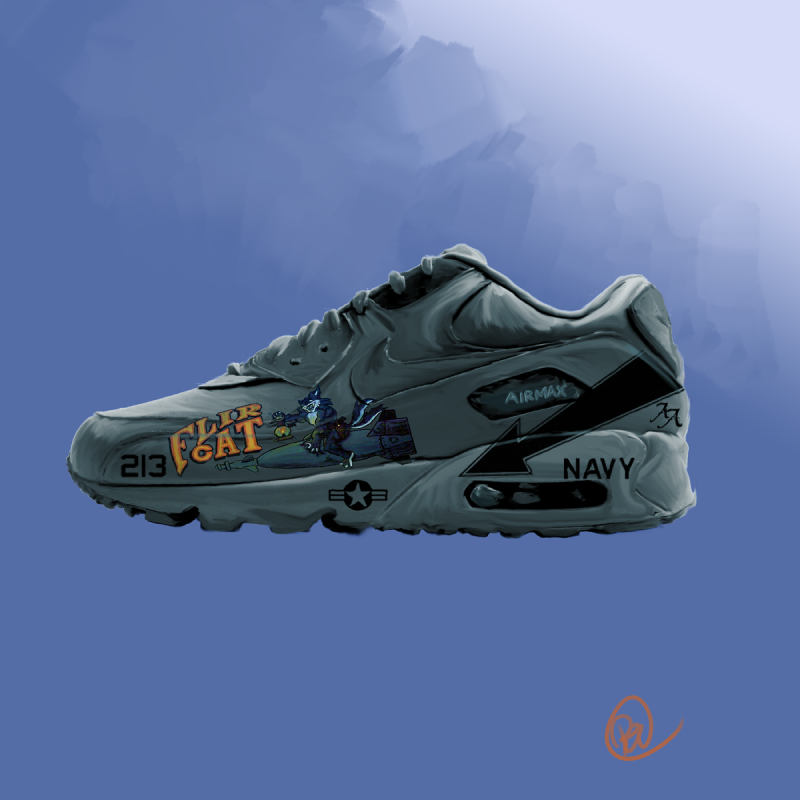 Your repertoire also includes fine art. Tell me more.
Even though some of my subject matter is from current events, I also like to pull cues from social metacognition. I love the idea of having an inside joke and multiple meanings brought forth from each brush stroke or pixel. My mediums of choice are acrylic, oil and digital. Also, when my mother passed away, I painted 62 pieces of art that I left in various places around New York City and Los Angeles for people to find as a way to commemorate her.
I have several creative ventures that I'm mixing on my palette including several art shows that are in the works. I also plan to release my new brand called MERSE. It's a collection of highly cross-functional backpacks and accessories. As a far as The Daily Doodles goes, there's a new book and a few surprises on the way.
Calling all HuffPost superfans!
Sign up for membership to become a founding member and help shape HuffPost's next chapter
This post was published on the now-closed HuffPost Contributor platform. Contributors control their own work and posted freely to our site. If you need to flag this entry as abusive,
send us an email
.