After a decade of declines, hate crimes against Jews are rising again with an increasing focus on what leaders should do in light of such developments.
A fourth wave of bomb threats struck 11 Jewish centers and schools across the nation this Presidents' Day, bringing the 2017 North American total to 69. Later, on Monday the desecration of a Jewish cemetery in Missouri, further increased pressure on President Trump to condemn the crimes. He did so Tuesday morning after a tweet by his daughter, Ivanka, a Jewish convert, on Monday:
"America is a nation built on the principle of religious tolerance. We must protect our houses of worship & religious centers."
President Trump's statement the following day addressed anti-Semitism in a short message at the National Museum of African American History and Culture in Washington:
"The anti-Semitic threats targeting our Jewish community and community centers are horrible and are painful and a very sad reminder of the work that still must be done to root out hate and prejudice and evil."
Another bomb threat came Wednesday against the New York office of the Anti-Defamation League (ADL). The previous week, the President sidestepped the issue after commanding an Orthodox Jewish reporter to sit down, while also suggesting some hate incidents were committed by his opponents. That response came after Israeli Channel 10 reporter Moav Vardi also brought up the topic earlier last week during a joint presser with Israeli Prime Minister Benjamin Netanyahu. Mr. Trump deflected his answer to invoke a broad statement detailing his electoral win.
I just want to say that we are very honored by the victory we had, 306 electoral college votes. We were not supposed to crack 220. You know that right?…And there is tremendous enthusiasm out there. We are going to have peace in this country, we are going to stop crime in this country, we are going to do everything in our power to stop long-simmering racism and every other thing that's going on.
The President had also faced criticism for his, at times, laissez faire attitude to anti-Semitic alt right and Nazi supporters who hold him in high regard; most recently for leaving Jews out of a Holocaust Remembrance Day commemoration and his treatment of the Orthodox reporter.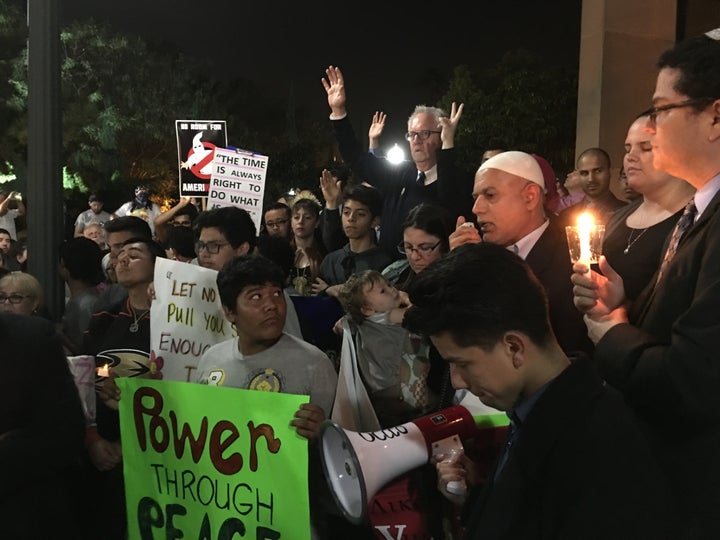 His earlier lost opportunities to denounce anti-Semitism stood in direct contrast to leaders from both previous Presidents to his own Vice President.
President George Washington's invocation of Torah imagery in a letter to Rhode Island's Touro Synagogue in August 1790, helped plant the enlightenment seeds of religious pluralism.
"Every one shall sit in safety under his own vine and figtree, and there shall be none to make him afraid."
The reference to a fig tree must have been particularly inspirational to his Jewish constituents who themselves settled in a place founded so that their Catholic neighbors could worship free from harassment. In the Midrash, a set of ancient biblical observations, there is a story of an elderly man planting fig tree despite a query about whether he would live to see it bear fruit. "I was born into a world flourishing with ready pleasures. My ancestors planted for me, and now I plant for my children," he responded.
Washington's letter continued:
For happily the Government of the United States gives to bigotry no sanction, to persecution no assistance, requires only that they who live under its protection should demean themselves as good citizens, in giving it on all occasions their effectual support.
Four years earlier future President Thomas Jefferson authored the Virginia statute of religious freedom, which preceded the First Amendment protection of religion.
Particularly in the post World War II era, a bipartisan array of presidents have have seen fit to condemn anti-Semitism. While Truman and Nixon's private anti-Semitic statements, and Reagan's public trip to Bitburg generated controversy, the morality of Judaism's role in religious tolerance was most often highlighted.
In 1953, President Eisenhower complimented those championing persecuted Soviet Jews, "You have waged a tireless fight in defense of the civil and religious rights of Jews over the span of a half-century, scarred by totalitarianism's most violent assaults upon those rights. So doing, you have served the cause of freedom for peoples of all religions and all nationalities." President George W. Bush more than a half century later in 2004 exclaimed, "This nation will keep watch; we will make sure that the ancient impulse of anti-Semitism never finds a home in the modern world." A dozen years later President Obama offered a similar message, "All nations that prize diversity and tolerance and pluralism must speak out whenever and wherever Jews and other religious minorities are attacked."
A Presidential Vice President
Interestingly, a more active condemnation of anti-Semitism this month came from Vice President Mike Pence in trips to the Dachau concentration camp in Germany and a desecrated Jewish cemetery in Missouri. There the vice president said:
We condemn this vile act of vandalism and the people who perpetrated it in the strongest possible terms. It has been inspiring to people all across this country to see the people of Missouri rally around the Jewish community with compassion. You have inspired this nation with your kindness and your generosity. Three days ago my wife and daughter and I were overseas. We saw first hand what happens when hatred runs rampant in a society. We were near Munich Germany where we visited where the first Nazi concentration camps were constructed. We were accompanied by a survivor of Dachau. A 93-year-old man who said he arrived there as a 17-year-old boy. He told us of his hellish life as we walked through that memorial.
Whether the contrast between Trump and his second-in-command is due to political inexperience, intentional insensitivity, historical naïveté, or a transactional way of approaching issues; the role leaders play in condemning prejudice appears to have real world effects. Our center's research last year showed a correlation between the occurrence of hate crimes in relation to both tolerant statements and intolerant ones by leaders.
Anti-Semitism and Hate Crime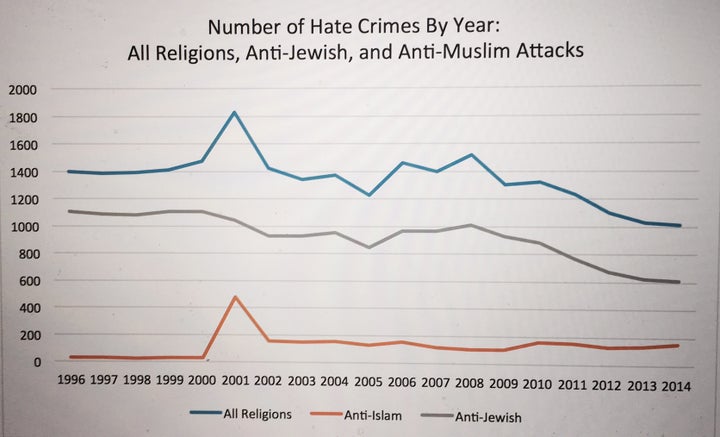 Perhaps surprising is the fact that for more than a decade anti-Semitic hate crimes were in decline. In 2015 the FBI states they rose by nine percent. Our research suggests that a substantial portion of these increases were in states with a low proportion of Jews.
Jewish Americans total almost six million people, about double that of Muslim-Americans, at just under two percent of the nation's population. Jews remain the most targeted faith community, both numerically and proportionally, accounting for 11.4% of all hate crime and 53% of all religious hate crime. In 2009, by contrast, Jews fared worse, constituting 14.1% of all hate crime incidents and 71.45% of religious hate crimes. Even with the declines of preceding years, Jews in 2015 were represented almost six times as much as a percentage of hate crime targets as they were as a percentage of the American population.
While Jews are attacked more, the overall decade trend of anti-Jewish hate crime was down, even with 2015's nine percent rise. That year's increase was the first since 2008, when incidents numbered 1013, compared to 664 for 2015, the last year for which we have national FBI figures, for a decrease of 34.5%.
The ADL, a Jewish advocacy group enumerated 941 "anti-Semitic" incidents indicating a three percent increase in 2015. The group has collected data on such cases since 1979. However, unlike the FBI sample, which is strictly limited to criminal events, theirs includes "criminal and non-criminal acts of harassment and intimidation." In New York City, home of one-sixth of the nation's Jews anti-Semitic hate crimes rose eleven percent in 2016 and have more than doubled year to date 2017 according to the NYPD.
While hate crimes are up, there is an opportunity that stems from it. A Pew survey released this month show that Jews are the most warmly regarded faith group in America, with 67% approval. We do not yet know who or how many are behind these recent crimes, but they are likely few. Nonetheless, political leaders must respond through words and deeds, so the seeds of religious liberty planted by our founders can continue to flourish. As Martin Luther King counsels, "In the end, we will remember not the words of our enemies, but the silence of our friends."
REAL LIFE. REAL NEWS. REAL VOICES.
Help us tell more of the stories that matter from voices that too often remain unheard.