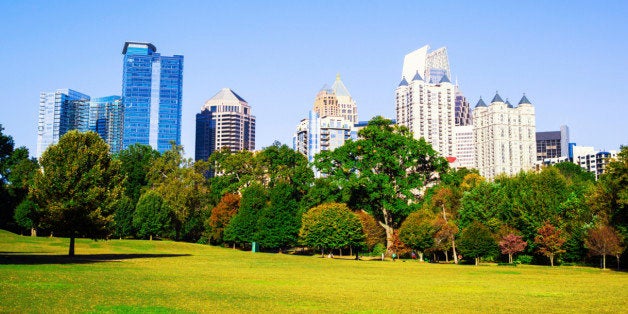 Some say Atlanta is on the rise, but ask any native* and they'll tell you Atlanta has risen. After Sherman marched through and burned Atlanta to the ground in 1864, Atlanta rose from the ashes and rebuilt itself to become the capital of the South. It's no surprise that our city's symbol is the phoenix.

The startup community has also risen over the last decade -- it's ten times more vibrant and active than it was when I moved to Atlanta in 2002: 2012 marked nearly half a billion dollars in exit value just from marketing software companies in Atlanta; In 2014, there were 15 Atlanta-based companies on the Inc. 500 list, an annual list of the fastest growing private companies in America; and today, aside from the Atlanta Tech Village, the Advanced Technology Development Center, and Opportunity Hub, there are a half-dozen other facilities in the works from Downtown to Midtown to Buckhead and into the suburbs. Entrepreneurship is hot, and Atlanta, as a real estate town, is building out a number of awesome spaces that serve every niche of the startup community.
With southern charm comes a humble nature. While Atlanta has a number of great entrepreneurial success stories, very few were known nationally -- until recently. Yik Yak and MailChimp are two examples of local standouts achieving national and international fame for their rocketship growth and unique personalities. SalesLoft and Cardlytics have risen to national fame for their business intelligence tools that help companies become more targeted and efficient. As these success stories and more like them continue to make a big splash, we'll see more credibility and interest from investors, as well as talent.
When Steve Case brings the Rise of the Rest tour to Atlanta on May 7th, all of this and more will be front and center. With visits to three entrepreneurship centers, participants will witness hundreds of vibrant young startups hustling to make it to the next level. They'll stop in Technology Square, an area of Midtown that just ten years ago was a sea of surface parking lots. Today, Tech Square exists as a nexus of innovation, bringing together talent from the Georgia Institute of Technology, a dozen corporate innovation centers, and a spurt of investment capital. They'll experience one of Atlanta's largest and most successful revitalization projects, the Atlanta BeltLine. Tour participants will hop onto bicycles and into pedicabs and take a ride down the BeltLine led by its creator, Ryan Gravel, showcasing the integrated approach to transportation, land use, greenspace, and sustainable growth. The day ends with a fireside chat, pitch competition, and party at Atlanta's Opera Nightclub, a 1920s opera house turned nightclub that has been host to internationally renowned DJs including Armin van Buuren, Paul van Dyk and Tiesto.

Atlanta has always been a home to entrepreneurs, inventors, big dreamers and world changers. The ideas and companies that have grown out of Atlanta have a stickiness about them (and it's not just from the humidity) with legacies that continue for generations. There are 28 Fortune 1000 companies are headquartered in Atlanta, with 16 in the Fortune 500. What's even more special is that extra bit of southern charm embedded in so many of our local successes. It's a commitment to paying it forward, to crossing boundaries and embracing differences. Names like King, Turner, Young, Marcus, Blank, Candler, and Carter are ubiquitous in Atlanta, reminding us of generations of leaders who went above and beyond to create an environment today that is electric with economic growth. Remember the names of the people you'll hear about during the Rise of the Rest tour in Atlanta -- those Atlanta world changers will be written into tomorrow's history books.

*Native Atlantans are a rare breed. In this case, "native" can refer to anyone who has resided here for at least a decade.