Whatever happened to "Happily Ever After" ?
It used to be – when a Walt Disney Animation Studios production came to a close – you could count on that story being neatly tied up. With the villain being vanquished and the hero & heroine getting hitched.
But now that a number of the more recent WDAS releases are opting to continue their tales (thanks to new animated series that Walt Disney Television is producing), Happy Endings are much harder to come by.
Take – for example – poor Pascal, Rapunzel's pet chameleon. You wouldn't think that a lizard that can constantly change color would even be capable of having a dark past. But – as the video above demonstrated – the writers of Disney "Tangled The Series" have decided that some pretty traumatic things happened before these two were paired up.
And it looks like the folks behind Disney XD's "Big Hero 6 The Series" (which will officially launch on Monday, November 20th with a one-hour primetime television movie) have something similar in mind for Hiro and everyone's favorite personal healthcare companion, Baymax.
As the 2014 film that this new animated series is based on was wrapping things up, after fearing that his inflatable friend had been lost forever in the void beyond that portal which Krei Tech had created, Hiro discovered the chip that his brother Tadashi had originally designed to build Baymax.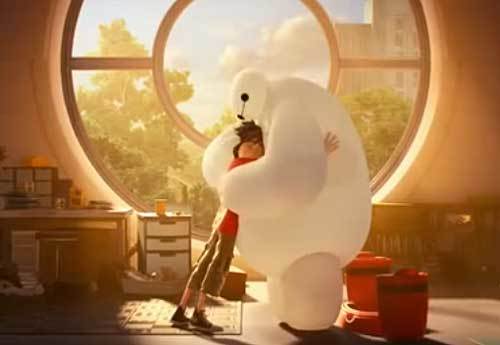 And since this Don Hall / Chris Williams movie closes with Hiro resurrecting this robot … Well, that means "Big Hero 6" ended happily, right?
Not so fast. "Baymax Returns" (i.e., the programming event which airs simultaneously on Disney XD & Disney Channel that then officially kicks off "Big Hero 6 The Series") backs this timeline up a bit. As this new animated series is getting underway, this 14 year-old prodigy is just getting started at the San Fransokyo Institute of Technology. And as Hiro sets off to rebuild Baymax, his overconfidence & penchant for taking shortcuts leads him and the newly minted Big Hero 6 team – Wasabi, Honey Lemon, Go Go and Fred – into trouble.
So does this mean we'll be seeing an evil version of that personal healthcare companion? The executive producers of this Disney Television Animation production (i.e., Mark McCorkle, Bob Schooley and Nick Filippi, the team behind the Emmy Award-winning global hit Disney Channel series "Kim Possible") aren't saying.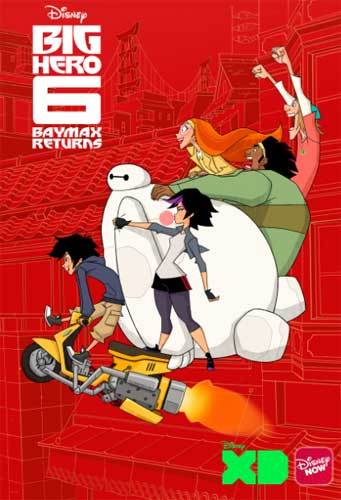 What this production team was willing to reveal that virtually the entire vocal cast of the original "Big Hero 6" film is returning to voice these same characters for "Big Hero 6 The Series." These performers included Maya Rudolph as Aunt Cass, Ryan Potter as Hiro, Scott Adsit as Baymax, Jamie Chung as Go Go, Alan Tudyk as Alistair Krei, Genesis Rodriguez as Honey Lemon, David Shaughnessy as Heathcliff and Marvel Comics legend Stan Lee as Fred's dad.
And just so you know: While "Big Hero 6 The Series" won't officially debut on Disney XD 'til early 2018, the Mouse plans on making the one-hour television movie that launches this show a huge programming event across multiple platforms. Case in point: As soon as "Baymax Returns" finishes airing on Disney XD and Disney Channel on November 20th (8 - 9 p.m. EST), two special full-length preview episodes of "Big Hero 6 The Series" will then debut exclusively on the DisneyNOW app and Disney XD VOD. Not only that, but "Pocket Baymax" -- a customizable, interactive virtual assistant which brings the character of Baymax to life -- launches on DisneyNOW that exact same day.
Hopefully being able to play with a "Pocket Baymax" will make some Disney Television Animation fans happy. Or – at the very least – distract them from all the stress that's recently entered their lives, thanks to Disney XD's "DuckTales" reboot.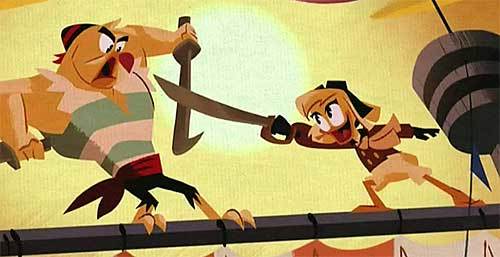 "What stress?," you ask. Don't even get me started on Donald Duck's long-missing sister, Della. Talk about your hard-to-find Happy Ending. Here's hoping that things work out better for Huey, Louie & Dewey's mother than they did for poor Pascal's mom.
Calling all HuffPost superfans!
Sign up for membership to become a founding member and help shape HuffPost's next chapter
This post was published on the now-closed HuffPost Contributor platform. Contributors control their own work and posted freely to our site. If you need to flag this entry as abusive,
send us an email
.