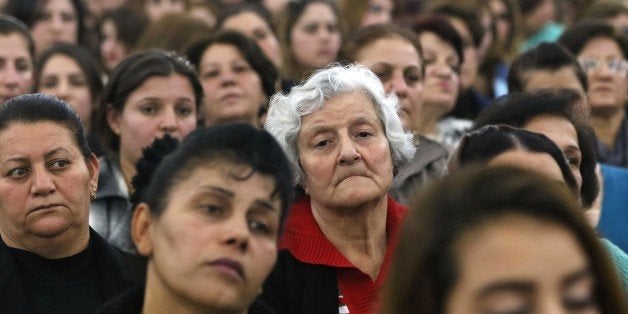 Christians Under Fire
One of the worst examples of under-covered hate is the escalation of attacks and the persecution of Christians, particularly outside of the United States, where thousands are routinely murdered and imprisoned, while their magnificent sacred churches are destroyed. Only the most egregious cases, or those involving Westerners get significant coverage.
In the United States last year there was extensive coverage of attacks involving lone gunmen. Nine were slaughtered in an anti-Christian attack at Umpqua Community College in Oregon. Nine African-American Christians were murdered during Bible study at the Emanuel African Methodist Episcopal Church in Charleston, South Carolina in June by an avowed white supremacist with a hatred of African-Americans. Another fourteen people were murdered during a holiday office party by ISIS inspired terrorists in San Bernardino.
Middle East in Focus
However, Christians in other parts of the world are the most frequent targets for agression. One has to look no further than this month's headlines for recent examples. In Iraq where the patriarch Abraham once sojounred, satellite images obtained by the Associated Press, confirmed that ISIS completely razed the nation's oldest Christian monastery, the 1,400 year old 27,000 square foot St. Elijah Monastery. From ancient monks to modern American soldiers, the site overlooking Mosul has served not only as a sacred location for thoughtful prayer, but a world cultural asset as well.
"Our Christian history in Mosul is being barbarically leveled. We see it as an attempt to expel us from Iraq, eliminating and finishing our existence in this land," Rev. Paul Thabit Habib, a Catholic priest exclaimed after reviewing satellite images. Indeed since 2003, when Saddam Hussein was toppled, Iraq's Christian population has dwindled from 1.5 million to under 300,000 today.
On a happier note, Saeed Abedini, one of several Americans imprisoned in Iran, returned to the United States Thursday, where he was reunited with his family in Asheville, North Carolina. Abedini, 35, a Christian pastor, was serving an eight year sentence in one of Iran's most notorious prisons following his conviction in 2013 on "national security" charges. He assisted in the spread of home based churches for Christians in his homeland.
Earlier this week, ISIS' glossy English language magazine, Dabiq, praised the piety of the murderous carnage of a holiday office party for our public servants here in San Bernardino last month, that has left our community both heartbroken, yet resilient. Their morally bankrupt bastardization of Islam, which strictly forbids the murder of civilian non-combatants, derisively referred to our residents as kuffar- infidels and non-believers. Interestingly, one of those wounded prayed at the same mosque as the killer. Much of the rest of the magazine was devoted to hatred and threats directed against other Muslims, both Sunni and Shia, who ISIS said deserved barbarous punishment as well.
Africa Battleground
On April 2, al-Shabaab gunmen stormed Garissa University in Kenya killing 148. They took more than 700 hostages and savagely executed those who they thought were Christian. Another al Shabaab operation in Kenya was thwarted before Christmas when an attempted bus massacre failed after Muslim passengers shielded Christians from the terrorists. One Muslim man who aided his Christian neighbors was shot to death.
Almost one year ago, 20 Egyptian Coptic Christian migrant workers and one African convert, were beheaded on a beach in northern Libya. "We will conquer Rome, by Allah's permission," a video narrator warned as he directed a knife towards the Mediterranean. ISIS has made Italy, the Pope and the Catholic church a prominent target for violence in its materials. The Egyptian government proclaimed a mourning period for its slaughtered citizens and then launched airstrikes on ISIS, and the prominent Islamic Al-Azhar University condemned the executions.
China
In China, Zhang Kai, 36, a Christian civil rights attorney who fought the mass removal of crosses from churches was arrested last August just before he was scheduled to meet with Rabbi David Saperstein, an ambassador with an independent government agency, the U.S. Commission on International Religious Freedom. China has an estimated 68 million Christians and religion there is highly regulated. In 2015 the Commission found that "In a striking development, at least 400 churches were torn down or had crosses forcibly removed and/or demolished in 2014, a notable increase over previous years." The report further found that, "People of faith continue to face arrests, fines, denials of justice, lengthy prison sentences, and in some cases, the closing or bulldozing of places of worship."
A Clarion Call
The spiraling theological savagery directed against Christians around the world should be a "clarion call" to other Christians, says David Curry, president and CEO of Open Doors USA, an organization that aids persecuted Christians." In 2015 the organization reported that anti-Christian persecution was at its highest level since they kept such records, noting that 7,100 Christians were killed last year because of their faith, an increase of 3000 from the previous year. This number excludes those killed indiscriminately in civil wars, and is limited to killings that directly involve "one's identification as a Christian."
The group, started in 1955, initially smuggled bibles into totalitarian countries, but expanded its work twenty-five years ago to catalogue acts of anti-Christian persecution. The group contends: "Beatings, physical torture, confinement, isolation, rape, severe punishment, imprisonment, slavery, discrimination in education and employment, and even death are just a few examples of the persecution they [Christians] experience on a daily basis."
They ranked North Korea as the country with the most extreme persecution where they estimate tens of thousands of Christians are in held in labor camps. All of the ten most oppressive nations have emerged from the ashes of colonialism to either poverty, authoritarian rule, civil war, or rigid Muslim fundamentalism--often to mask or promote oppression.
COUNTRY ---------- 2016 ------------ 2015
1. North Korea --------92/100 ------ ----- 92/100
2. Iraq -------------------90/100 ------ ----- 86/100
3. Eritrea ---------------89/100 ------ ----- 79/100
4. Afghanistan --------88/100 ------ ----- 81/100
5. Syria ------------------87/100 ------ ----- 83/100
6. Pakistan -------------87/100 ------ ----- 79/100
7. Somalia --------------87/100 ------ ---- 90/100
8. Sudan ----------------84/100 ------ ----- 80/100
9. Iran -------------------83/100 ------ ----- 80/100
10. Libya ---------------79/100 ------ ----- 76/100
Pope Francis Reaches Out to the Muslim World
In November Pope Francis, under heavy guard went to a barricaded Muslim neighborhood and a mosque that had been under attack by Christians in the capital of the Central African Republic to join a local Imam. Imam Tidiani Moussa Naibi, a local Muslim peacemaker had called for an end to sectarian violence that had left thousands dead. The Pope, joined him, exhorting residents to cease "every act which, from whatever side, disfigures the face of God and whose ultimate aim is to defend particular interests by any and all means." Reuters reported that the Imam told the Pope, "The relationship between our Christian brothers and sisters and ourselves is so deep that no maneuver seeking to undermine it will succeed."
As ISIS seeks to assassinate the Pope and raise its flag over the Vatican, Italy's Muslim community has responded. During a meeting with the Pontiff this week, he was invited to visit one of the west's largest mosques, the Grand Mosque of Rome. According to the National Catholic Register Pope Francis "spoke of rights that must be reciprocated between Christians and Muslims" that must be the "foundation of brotherhood, of friendship and of serious cooperation."
Protect Thy Neighbor
Our Center has rightly monitored and condemned anti-Muslim violence, as well as the growing scourge of anti-Semitism overseas, but our efforts must equally extend to Christians wherever they reside, as well as to those of all faiths, or none at all.
The promotion of religious freedoms, as well as the right not to believe, transcends politics and is a foundational bulwark of a civilized world. History has well established that when faith is systemically met with repression and violence, adherents are but the first casualty. For those concerned about the stability of our world, as well as our own protection and moral legitimacy, it is imperative that we who live in comfort and freedom, take a vigorous and unequivocal stand to protect others who can not protect themselves.
We must therefore champion the cause of our voiceless Christian brothers and sisters around the world, whose savior counseled his flock from his Judaic roots: "Thou shalt love thy neighbour as thyself. There is none other commandment greater than these." The most profound manifestation of this righteous command is the protection of our Christian neighbors from harm, whether they reside next door or at the far reaches of the Earth.
Calling all HuffPost superfans!
Sign up for membership to become a founding member and help shape HuffPost's next chapter