At 34, Shane Mandel was a military veteran, avid cyclist and father of three. When he felt his chest tighten, he figured it was a bad case of heartburn.
Just to be safe, he went to the emergency room. A doctor reviewed test results and said, "So when did you have your heart attack?"
Shane thought it was a mistake. It wasn't. Tests indicated he'd suffered a heart attack sometime in the past 10 days. He was sent to another hospital where cardiologists repaired a blocked artery in his heart.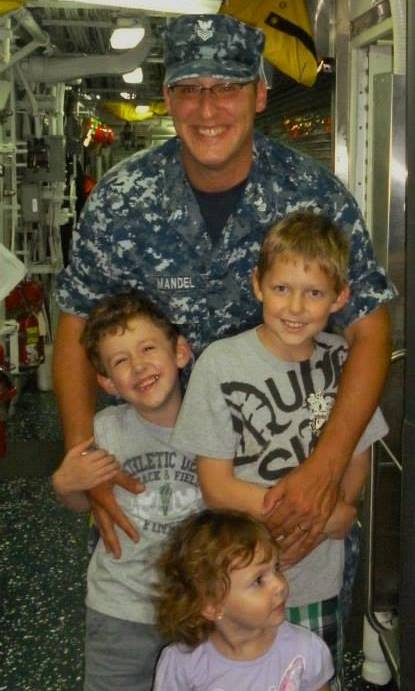 About two weeks later, he suffered another heart attack. Next came a diagnosis of congestive heart failure, meaning his heart muscle was no longer able to effectively pump blood to the rest of his body.
This story may seem improbable, a one-in-a-million chance that someone so young and fit would be stricken by cardiovascular disease.
Actually, it could soon be more like one in two.
Projections released Tuesday by the American Heart Association show that 45 percent of the U.S. population could suffer from cardiovascular disease by 2035. Annual costs related to this – both medical and lost productivity – are expected to surpass $1 trillion; that's more than all other chronic diseases, including cancer and Alzheimer's disease.
Heart disease is the No. 1 killer of Americans, and stroke is No. 5. That's taken separately. Together, they belong in the larger group of deadly cardiovascular diseases.
The burden related to treating cardiovascular diseases is growing faster than our ability to combat it due to increases in major risk factors for heart disease and stroke: the obesity epidemic, poor diet, high blood pressure and a dramatic rise in Type 2 diabetes.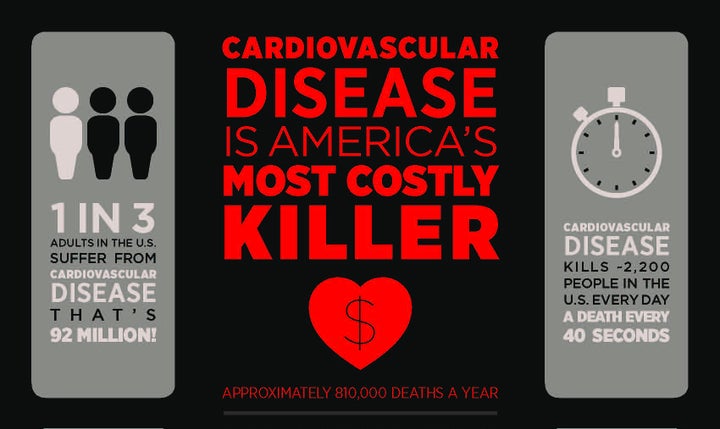 While research and prevention programs have made a difference over the decades, progress is slowing. Research shows:
From 2000-2011, heart-related mortality rate in the U.S. declined at an average of 3.7 percent per year, while stroke mortality declined at 4.5 percent per year.
Since 2011, however, mortality rates for cardiovascular diseases have flattened to less than 1 percent per year. Rates have even worsened for our most at-risk populations.
The news took an even worse turn in 2015, the most recent year for which statistics are available. The death rate from heart disease actually increased by 1 percent for the first time since 1969, according to the Centers for Disease Control and Prevention's National Center for Health Statistics.
Here's another alarming statistic from the AHA's new report:
In 2016, cardiovascular disease cost the U.S. $555 billion.
By 2035, the cost is projected to be $1.1 trillion.
These numbers paint an ugly picture. Yet they're still numbers. The real impact comes from considering them on an individual level, such as the case of Shane, our young, fit, father of two boys and a girl whose life was interrupted by cardiovascular disease in 2015.
"It changes where your focus is," he said. "You could wake up in an emergency room at any given point and have to explain that to your kids. That's hard."
As we talk about the burden of cardiovascular disease, we must consider everyone affected by his tragic news. This starts with family, of course, and radiates out to friends. It also stretches to include colleagues who must pick up the slack at work, and other community roles he's unable to fulfill. And he becomes one more patient in an already clogged medical system.
Shane never thought about his heart health until he had his heart attacks. He's learned the hard way that a family history of heart disease is a major risk factor; it's a net that can catch anyone at any time.
He also knows that research is the best way to save and extend lives. Starting with his. As payback for the help he's received, and hope for breakthroughs yet to come – for him and his children – he's become a strong advocate for more research funding.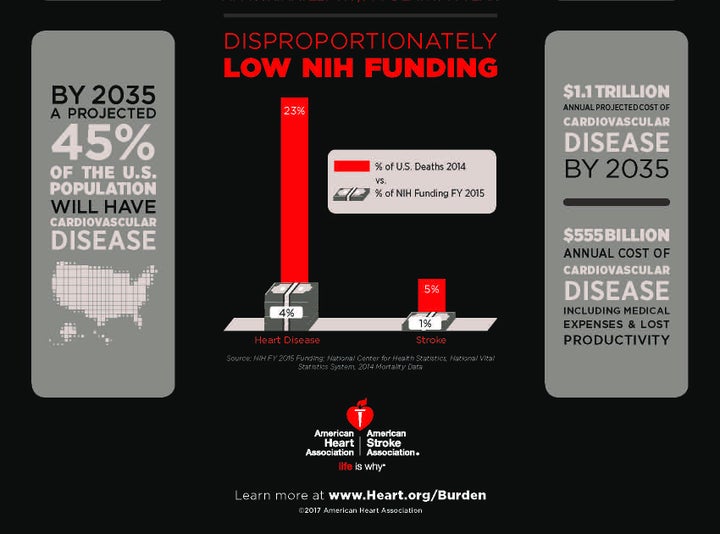 The National Institutes of Health spends just 4 percent of its annual budget on heart research, even though heart disease is responsible for nearly a quarter of American deaths each year. The skyrocketing prevalence and cost of cardiovascular disease makes adequate investment in research even more crucial.
Over the past century, NIH-funded biomedical research has helped cut the death rate for coronary disease and stroke by nearly 70 percent. Such investments are our best hope to discover innovative ways to prevent, treat and ultimately develop cures for heart disease and stroke.
"I'm alive today because of research," says Shane. "The more research we can do, the more families that don't have to go home without a dad. Wives that don't have to go home without a husband. Husbands that don't have to go home without a wife."
Remember, that 1 in 2 figure, and that $1.1 trillion toll, are only projections.
The more we invest in research and the more that prevention programs take root, the better – and healthier – our nation will be.