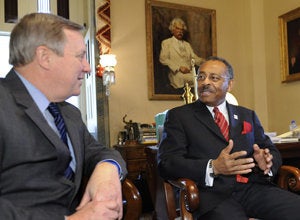 As a political storm brewed around new U.S. Sen. Roland Burris on Tuesday, fellow Illinois Sen. Dick Durbin kept mum, traveling out of the country with a man who could be a contender for Burris' seat in 2010.
Durbin is spending the week in Greece, Cyprus and Turkey, accompanied by Illinois state Treasurer Alexi Giannoulias, who is Greek.
Durbin is assessing security in the region, said spokesman Joe Shoemaker. Giannoulias spokesman Scott Burnham said Durbin invited the state treasurer, who paid for his own trip.
Illinois' senior senator, Durbin left over the weekend and has not had a chance to review any of the documents related to the recent flap over Burris, Shoemaker said.
In an affidavit released over the weekend, Burris acknowledged deeper connections to ousted Gov. Rod Blagojevich than he did previously to an Illinois House impeachment panel that impeached Blagojevich.
In statements since, Burris also has now acknowledged trying to raise money for Blagojevich.
The Sangamon County prosecutor's office on Tuesday began reviewing documents related to Burris' testimony before the impeachment panel after lawmakers called for an investigation into whether Burris perjured himself.
Shoemaker said Durbin doesn't want to comment on the Burris situation until he reviews the materials, including a transcript of Burris' testimony before the impeachment panel in January.
"He hasn't had a chance," Shoemaker said.
REAL LIFE. REAL NEWS. REAL VOICES.
Help us tell more of the stories that matter from voices that too often remain unheard.