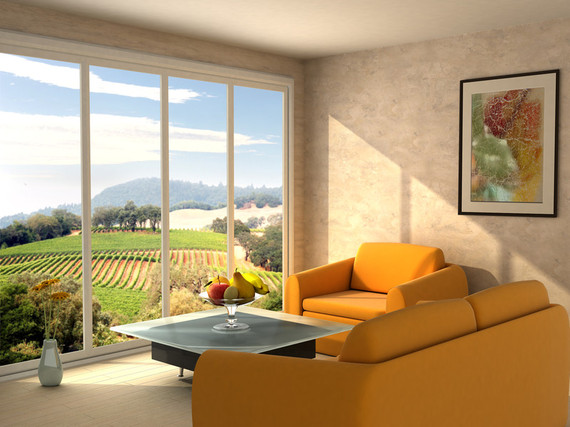 A popular saying is "As California goes, so goes the nation." It came about due to a lot of innovation in that state that spread around the country, as well as social and political movements that originated and spread from there. When it comes to real estate, sometimes it seems to be that way, other times not. This is especially true in different home price tiers. As expensive homes go in CA, trends may follow around the country. However, on the lower end, there aren't as many, so the saying doesn't apply nearly as well.
In early July, the CAR (California Association of Realtors) released their 2015 Survey of California Home Buyers. In general, the survey states that more home buyers are coming from the ranks of those who were living with their parents. There was also some buying by those who stated they were previously renters. Some other points in the survey include:
• Supply and demand rules, and there could be future inventory shortages based on the fact that more buyers are saying they plan to own their homes longer, up from an average of six years in the past to many saying they will not move for up to 20 years.
• Being tired of renting was the most cited reason for buying. This was followed by the normal list, including:
o Tired of renting.
o Wanted larger home.
o Wanted permanent home.
o Job relocation.
• 85% of buyers believed that the home they bought was worth the price paid. Around 14% thought they paid too much.
• The average down payment was 24%, and the majority cited personal savings as the source.
• They spent an average of 18 weeks in the consideration/shopping phase, waiting 14 of those weeks before contacting a real estate agent.
• The average number of offers made was down from 3.6 to 2.6, so it seems there was less competition for homes.
It's hard to see a major trend in this data, other than there is some movement back into the market by first time or younger buyers. They're tired of living at home with parents or renting. There has been some national news and survey data showing a general improvement in buyer pressure nationally. However, we're far from any real seller market situations in most markets.
The economy isn't really healthy enough to support a surge in buying pressure. Jobs are still tight, and opportunities for college graduates aren't in the salary ranges most of them expected when they enrolled. Graduation can be a depressing experience unless they have a degree in a few high demand occupations.
Even as the lingering effects of the market crash are becoming less severe, there are still a great many people out there who aren't excited about buying a home in the current market. Going into a presidential election year, there may be more indecision, a "waiting it out" attitude to see if things may get better.
More buyers should be doing some calculations as to when they will break even on the cash they invest in a home. When can they get back their investment plus selling costs? If it's seven or eight years or more, it's probably not going to be a good decision for many who aren't secure in their jobs or looking for better opportunities.
Back to the title of this article, it's really probably accurate, as there doesn't seem to be an identifiable sold trend for the home market in California. That will likely be the situation in many areas of the country over the next year or so.
Popular in the Community