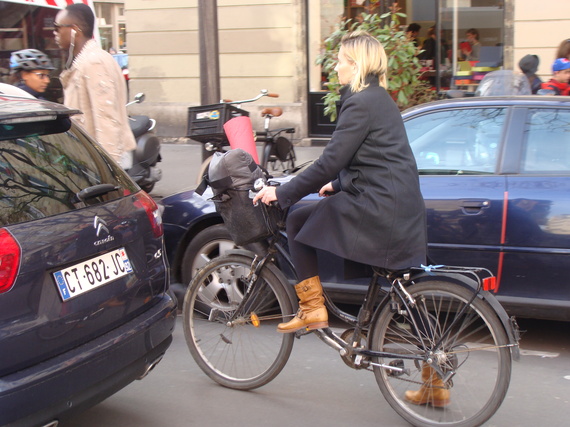 The tragedies of last month and the international climate change conference that kicks off in Paris today have me thinking a lot about Paris lately.
When I spent a college semester there in the early 2000s, I was mesmerized by the beauty of the place: the buildings dripping in architectural detail; the delicious, yeast-filled smells of my neighborhood courtesy of the corner boulangerie; the sunny plazas where Parisians spent languid afternoons in repose, chattering away in their mellifluous, lilting language in a haze of cigarette smoke. These were people who seemed born into sophistication and who looked as though they could have danced off the glossy pages of a magazine.
I returned to Paris in 2014 for the first time in more than a decade to find it mostly as I remembered it, with two very striking exceptions: smoking had been banned from a surprising number of public places and bicycles were everywhere. The City of Lights, if you'll excuse the pun, had in my absence become a city of bikes.
Unlike most of the camera-toting tourists milling about this most-visited place in the world, snapping photos of the Louvre and Notre Dame, my camera lens was perpetually tuned to the effortlessly chic women and men pedaling past me in cool three-quarter length coats cinched about their waists, carrying dogs or yoga mats, baguettes or briefcases in their baskets. They wore ballet flats, boots, and stylish tennis shoes and scarves draped around their necks in a technique I've never been able to perfect.
During my time in Paris as a college student, I can't remember ever seeing a bike. I'm sure there were a few, but I'm also quite confident that if bicycles had been any significant component of the Parisian streetscape, I most definitely would have returned to the U.S. with an urban bicycling habit to complement my monochromatic wardrobe, affinity for strong cheeses, and slightest hint of a French accent picked up on my adventures abroad.
The rise of urban biking in Paris is largely credited to the arrival in 2007 of Vélib', the city's bike share system that is now one of the largest in the world. In the saddles of the chunky, metallic-colored rent-a-bikes and on bikes of their own, Parisians have taken to the bike en masse.
In the first five years after the introduction of bike share in Paris, the number of trips taken by bike increased by 41 percent to an estimated 3 percent of all trips. As of 2015, the overall bicycle share of trips has risen to around 5 percent, around five times greater than the most recent U.S. estimate.
Paris, of course, isn't exceptional in its embrace of the bicycle, particularly in Europe, which has long excelled in promoting alternatives to the automobile. But that the world's fashion capital has hopped into the saddle in such a big way is, to my mind, quite remarkable, with important implications for the how the rest of the world views this very simple, efficient mode of transportation. To say that style and getting around by bike have not always been regarded as complementary aims is putting it mildly. And yet Paris is one of the cities proving just how very fashionable the bike can be.
"The bicycle is increasingly part of the vocabulary of street style," says Brent Luvaas, an associate professor of visual anthropology at Drexel University in Philadelphia and the author of the book Street Style: An Ethnography of Fashion Blogging. "People are seeing bikes very much as fashion accessories, not just modes of transport," Luvaas says.
The fashion and marketing worlds are paying attention. Today the bicycle can be found on billboards, beer labels, and banking ads. It serves as the backdrop for trendy mobile food businesses, is featured as "must-have" accessories in the pages of top fashion magazines, and appears in the Style section of The New York Times.
In some cases, the appropriation of the bike as marketing tool comes with unintended hilarity. The mall near my city used a smiling, attractive couple pedaling around on a bike to advertise its spring shopping push this year, never mind the fact that it's all but impossible to bike anywhere near this monument to suburban sprawl. Haute couturier Hermes, best known for its fancy scarves and Birkin bags that retail for tens of thousands of dollars, has tapped into the fashionability of bikes in a more direct way with a line of handmade bicycles that fetch around $11,000 each.
From well-known companies like Levi's to plucky upstart brands like Brooklyn-based Outlier, clothing manufacturers are jumping into the fray to create functional - and fashionable - clothing and gear designed expressly with the bicycle commuter in mind. And while the bicycling industry hasn't traditionally done a great job of catering to women's needs, increasingly, the clothing and bicycling industries are acknowledging the existence and value of the female bicycling market.
Simultaneously, fashions in some quarters are trending toward a more relaxed style. Sweats and tennis shoes once relegated to lazy weekends around the house or sweating away at the gym are getting a pricey makeover, sold for top dollar by a growing sweep of clothing companies seeking to tap the market for what the research and marketing firms have dubbed "athleisure." Call it the Lululemon effect: Increasingly, consumers, and especially millennial women, are in search of clothes that transition from the gym to the office to a night on the town.
Some wonder whether the bicycle might actually be helping to change fashions, just as it did at the dawn of the 20th century when the arrival of the "safety bicycle" encouraged women to cast of restrictive Victorian corsets and long, heavy skirts that made bicycling difficult in favor of loose-fit bloomers and other selections more conducive to physical activity.
Meantime, back in Paris, the world's fashion capital has announced plans to reinvent itself as a global cycling capital. Earlier this year, amid mounting concerns about the severe air pollution problems that have crippled the city in recent years, the Parisian government unveiled a grand, five-year plan intended to increase its cycling ranks. As part of this effort, city officials have proposed $164 million in bike-related investments that they hope will triple the share of bike trips in five years.
For the sake of our planet, one can only hope that the rest of the world is inspired by Paris' example.
Note: This post is adapted from the author's forthcoming book, Urban Revolutions: A Woman's Guide to Two-Wheeled Transportation, available through Microcosm Publishing in December, www.urbanrevolutionsbook.com.
Calling all HuffPost superfans!
Sign up for membership to become a founding member and help shape HuffPost's next chapter