WASHINGTON -- Federal civil rights officials at the Department of Justice are launching an effort to combat widespread constitutional abuses in U.S. courts in the hope of ending budget-driven policies that cripple those unable to afford fines and fees for minor offenses.
As part of the Obama administration's broader criminal justice reform push, DOJ representatives will hold a meeting on Wednesday that will bring together academics, state officials and civil rights advocates who have challenged court practices that send the poor into an endless cycle of debt and incarceration. Justice Department officials said they hope to find out how the federal government could be most effective in helping bring local court systems in line with constitutional standards, given how prevalent constitutional violations are in state and local courts.
The DOJ's focus on court fees and bail practices follows the release in March of an extensive investigation by the Justice Department's Civil Rights Division, which revealed how officials in Ferguson, Missouri, had colluded to raise revenue when they hit residents with exorbitantly high fines and fees, regardless of their ability to pay, and locked people in cages to extract money from them. While Ferguson's police department and municipal court came under scrutiny after the August 2014 death of Michael Brown, such practices weren't unique to Ferguson, St. Louis County or the state of Missouri. Even with all the scrutiny on Ferguson's municipal court, change has been slow.
But advocates who have litigated against the unconstitutional practices of local criminal justice systems, including civil rights lawyer Alec Karakatsanis, say the Justice Department needs to get more aggressive in going after public officials, law enforcement officers and judges who have set up systems that lock people up for minor offensives for the purpose of generating revenue.
"The number one thing that DOJ could do is to start actually prosecuting people for these conspiracies to violate peoples' constitutional rights," said the co-founder of Equal Justice Under Law, which has successfully challenged unconstitutional local court practices.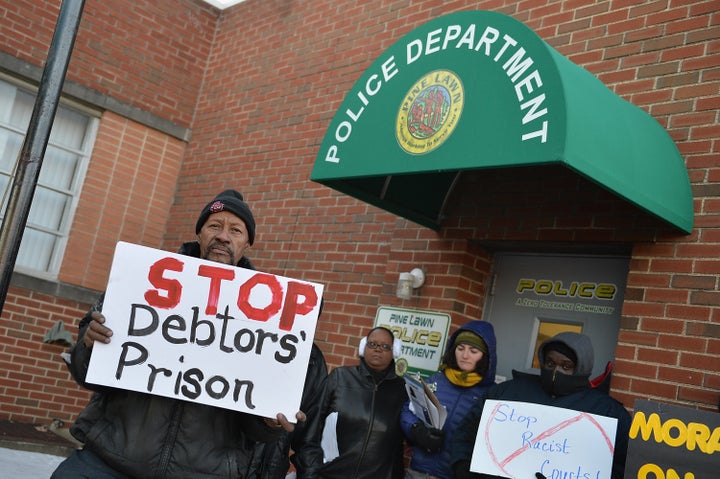 "We often talk about how we're a society based on the rule of law, but local government officials have, for years, been allowed to trample the law with impunity."
Karakatsanis, who worked as a public defender before he co-founded Equal Justice Under Law with a fellow Harvard Law graduate, said the federal government has "completely stood on the sidelines," as local officials have been "blatantly disregarding" the law all over the country.
"I don't think we can pretend like the players in the system are ignorant about the impact of the system. So it's not a question of 'Do they understand the Constitution?' 'Have they been given guidelines?' It's a question of holding them accountable to it -- and DOJ can play a massive role in holding them accountable," Harvey said.
"I'm past the point of giving the benefit of doubt to a lot of the players in the system. I don't think it's reasonable to conclude that they didn't know what's going on."
Harvey said working with those in the system can be effective in many other areas, but litigation is necessary when it comes to court fees and fines -- and DOJ "has the authority and power to really lend their name and their credibility to that work."
"There are too many jurisdictions where fees and fines pay for public defender, prosecutor and judge, so the system is pretty compromised as it stands," he said.
"Everybody knows that you can't lock someone in a cage just because they can't afford to pay"
A 2010 American Civil Liberties Union report on debtors' prisons, co-directed by current Civil Rights Division chief Vanita Gupta, made a similar point, as it found that courts had viewed fines and fees as a "critical revenue stream" and assessed them "in ways that clearly reflect their increasing reliance on funding from some of the poorest defendants who appear before them."
For now, it seems unlikely that the Justice Department will litigate or prosecute officials who ignored constitutional requirements as they used their judicial systems as ATMs. DOJ officials said there's a lack of research into court practices and national data that would make it easy to identify jurisdictions that generated a large portion of their budgets from fines and fees. Just this week, the Sunlight Foundation and Muckrock launched an initiative to gather that type of information.
Justice Department officials indicated they will focus their efforts on highlighting the work that outside organizations have done on a state and local level and incentivizing local jurisdictions to move away from fines and fees that lead to unnecessary incarceration. Much
like the MacArthur Foundation's Safety and Justice Challenge
, that effort could draw criticism from some advocates who say such programs essentially reward jurisdictions that have engaged in unconstitutional behavior.
The Office of Civil Rights within the DOJ's Office of Justice Programs is reviewing several complaints against jurisdictions which have received federal grants to determine whether their pre-trial and bail policies violate federal law. One topic that could be discussed Wednesday is whether the Justice Department should assess the practices of police departments before they receive federal grants, a suggestion
former Attorney General Eric Holder believes should be considered.
An event at the White House on Thursday will follow Wednesday's meeting. It will feature Attorney General Loretta Lynch, The Wire creator David Simon, Michael B. Jordan and political advocate Grover Norquist. One of Harvey's clients, Qiana Williams, will also attend. The homeless single mother spent weeks at a time in jail over traffic tickets in St. Louis County and was
once arrested after she called police for help
when she reported that her former boyfriend had hurt her. Harvey and Karakatsanis hope the White House event will trigger legal action against the types of systems that led to Williams being jailed over unpaid fines.
"Everybody knows that you can't lock someone in a cage just because they can't afford to pay, let alone develop an entire municipal government policy to do that to raise revenue," Karakatsanis said. "When you think about what they're doing, it's really grotesque. And that's happening all over the country."
Support HuffPost
The Stakes Have Never Been Higher
Popular in the Community