There's a rapid increase in the number of doctors and aid workers volunteering to serve in the nations hit hardest by the Ebola epidemic. Will these volunteers be protected by the aid organizations, or left to fend for themselves? According to African news site BellaNaiji, 591 Nigerians have volunteered to work with an international volunteer group that will be deployed in Liberia, Sierra Leone, and Guinea. "Before we allow them to leave, certain conditions must be met," said Nigerian minister of health Onyebuchi Chukwu. "They have to be given proper training on how they would avoid the disease [to] ensure that they don't get it."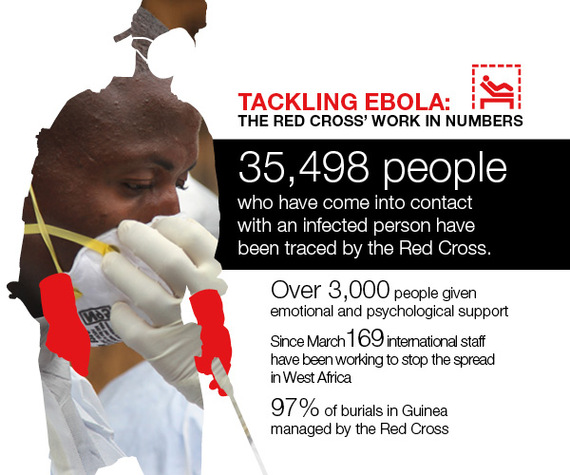 The nurse was put under observation and entered into quarantine. On October 9, officials confirmed that Kovack had tested negative for the virus. Australian politician Bob Katter responded to Kovack's scare with harsh words, calling it "unbelievable and incomprehensive" that his nation allowed a volunteer to re-enter Australia after coming into contact with patients in Ebola-affected regions. "There cannot be any compromise with this," said Katter. "We love these people...but compared to the risk they create for our country, it is not remotely comparable. One person's humanitarian ambitions are being carried out at a very grave cost." The New York Times described the "long period of paralyzing fear" that prevented many doctors and nurses from volunteering in affected African regions, noting that "even though money is now pouring in...There is likely to be a long gap before those hospitals can be fully staffed to care for the growing numbers of people with Ebola." "A month ago [in August], these agencies...had almost no volunteers," the New York Times reports. Citing examples in multiple categories, Unite for Sight, an international organization for eye health, warns that "international volunteer work that does not follow best practice principles can be wasteful, unethical, and harmful. Furthermore, these worst practices often violate concepts of social justice and human rights." In the face of a clear push for volunteering efforts but international safety controversies, can Ebola volunteers expect to receive fair treatment abroad?
I contacted Homayon Ghassemi at healthcare non-profit
International Medical Aid
(
) for further insight.
Q: Are international aid organizations taking care of their volunteers?
A: By and large, established and reputable NGOs and medical aid organizations go to great lengths to ensure the safety and well-being of their volunteers and in-country staff. Unfortunately, companies in the burgeoning "voluntourism" industry, particularly those organizing healthcare electives abroad, often do not exercise this level of discretion. These elective businesses are profit-driven organizations that care little for the safety of their volunteers or their impact on local communities.
Students and doctors are often dropped into large public hospitals in foreign countries with very little structure or training. Surrounded by infectious diseases and unfamiliar customs, this arrangement creates a very dangerous environment for both elective participants and the patients in these hospitals. Q: Is the Ebola outbreak revealing issues with our health system? A: The current Ebola outbreak is exposing weaknesses that exist in infection control education and training not only in America but also in healthcare systems around the world. Doctors and nurses working in foreign countries must assure that they follow best practices when coming in contact with Ebola patients. It is the responsibility of these volunteers and aid organizations to stay updated on the most recent infection control recommendations.
As these courageous healthcare workers return home, we must not stigmatize them by forcing mandatory quarantines for those showing no signs of Ebola. These unnecessary quarantines do little to prevent the spread of this disease, while simultaneously discouraging others from volunteering in West Africa. Make no mistake; the work of these volunteers in West Africa is vital to protecting lives here in the United States.
Q: How should volunteers decide which organization to work with?
A: With an ever-increasing number of NGOs, it is important for volunteers to select organizations with a proven track record and one whose values and mission align with their own goals. Before selecting a partner organization, here are some basic questions to ask:
What is the structure of your programs? Will there be in-country support? Will my family back home have a single point of contact in case of emergencies?
What does your program fee include? Will there be additional registration fees? What other expenses should I plan for?
Will there be designated transportation available?
What is your post-exposure protocol? Will there be post-exposure prophylaxis kits readily available? Are these kits included in the program fee?
Do you provide accident and medical evacuation insurance for volunteers?
Q: How can health aid organizations better equip themselves for the Ebola outbreak and the corresponding demand for volunteers?
A: The key to properly handling any outbreak of infectious diseases is education and continuous monitoring. Medical aid organizations must provide each of their volunteers' adequate protective equipment and training on globally accepted infection control protocols and assure that these procedures are consistently followed. As we have seen with the recent cases in the United States, even small deviations from best practices can expose healthcare workers to the Ebola virus.
As international healthcare organization ramp up their ebola efforts, compassionate and competent volunteers respond in kind. It remains to be seen whether or not leading ebola relief collectives will rise to the challenge with solid safety protocols and comprehensive volunteer protection.
Related
Popular in the Community