Over 100 Local Flood Action Groups Mobilizing Across U.S.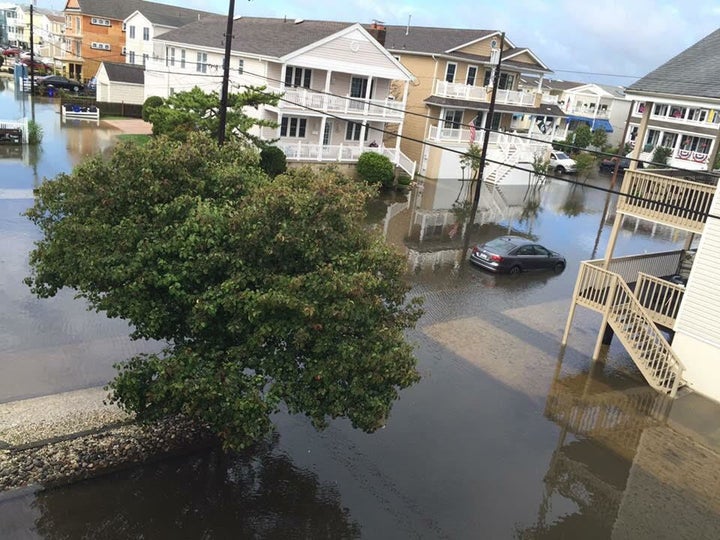 Suzanne Hornick lives year-round in Ocean City, New Jersey, a small barrier island that swells with tourists in the summertime. And every summer, Hornick says she hears some of those tourists screaming on her street.
They'll drive into town, park their car wherever they can find a space – say, near Hornick's home – spend a week at their rental on the other side of the island, and then return to find their car damaged by flood water.
"It floods here whether it rains or not," Hornick says. About once a month come high tide, she says water from the bay and the city's storm drains bubbles up through the cracks in the pavement – the city's infrastructure unable to contain the water. The whole island doesn't flood, but Hornick says her street is like ground zero, and the city won't put up signs.
"They don't want to scare the tourists," she says. "But I can't stand to hear the people screaming and crying."
So Hornick, like countless other flood victims across the country, has tried to take matters into her own hands.
She and her neighbors started a grassroots group – on Facebook it's called "Ocean City, NJ Flooding" – that supports fellow food victims and lobbies the city to address the flooding issues. The group, now about three years old, has more than 1,000 members and is one of dozens like it across the United States.
The networks vary in size and purpose. Some are three members strong; others 41,000. Some organize class-action lawsuits; others coordinate donations or focus on education. But they've all formed out of a common need: Flooding is on the rise in this country. It's a problem on the coasts and in floodplains, where hurricanes strike or where rivers surge, but also in inland, unsuspecting towns, where infrastructure's aging, concrete surfaces are spreading, and sewers back up any time it rains.
The 2014 National Climate Assessment reported that from 1976 to 2006, inland floods caused more damage annually than any other severe weather event – averaging $6.9 billion per year. According to NOAA, the U.S. experienced four billion-dollar inland flood events in 2016, doubling the previous record. No more than two billion-dollar inland floods had hit in one year since 1980. And along the U.S. coastline, the average risk of a 100-year flood will increase 40-fold by 2050, according to a new study by researchers from Princeton and Rutgers universities.
"The challenge is, there's a lot of people who put papers out [on flooding]," said Gerald Galloway, a University of Maryland engineering professor, former Army Corps official and one of the nation's foremost water management experts. "But people don't read them. We need eyeball-to-eyeball, person-to-person contact – groups coming together and addressing these issues."
Galloway's now on the advisory board of a Chicago-based organization called Flood Forum USA, whose mission is to support flood groups across the country and build awareness around the effects of climate change. Since its April 2017 founding, Flood Forum has identified more than 100 flood and storm water groups in 29 states.
There's "Stop Elmhurst Flooding Now," a suburban Chicago contingent that started in 2014 after years of frequent floods, and in 2016 helped convince their city council to approve $5 million worth of flood control projects. "Citizen Solutions to Houston Flooding" organizes a monthly speaker series that connects flooding experts – including government officials, professors and nonprofit leaders – with concerned citizens. "White Sulpher Springs Flood 411" formed after a devastating West Virginia flood in 2016, and has distributed over 40 trucks' worth of supplies to the victims.
Flood Forum's leader, Harriet Festing, is on the hunt to determine what kind of support and services these groups need to be more successful, and to try to make that a reality. She's offered training materials (like "How to get politicians to do things for you"), tracked down free sand bags and refurbished levee units, and offered recommendations for those dealing with FEMA or insurance claims.
Most recently, Festing forged a partnership with the American Geophysical Union that's providing pro-bono hydrologists to the flood groups. The hydrologists help develop floodplain management plans and help the groups get support from state and federal agencies. So far, eight groups have started working with the hydrologists. Hornick's Ocean City group is one of them.
And her group's made progress, even before Festing came along. They've written letters, made phone calls, took out newspaper ads, put up signs, designed T-shirts, started a petition and photographed and tracked the city's flood problems. Ocean City ended up committing $6.5 million to flood projects in one area of town.
"They're going to dig up all the roads, lay brand new pipes, add catch basins, make sure the check valves work, add four pumping stations. I have some hope that this well help," Hornick said.
But she and her group are still pushing for more.
"We want to get the flooding fixed across the city," Hornick said. "That's going to be a billion-dollar endeavor by the city, but we are all volunteers. No one's a professional or an activist. I'm just a mom with three kids who doesn't want my house to deteriorate, and I don't want my kids to walk through polluted water. That's why it started and that's where it stays."
Related
Popular in the Community