Last week, a new study by the National Audubon Society found that if global warming continues on its current trajectory, 314 U.S. and Canadian bird species -- more than half of the 588 species studied -- could lose 50 percent or more of their current territories by 2080. Many could lose so much ground that they will face extinction.
As global temperatures rise, as weather patterns shift, as vital bird habitats dwindle and disappear, familiar and beloved species will leave for more suitable locales or die out completely.
Maps courtesy of National Audubon Society.
According to our data, the Common Loon will likely abandon Minnesota, where it is the state bird. The Bobolink, a grassland bird, will find itself marooned in the boreal forest zone of Canada. Will it find the right kind of food and shelter; will it learn to cope with new predators? We've injected major new variables and uncertainty into an elegantly balanced web of life.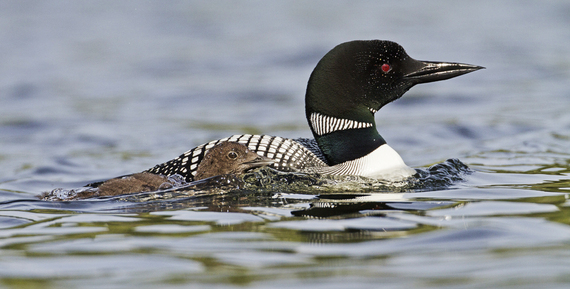 Common loon. Photo: Melody Lytle, Audubon Photography Awards.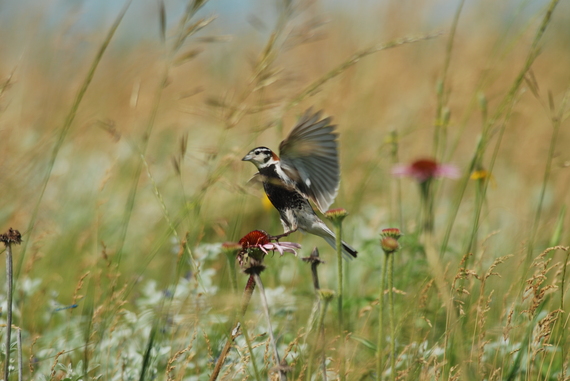 Chestnut-collared Longspur. Photo: WCS.

This litany of ills is alarming -- and not just for bird lovers. The things birds need -- clean water, clean air, predictable natural systems -- are the same things our kids expect us to leave for them.
Audubon ornithologists analyzed 30 years of North American climate data and tens of thousands of historical bird observations from the Audubon Christmas Bird Count and U.S. Geological Survey's North American Breeding Bird Survey to understand the links between where birds live and the climatic conditions that support them.
Understanding those links allows scientists to project where birds are likely to be able to survive -- and not survive -- in the future. The message is clear: We have to preserve and protect the places birds live, and we have to work together to reduce the severity of global warming.
Get past the politics. This isn't a Democratic or a Republican issue -- it's a bird issue. Historically, conservation hasn't had a party. Birds are common ground. We know our members agree. Four in 10 of Audubon's grassroots members identify as independents or Republicans. When we asked our members if Audubon should or must address climate change, 91 percent said, "Yes." That consensus, from a range of political voices, tells me that we all see birds in a similar light: as windows onto the health of nature, as unique and marvelous animals, and as part of the world we're obligated to care for.
Protect bird strongholds. For many species, the study has identified so-called "strongholds" -- geographic areas that will offer birds shelter against the decades-long wave of climate change washing over us. Those strongholds will be the key to many birds' continued success in North America. That means we have to do everything in our power -- from our own backyards, to our city councils and state legislatures, to Congress and White House to protect those strongholds for the future.
Take action in your own backyard. This is not about one person -- or even a small group of people -- taking heroic measures. This is about each and every one of us taking personal actions on behalf of birds. Making room for bird-friendly plants in your garden or hanging more hummingbird feeders isn't a global solution, but in communities where farms and forests are being replaced at a voracious pace by booming new development, every neighborhood can become an important refuge for vulnerable birds.
One of the most challenging aspects to embracing the reality of climate change is that, for the most part, it's invisible. You can hear chainsaws level a forest. You can watch backhoes fill in marshlands and see a subdivision rise. And there are years where winters are cold enough to make us take our eyes off the trend line, which is all about warming. It's difficult to see the effects of a process that unfolds over the course of decades.
Similarly, it's tough to perceive the subtle shifting of rainfall patterns, of earlier flowerings that outpace the migrations of hummingbirds, of the slow degradation of marine estuaries due to the inexorable rise of the oceans. But all of those things are happening now, and we can see them if we open our eyes. Ask a grandparent about the birds that used to live near you or whether robins used to stick around all winter.
I want to be able to tell my kids (and my new grandson) that I did everything I could to save their future and the future of birds. Nearly 47 million Americans say they enjoy watching birds, and today those birds we love need our help. To a bird, you're what hope looks like.
To find out more about Audubon's study and how you can help birds, visit here. This column is adapted from David Yarnold's letter in the September-October issue of Audubon magazine.
This post is part of a month-long series produced by The Huffington Post in conjunction with a variety of events being held in September recognizing the threats posed by climate change. Those events include the UN's Climate Summit 2014 (to be held Sept. 23, 2014, at UN headquarters in New York) and Climate Week NYC (Sept. 22-28, 2014, throughout New York City). To see all the posts in the series, read here.
Calling all HuffPost superfans!
Sign up for membership to become a founding member and help shape HuffPost's next chapter