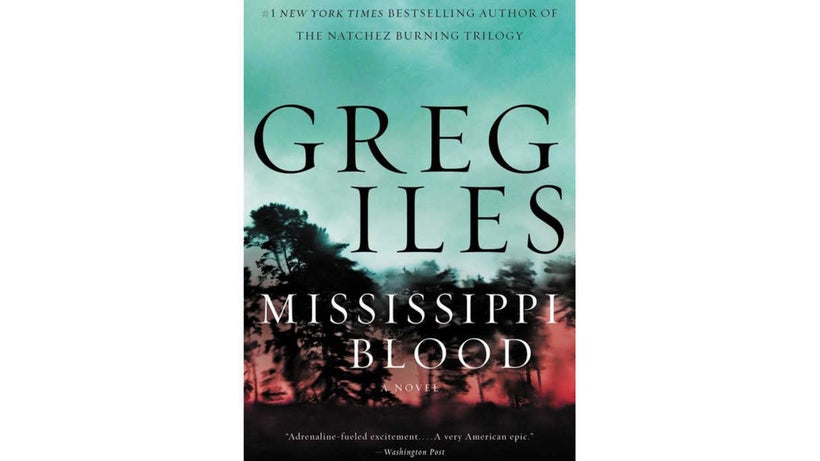 Book Review - Jackie K Cooper - MISSISSIPPI BLOOD by Greg Iles
Greg Iles started his latest trilogy of novels with NATCHEZ BURING. That very successful novel was followed with THE BONE TREE, and ends now with MISSISSIPPI BLOOD. The first two books set up the framework of the story of Penn Cage, a man trapped in a world of racial prejudice and hatred. Cage is the mayor of Natchez, Mississippi and his life has gone from one tragedy to the next. Now the story reaches its conclusion as Penn's father Tom, a beloved physician, goes on trial for the murder of his former nurse and one time lover Viola Turner.
Despite the fact Penn is an accomplished lawyer, Tom keeps him out of his defense, going instead with legendary lawyer Quentin Avery. But on Tom's direction Quentin refuses to brief Penn on his plans for Tom's defense. This frustrates Penn no end but Tom has hired Quentin and only Tom can fire him.
Still this does not keep Penn from conducting an investigation of his own. He knows Viola was dying of cancer so he believers his father's overmedication of her was a mercy killing. But he needs evidence this is what happened and the people who need to be talking are not talking. Serenity Butler, who is a black female journalist, comes to Natchez to do a story on the crime and joins Penn in his quest for the truth.
Page after page contains descriptions of pent up hatred and rage between the races. There has been progress but at what cost. And is the state of race relations in the twenty first century all that it should be? Iles uncovers every rock of Mississippi civilization and lets the crudeness, coarseness and just plain vileness of the past be exposed. It is not a pretty picture but Iles does not intend it to be. He wants to show the South as it was and also as it has become.
There is a graphic beauty to Iles' writing. He uses measured words to express voluminous stories of men who hate and women who die. Penn lost his wife to cancer of the body, but the cancer of evil that encompasses his life is a much more lethal enemy. He fears for his father's life as well as that of his mother and of his daughter Annie. He is willing to lay down his own life in order to defend them to the nth degree.
As you read this sweeping saga the beauty of the land is held in sharp contrast to the ugliness of the war between the races. Penn's southern roots are still firmly in the Mississippi soil, even as he tries to break free to new ideals and goals. It is a push pull situation that is never truly resolved.
Revelation and resolution are the weak points of Iles' last novel. For two books the story has been pushing for a climax that will reveal all and resolve most of the struggles. When these two points are reached Iles steps back and holds on to a few cards. This is supposed to be the final chapter in this story but there are enough questions left unanswered to fill another book at least. If you are going to write a trilogy then have that third and last book contain all the answers to the questions you have been raising. MISSISSIPPI BLOOD does not do that.
Still the magnificence of Iles writing is worth the time and effort expended to get through these books. He is a masterful storyteller!
MISSISSIPPI BLOOD is published by William Morrow. It contains 704 pages and sells for $28.99.
Jackie K Cooper - www.jackiekcooper.com
Calling all HuffPost superfans!
Sign up for membership to become a founding member and help shape HuffPost's next chapter
This post was published on the now-closed HuffPost Contributor platform. Contributors control their own work and posted freely to our site. If you need to flag this entry as abusive,
send us an email
.