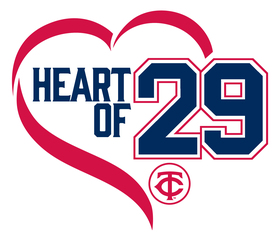 Of all the memorabilia Rod Carew gathered over his Hall of Fame baseball career, a particular item is always the first thing he shows to visitors at his California home.
The hardware itself is rather ordinary -- just a bronze baseball resting on the bottom of a large bronze circle, all atop a wooden base. The value is what it represents.
This is his Roberto Clemente Award, named after the Hall of Fame player and beloved humanitarian who died in a plane crash while delivering supplies to earthquake victims. The inscription on Carew's prize reads, "Awarded to the player who best exemplifies the game of baseball on and off the field."
Having gotten to know Carew recently, I'm not surprised this is his pride and joy. Clemente was among several mentors who taught him to be a humble, selfless star, and Carew continues to exemplify greatness off the field -- even now, in the most fragile time of his life.
This past Sept. 20, Carew was playing golf when he felt his chest burn and his hands turn clammy. Recognizing that he was having a heart attack, he sought help. Before paramedics arrived, he also went into cardiac arrest. (While Carew was a few days shy of 70, a physical a few months earlier showed he was in great shape. The only red flag was high cholesterol. He'd been prescribed pills to control it, but had stopped taking them.)
The massive heart attack was the kind often called a "widow maker" because of which artery was blocked. Between his overall health and the quick response, Carew bucked those odds. Doctors opened that blockage and two others using a mesh-like tube called a stent. He also suffered a second cardiac arrest during that procedure.
Soon Carew faced another problem: heart failure, a condition in which the heart isn't strong enough to efficiently pump blood throughout the body. His case was so severe that he needed a new heart. Yet his body was too worn out to tolerate a transplant. So instead he received an LVAD, which keeps his heart pumping through a device inside his chest and all sorts of machinery outside his body. While he's braced for the possibility of the gizmos being his permanent companion, he's hoping to get a new heart as soon as late summer.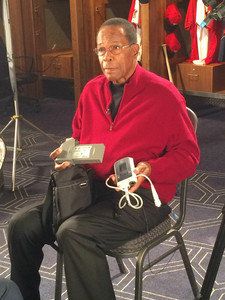 This ordeal played out over 47 days and five hospitals. And do you know what fueled his resolve to get healthy?
Helping. As in, helping you and your loved ones avoid going through the pain he and his loved ones are enduring.
Early in his ordeal, Rod told his wife, Rhonda, he wanted to use his story to boost awareness and prevention of heart disease. A few weeks ago, in conjunction with my organization, the American Heart Association, Carew launched "Heart of 29," a campaign named for the jersey number he wore throughout his career.
The seeds of Carew's devotion to being a difference-maker were planted early in his baseball career. Teammates Harmon Killebrew and Tony Oliva modeled humility and selflessness and Carew took note. Killebrew, also a Hall of Famer, often said, "It doesn't cost anything to be nice."
At an All-Star Game, Clemente, a respected veteran from Puerto Rico, sought out Carew, a youngster from Panama, and passed along this message: Look out for all fellow Latin American players. When Clemente died a few years later, Carew was among many driven to continue their friend's legacy.
Now let's fast forward to 1996, a decade into Carew's retirement from baseball. His world shattered when his youngest daughter, 17-year-old Michelle, was diagnosed with leukemia. She died within a year.
As Michelle endured kidney failure, temporary blindness and seven rounds of chemotherapy, what upset her most was the fact so many kids were battling leukemia. She urged her dad to use her story and his celebrity to encourage more potential donors on the national blood marrow donor registry. His plea is credited with generating more than 70,000 responses. Sadly, no match was found for Michelle, but Carew knows many others were saved. He likes to think of them all as "my children."
So last fall, when Carew himself was the patient, he vowed to again make a difference.
"I don't want this to happen to anyone else," Carew said. "Hopefully this campaign along with the American Heart Association will really turn out to be something big and help a lot of people. That's all I care about."
Hearing Carew's story prompted Clyde Wright -- a former big-league pitcher who often faced Carew -- to get his heart checked. Doctors found four blockages. A quadruple bypass later, Wright credits Carew with saving his life.
Heart of 29 got rolling with a recent event in Minneapolis, where Carew was playing when he won all seven of his batting titles. The other team he played for, the California Angels, and the Hall of Fame are also planning on supporting the effort. Perhaps events will be held at a ballpark near you.
As American Heart Month winds down, it's great to know that people like Rod Carew are driving toward our mission of building healthier lives, free of cardiovascular diseases and stroke, every day of every month. He's also living proof of the progress we're making.
Starting Saturday, Carew will be in his No. 29 jersey in Fort Myers, Florida, offering his sage advice on batting and life to members of the Minnesota Twins organization. He's planning to do it every day for three weeks.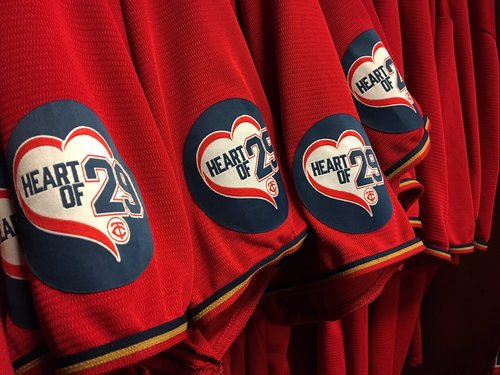 The Minnesota Twins will wear red jerseys with a Heart of 29 patch for some games this season
Carew also plans to be in Minneapolis in May for the Twin Cities Heart Walk (which will start and end at the statue of him outside Target Field) and in Cooperstown, New York, in July for the induction of this year's class of Hall of Famers (and the 25th anniversary of his own induction). Then he'll return to California and hopefully get on the transplant waiting list.
"I told them I want a 21-year-old's heart just to see if I can go out there and start hitting some baseballs," he said, laughing.
Carew is a survivor and, as he likes to joke, "a bionic man." I'm sure glad to be his Heart of 29 teammate.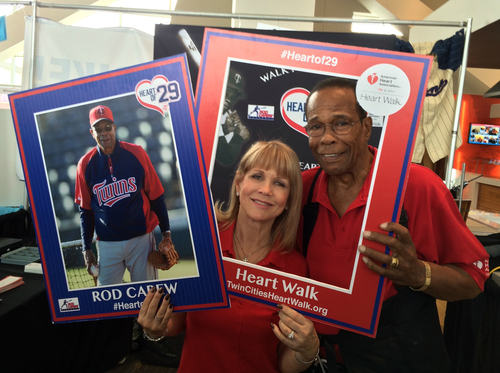 Rod and Rhonda Carew at the AHA's selfie station at the recent Minnesota Twins fan convention during which Heart of 29 launched