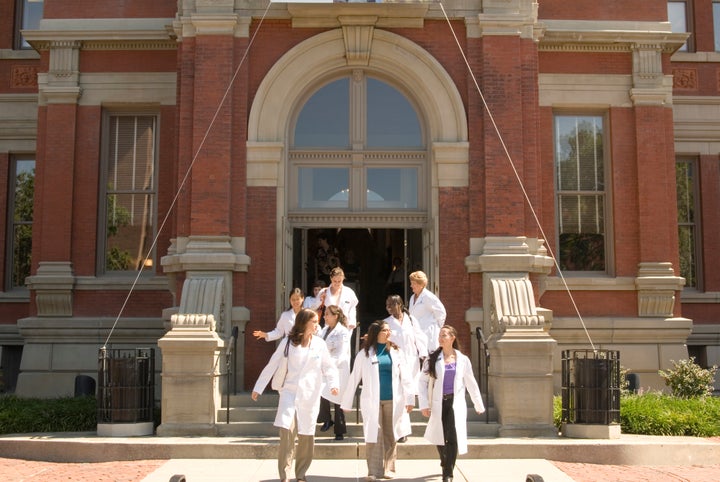 One day, your life or that of someone you love might be saved by a nurse you'll never meet. This nurse will have been the one who did the research on what ailed you, crunched the data, helped develop the course of treatment, trained the entire health care team in its proper use, made it fit the hospital's bottom line, and—because this nurse can do all these things as well as being a top-flight collaborator—saved three people just like you or yours at another hospital yesterday.
Right there is the value of advanced-practice nursing degrees. So much is doable these days in health care if you've got people prepared to do it.
We are at this moment preparing to enroll our first nurses for a dual-degree DNP/PhD program. Its uniqueness stems from being a considerably shorter path to attaining both degrees (five years) and that it doesn't require a nursing master's degree. It's the first program of this variety to be offered within a single school of nursing, not spread across other schools within a university. This means a seamless, cohesive, and efficient plan of education.
And you might ask, "Why?" Why are we so focused on advanced nursing degrees? Who needs such nurses? What will they do?
Let's get right to the need. The chronic shortage of nurses has been well documented and, for a variety of reasons, the physician work force will soon be in the same boat. This falls against a backdrop of far more complex care needs due to aging populations, health disparities, chronic diseases (now including HIV), and the constant threat of pandemic as the world gets more interconnected each day. As nurses handle more of what were a physician's duties (as well as their traditional roles), education must pivot to turn out more, better-prepared "nurses-plus."
Take the DNP/PhDs. We're calling them Clinical Research Intervention Scientists and they will conduct clinical research, teach, mentor, and implement innovations to enhance patient outcomes. These nurses will develop, evaluate, and advocate for policy that shapes financing, regulation, access, and delivery of care across health systems. Why? Because we will need them to.
Having clinician-scientist nurses in the trenches and at the decision maker's table will be tremendous not only for the profession but for health care across the board.
This is not taking away from bedside care. Rather, it is enriching it, by having it start right from the top, with nurses prepared to take the lead—and be essential teammates—at whatever level they may serve.
DNP/PhDs will find and implement solutions that will improve the future of care. They will improve and streamline health networks, fight for patients and families, provide the most advanced hands-on care that exists, and teach generations of fellow nurses to do the same.
Launching the DNP/PhD program (with all the other advanced nursing degrees) is our next logical step as nurse educators—and, if needs be, it won't be our last.
Popular in the Community