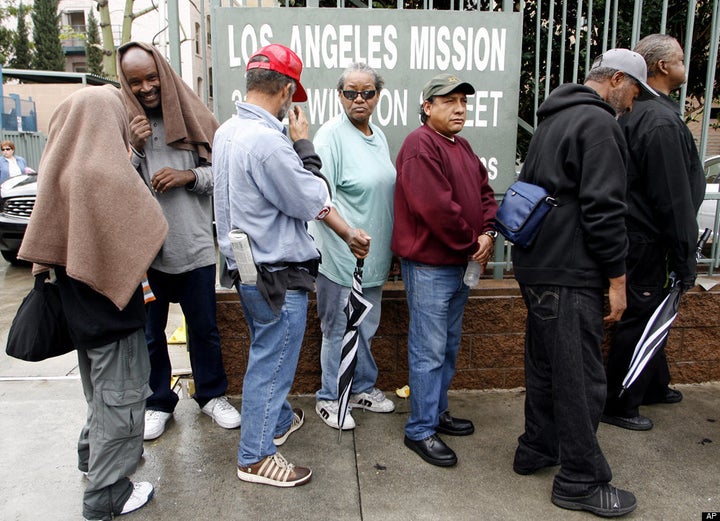 Florida is slated to become the largest state in the nation to add the homeless to its list of those protected under its hate crime law. The Florida Senate passed a bill by a vote of 25-10 today that is identical to an earlier bill that cleared the State House of Representatives by a vote of 80-28. Republican Governor Charlie Crist has previously indicated that he would sign the bill and has fifteen days to do so. Florida, with a population of 18.5 million is the nation's fourth largest state by population.
According to limited data reported to the National Coalition for the Homeless (NCH), Florida has led the nation in apparent prejudice motivated violence against the homeless for the past four years. In 2008, three homeless people were killed in these types of attacks, with another two dozen experiencing non-lethal victimizations in ten cities throughout the state. In contrast, according to the FBI, seven people were killed nationally in hate crime attacks covering race, religion, sexual orientation, ethnicity, and disability combined. Neil Donovan, Executive Director of the NCH in Washington, DC, stated, "Until today Florida has been known as one of the biggest states for crimes against the homeless, starting tomorrow it will be known as one of the states doing the most to protect them" His organization is expected to release a national report on hate crime against the homeless in late May.
Brutal Violence
This month has seen violence against the homeless make headlines across the nation. In New York surveillance video captured a homeless good Samaritan come to the aid of a woman being attacked by a knife wielding assailant, only to be stabbed himself. While not a hate crime, the bleeding wounded man was casually ignored by passersby who failed to do anything to assist him as he lay dying in the street. In Los Angeles, Ben Martin was sentenced today for setting a popular mentally disabled homeless man named John McGraham on fire with gasoline in October 2008. Yesterday, military police turned over a soldier to authorities for a brutal attack on a homeless man in Cincinnati on April 10.
Leading hate crime scholars are increasingly regarding prejudice based attacks against the homeless as hate crimes. Prof. Barbara Perry of the University of Toronto Institute of Technology and author of In The Name of Hate, believes that the homeless like other hate crime victims are attacked "because they are perceived as a threat." Northeastern University sociologist Jack Levin (no relation) contends, "When we treat attacks based on homelessness as a hate crime, we send a message both to the perpetrator and the victim that we will no longer tolerate the cruel and inhumane treatment of our most vulnerable citizens."
Sandra Wachholz of the University of Southern Maine recently wrote,"[T]here has been a long tradition of singling out the homeless for hate motivated treatment and injurious acts."
Sunshine Hate
Two brutal Florida cases were prominently featured in a 2006 60 Minutes story by Ed Bradley which included killings of the homeless in different parts of the state by youths who sought them out for attack. In January 2006, one set of youths was captured on surveillance video attacking a homeless man with baseball bats in Fort Lauderdale. One of their other victims that night 45 year old Norris Gaynor died from extensive blunt force trauma injuries. In another Florida case featured in the story from 2005 , 53 year old Michale Roberts was beaten to death by four teenagers over a three hour period in Holly Hill. One of the attackers pointed to a popular video series, "Bumfights" as something that significantly influenced his aversion to the homeless.
Other Jurisdictions
Florida's extension of protection of the homeless under its state's hate crime law comes at a time where violence against the homeless is increasingly an issue for state legislators. In California a bill is winding through the assembly that would add the homeless to a statute that provides various civil protections to victims of hate crime, but would not increase criminal penalties. Last October, Maryland, which along with Massachusetts were the first states to implement a comprehensive hate crime response nearly three decades ago, added homelessness to its state's hate crime law, and was soon followed by the District of Columbia. Maine, the first state to make targeting the homeless a hate crime, has a more narrow statute that grants non-binding discretion to the sentencing judge. Other jurisdictions taking administrative or statutory measures recognizing hate violence against the homeless include Cleveland, Seattle, Los Angeles County, Puerto Rico and Alaska. In recent years nearly a dozen states have seen legislation introduced to cover homelessness under state hate crime law. The three most populous states, California, Texas, and New York, saw bills introduced to make homelessness a protected category under hate crime statutes. Efforts to add the homeless to federal hate crime laws have failed due to a split in the civil rights community in Washington about such reform. Advocates, like the NCH's Neil Donovon remains optimistic, "This provides a state level road map for the federal government. This is leading by example and we really have to affirm the progress done at the state level"

Popular in the Community