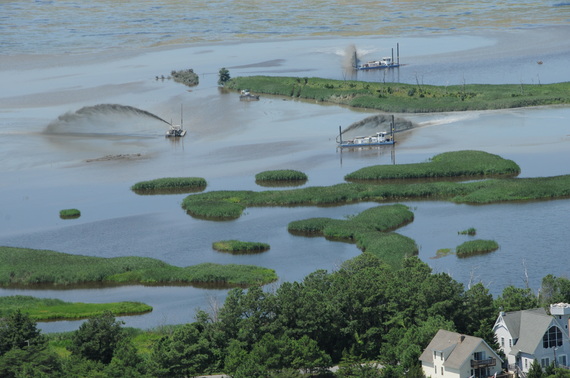 (Image: Dredging channels at Prime Hook National Wildlife Refuge to restore tidal salt marshes. Credit: Richard Weiner.)
Hurricane season officially starts June 1, and weather forecasters are predicting an active season for hurricanes and tropical storms.

While people living along the Atlantic Coast are asking themselves, "Are we ready?" (check out these preparedness tips from NOAA) we in the conservation community are asking, "Are our coasts ready?"

It's a question we've been asking ourselves with increasing urgency since Hurricane Sandy struck the Atlantic Coast in 2012.

In the aftermath of Sandy, federal, state and local groups stepped forward in an unprecedented effort to strengthen natural defenses along the Atlantic Coast, protecting communities and wildlife from future storms. At the heart of this effort is one key concept: resilience.

Resilience means being able to bounce back from stress or damage and return quickly to a functioning state. We want to raise resilient kids. We want to be resilient in our careers. Ideally, we want our health and finances to be resilient.

And we want nature to be resilient in the face of damage, stress and unpredictability. A resilient coastline is one that can weather a hurricane without being destroyed, one that can adapt to rising seas and an unpredictable climate, one that can support the wildlife and people who call it home.

How do we make coastlines resilient?

At the U.S. Fish and Wildlife Service, we're working with partners across all levels of government and community to find solutions. We don't have all the answers, but we're coming up with science-based approaches to build resilience into our restoration projects across the Atlantic Coast and beyond.

For example, we know that tidal salt marshes are highly effective at buffering wave energy, reducing erosion and absorbing water. One study found that salt marshes can reduce the height of storm waves by 18 percent. Having a robust, healthy salt marsh can go a long way toward protecting homes, farms, businesses and industry in coastal areas.

Yet scientists estimate that as much as 50-70 percent of salt marshes have been lost in the United States.

That's why we're working to enhance and protect more than 63,000 acres of coastal marshes at 14 sites from Virginia to Massachusetts using federal funding from the Disaster Relief Appropriations Act of 2013. These projects help restore and strengthen critical marshes so they can better protect nearby communities from flooding during the next superstorm. They also have the added benefit of improving water quality (marshes are excellent filters) and supporting nurseries for fish and shellfish.

Coastal resilience takes other forms, too:

● Rebuilding beaches using new design methods to help reduce the risk of coastal flooding and improve habitat for wildlife like migratory birds.

● Removing old dams to reconnect streams and rivers, which is great for migrating fish, and also protects people who are at risk from flooding when these dams fail in high-water events.

● Building green infrastructure such as oyster reefs and living shorelines to help reduce wave energy and impacts, thereby protecting coasts while providing much-needed marine habitat.

All these projects are currently underway in some of the hardest-hit areas of the Atlantic Coast. One site where much of this innovative, science-based work can be seen is at Prime Hook National Wildlife Refuge (NWR) in Delaware.

The restoration of 4,000 acres of tidal marsh at Prime Hook is one of the most complex marsh restoration projects ever attempted on the U.S. East Coast. The project used state-of-the-art science and computer modeling to explore multiple restoration scenarios before settling on the best approach to make this coastline more resilient to the impacts of sea-level rise and intense storms. The restored marsh system will be seeded with salt marsh grasses this spring, and we expect in a few years' time that it will be a fully functional natural defense.
If there's a bright side to Hurricane Sandy, it's that it has helped galvanize natural resource protection efforts around the issue of resilience. With anticipated rising sea levels, more frequent and intense storms, shifting seasons and higher temperatures, we need to continue to work together to better understand and adapt to changing conditions. Strong natural defenses will help all of us better weather future storms.
REAL LIFE. REAL NEWS. REAL VOICES.
Help us tell more of the stories that matter from voices that too often remain unheard.