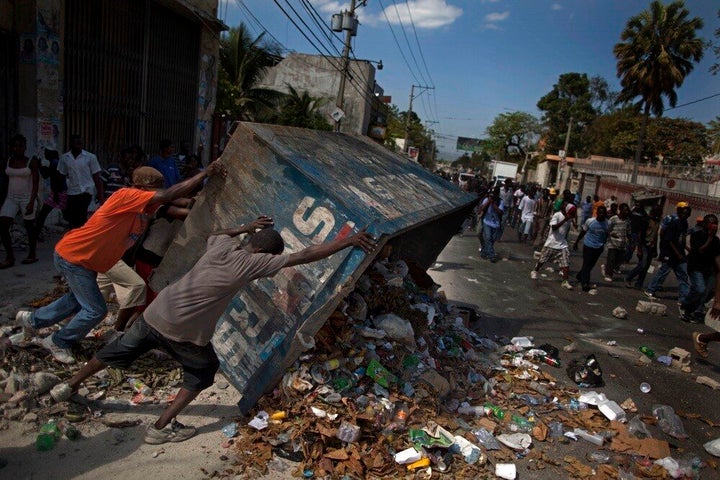 Port-au-Prince, Haiti -- On a small side street away from the public eye, a woman stands amidst debris. "Leve, leve!" she screams, reenacting for me how the police woke her in the morning, yelling at her to get out before they cut down her tent. Next to her, a panicked man is twirling in circles, collecting what is left of broken tiles lining a dirt floor. They both lost their homes in the earthquake and have been living in neighboring tents with their families since January 2010. Wednesday morning, the police showed up unannounced and violently destroyed their shelters, leaving them homeless again.
At least three camps housing approximately 1,000 Haitians displaced from the earthquake were destroyed by police this week in the Delmas suburb of Port-au-Prince, just two weeks after Michel Martelly was sworn in as Haiti's new President. The police came with little to no warning and bulldozed through the camps, slashing tents with machetes, knives and batons. The forceful evictions took place under the direction of the Mayor of Delmas, Wilson Jeudy. In fact, Mr. Jeudy was there in person, announcing that "it's time for the public to reclaim public land." With over 680,000 earthquake victims still living in 1,000 overcrowded displacement camps, however, vacating public squares seems like the least urgent priority.
The evictions carried out this week constitute a blatant and unjustifiable violation of Haitian and international law. Haitian law mandates that evictions can only be carried out pursuant to a court order or a municipal decree, and as in the United States, they must be conducted in accordance with rules designed to ensure fair process. In this case, the government carried out evictions without adequate notice or authorization, and used violence and intimidation to force people out.
International law also protects the rights of displaced communities and contains clear due process requirements that must be followed in the event of an eviction, but were disregarded here. The Inter-American Commission on Human Rights last year reiterated the Haitian government's obligations to stop and prevent forced evictions in displacement camps, instructing it to implement a moratorium and increase protections of displaced persons, but this was not heeded.
When asked whether he had followed the legal process for evictions, the Mayor responded nonchalantly that he did not need legal authorization. Besides, he contended, those living in the camps all have bèl kay, or pretty houses, elsewhere.
After leveling the tents by Delmas 5, the Mayor and police continued down the road to Delmas 3 to close a camp where hundreds of families were living crammed into a public square. According to residents' accounts, authorities had come the day before to inform the community that they would be evicted the following morning.
When our team of lawyers and advocates arrived on the site, the area resembled one swept out by a tornado. Residents watched in horror as men in shirts reading "The Mayor of Delmas in Action" were clearing away the little that remained of their lives.
This recent series of evictions began on Monday, when the police came and destroyed a camp in Carrefour Aéroport, a busy intersection by the airport. Those who protested were beaten by the police with batons. One man was shot in the leg. He continues to sleep in the area, taking shelter under a monument, as do many other families from the camp. His situation underscores the obvious truth the Mayor and others refuse to accept: that if those displaced by the earthquake had somewhere else to go, they would have left the camps long ago.
The communities evicted this week are working with lawyers, advocates and other camp communities to organize in protest. They are filing complaints, denouncing the evictions in press conferences, and demonstrating in the streets and in front of government offices. Others are also speaking out against the evictions. They include human rights defenders, grassroots groups, and members of the U.S. Congress, who released a statement Thursday deploring the evictions.
"It is mind-boggling that any government official would condone or ignore [the evictions] during a time when Haiti is seeking to recover from the crisis stemming from the January 2010 earthquake and the subsequent sluggish rebuilding process. Facing hostile conditions, including adverse weather, violence, and disease, shelter and work are the priorities for every displaced Haitian and must not be compromised," four Members of Congress said in their joint statement.
Nigel Fisher, the UN humanitarian coordinator for Haiti, sent a letter to President Michel Martelly's office, requesting urgent action to stop forced evictions.
This same week, President Martelly announced his 100-day plan for resettlement, which centers around the closure of six camps on public land, including two in Petionville, Port-au-Prince's wealthy suburb that sits in the hills above the city. The plan includes resettlement packages for residents, but does not commit to ensuring that the camps will remain open until adequate alternative housing is secured for the residents.
The latter part is especially distressing in light of the forced evictions on both public and private land that have been taking place since just weeks following the earthquake. After a trip to Haiti last year, Walter Kalin, UN Special Representative on the Human Rights of Internally Displaced Persons (IDPs), highlighted illegal and forceful evictions as one of the major human rights violations facing Haitians displaced after the earthquake. He stressed that no one must be evicted from a camp unless a reasonable living alternative were available, and the government should reverse any eviction that does not follow all due process guarantees set forth in international and Haitian law.
Due in large part to government inaction and a widespread failure to protect the displaced, the International Organization on Migration (IOM) estimated that 166,000 people were facing imminent threats of eviction as of April, representing one fourth of the displaced population. In Delmas 5, residents noted that the eviction marked the first time the Mayor or any other government representative had come to the camp since the earthquake. In Carrefour Aéroport, another woman proclaimed in frustration "I voted for Martelly to see change -- is this what I get?"
Around Port-au-Prince, billboards proclaim Martelly's election a Viktwa pou pèp la, a victory for the people. After a year of unspeakable hardship, President Martelly's new leadership in Haiti has given many hope for a different course. The last week's brutal evictions by government officials throw this into question. To demonstrate a commitment to the people and the rule of law, President Martelly should formally denounce the extrajudicial evictions and declare a moratorium on evictions until a return and resettlement plan is adopted that provides displaced communities with alternate safe and adequate housing. He should also instruct all government agents, including mayors and police, to follow legal procedure.