There's a poem I love by Linda Pastan titled "Vermillion." In it, she claims that "revision is the purest form of love." In our acts of revising our loved ones (say, licking our sleeve and wiping a smudge from our child's face), we truly show we care. I always loved this poem from a writer's perspective, the focus being that revisions are the purest way to love one's writing project. But, tonight, I invoked Pastan's words as I washed my daughter Jane's delicate pink tights in my bathroom sink.
I remember watching my grandmother, her wrinkled, blue-veined hands turning vermillion in the hot, Ivory soap-sudded water, working the day out of my stockings and slips. I always felt like it was a sacred thing for people to wash your most private clothes with their own hands -- a beautiful sign of their enduring, endearing love for you. At the time, I couldn't have imagined taking my grandmother's Sunday slip into my own hands. I didn't understand this kind of devotion.
But tonight, after her first dance class was over, I took my daughter's ballet tights in hand. I noticed the dirt smudging the knees and bottoms of her feet, marking her pliés and pirouettes. These precious marks -- the marks of girlhood. And, though my instinct was to throw them in the laundry basket, for some reason I was compelled to wash them with my hands. My daughter wasn't even in there, though she peeked in for a moment to pause her play. I filled the bathroom sink with warm water, poured in some lavender-scented soap. I felt the skin of my hands react to the heat, slid the stockings from side to side against each other, rubbing the day out of their paper-thin form. I can only describe it as a sacred act.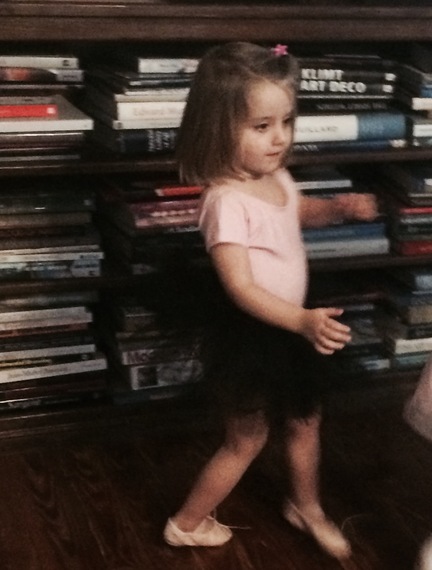 The moment grounded me to the women in my life -- to my grandmother, who served her family tirelessly, taking care of her own mother, father and husband on their death beds, tending to her grandchildren's illnesses with a servant's heart. To my own mother, who worked without cease to provide the kind of life for her children that she was unable to have herself. To my great-grandmother, my namesake, who rinsed her daughter's stockings in a galvanized tub in a shotgun house in Mississippi, giving her a lesson that she would take into her own life. And I can only hope that tonight, as Jane peeked in and witnessed the intimacy of watching Mama scrub her delicate things, that she felt the seeds of a servant's heart grounding her to the women in her past -- some of whom she'll never get to meet in person but who she'll be able to connect with in some of life's simplest acts of revision.