When everyone died in the house next door, Lorpu Titus, 44, thought she was next. "I was so depressed," Lorpu says. "I would just sit at home feeling bad. The anxiety was too much. [We] were all one family."
Nestled in the forests of north-central Liberia, Taylor-ta was a tight-knit village home to some 1,120 people. It was this very closeness that allowed Ebola to take hold and tear them apart.
The virus snuck quietly into Taylor-ta last November when a boy and his father came back from the capital, Monrovia. In a few days, the boy was sick and people from across the village came to help care for him. "When they brought the boy here no one knew about Ebola," says Lucy Sumo, 48. "Everyone was helping him. But when he died, we got scared...Immediately after his death, those who helped him started getting sick."
Many of them were brought to the nearest Ebola Treatment Unit (ETU), run by International Medical Corps roughly 45 minutes away by car. Others never made it that far and died in their homes or deep in the forest. In the end, 24 people in Taylor-ta fell ill with Ebola. Only eight of them survived.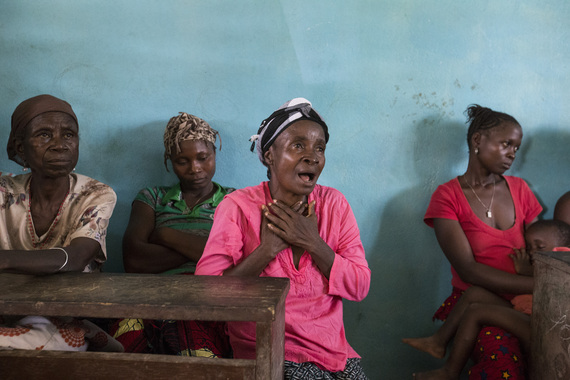 For a community that describes itself as one family, every death was the loss of a loved one. Every new case sparked fears of who was next. As Ebola spread across Taylor-ta, people who used to share everything were driven further and further apart, their grief and anger stubbornly and corrosively wedged between them.
It did not take long for people to start to point fingers at one another, assigning blame for making their loved one's sick. "I lost most of my relatives," says Lucy. "I got angry. It was not easy."
As International Medical Corps sent ambulances up and down the rutted dirt roads to Taylor-ta to transfer potential patients to the ETU, they also brought in teams of psychosocial officers to help the residents cope with the death and destruction enveloping their community. With the town under strict quarantine, it was the first time people came to visit them and talk about what was happening.
"At the time Ebola came to our community no one could come around," says Etta Quannah, a mother of six who lost her husband to Ebola. "We were highly stigmatized. We are so grateful for International Medical Corps to come and talk to us. We thought we were all alone."
Taylor-ta is one of four Ebola-ravaged towns that International Medical Corps is working in to help repair relationships that unraveled in the heartbreak and confusion of the outbreak. In what are called social reconnection groups, people come together for eight sessions to talk about what happened together with psychosocial officers.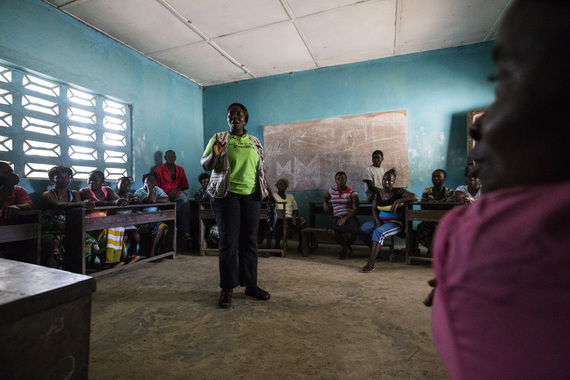 At the launch of every social reconnection group, the International Medical Corps team brings participants together the plant a small tree that is used as a metaphor for love and loss. The branches may break. The leaves may fall, but so long as the roots stay healthy and sturdy, the tree will survive. The hope is that the community will also see the tree grow, a symbol of how life goes on.
"People are so sad," says Sarah Diggen, a psychosocial officer with International Medical Corps in Bong County. "Imagine if you lost all of your loved ones. This can create mental illness like depression. These groups first of all bring people together and talking so that healing and reconciliation can take place."
Seventy-two people are participating in the social reconnection groups in Taylor-ta. They gather every week in the sunlit classrooms of the community's school to vent their sorrow and anger and rekindle the bonds that united them before Ebola came. People are encouraged to participate in role-playing exercises, like acting out how the "angry mind" and the "patient mind" would perceive and act on the same situation.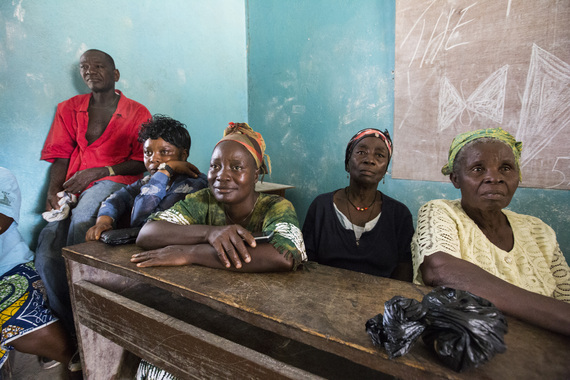 In one of the activities, each person is given a stick to break in half, which are then tied together in a bundle. People then try to break the bundle in half--a symbol of how people are stronger today. "During the reconnection sessions, we have forgiven [each other]," says Lorpu. "Now we are one."
The team also offers an attentive ear for Ebola survivors and people who were very affected by the virus. One of them is Leatee Morno, who lost her only daughter and five grandchildren to Ebola. An elderly woman who estimates herself to be 79 years old, Leatee was already a widow when Ebola hit and watched helplessly as all of her immediate family members died. "I used to stay crying, thinking of my kids," says Leatee. "The [sessions] helped ease these bad feelings."
Sarah, who has worked with International Medical Corps since January 2015, has seen the healing power of dialogue first-hand. For her, the greatest reward is to see people find the inner strength and forgiveness and look forward to the future. "As long as you have life, you have hope," she says. "Sometimes, I am so happy I cry. It is a beautiful thing to see people find life again after so much tragedy."
Calling all HuffPost superfans!
Sign up for membership to become a founding member and help shape HuffPost's next chapter