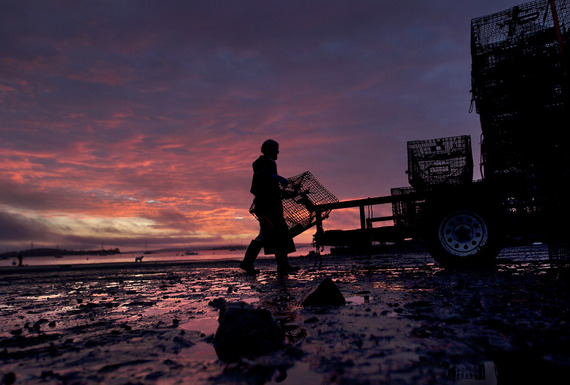 ImpactAlpha.com -- An invasion of green crabs. Plummeting populations of northern shrimp and cod. Shifting seasons for lobster, the anchor of Maine's $585 million fishing economy.
Stretching from Cape Cod to southern Nova Scotia, the Gulf of Maine is among the fastest-warming oceans in the world, a living laboratory for the effects of climate change on marine ecosystems.
That makes it a testbed as well for investment strategies to foster economic resiliency for local fishing communities where livelihoods have long depended on the bounty from the sea. The state's fishing industry directly or indirectly employs an estimated 10,000 people.
Coastal Enterprises Inc., or CEI, a nonprofit community development lender based in Wiscasset, Maine, has provided capital for a lobster processing plant, sea-vegetable producers and aquaculture startups to help fishermen and women diversify their incomes in the face of changing fishing patterns.
"We're set for an ecosystem disruption if warming continues," said Dick Clime, who helps manage CEI's working waterfront and fisheries investment portfolio. "We can't stop the change. We can only encourage economic resiliency in the face of change."
Scientists say the Gulf of Maine is one of the fastest-warming bodies of water on the planet, with an uptick of 3 degrees Celsius in just the last decade, reports Rebecca Kessler in Environment 360 ("Fast Warming Gulf of Maine Offers Hint of Future for Oceans."). The Gulf of Maine is also getting fresher (as Arctic ice melts into the Labrador Sea) and more acidic.
Cod and northern shrimp populations have plummeted, prompting virtual shutdowns of both fisheries in recent years. Warming waters have brought an invasion of green crabs to Maine, decimating the softshell clam harvest. Black sea bass, voracious eaters, have moved north, and may be developing a taste for young lobsters, Kessler reports.
Maine's fishing fleets and crews have always been adaptable, shifting from one species to another with the seasons or fluctuations in population. But only a few big boat owners with the capital, or regulatory permits, are able to adapt. The groundfish fishery, for example had 187 boats in the 1990s; today it has 37. The Portland Fish Exchange, which once landed as much as 30 million pounds of groundfish a year, now sees only about five million pounds.
The lobster catch is considered sustainable, with record harvests in recent years. The scallop population remains healthy as well. But even they face threats.
"Our staple is still the lobster resource. That's what is anchoring our fisheries along the coast," says Hugh Cowperthwait, director of CEI's fisheries project. Warming water has caused the creatures to molt, or shed their shells, earlier in the spring. Many lobstermen don't set their traps until the 4th of July. "When the warmer water causes an earlier shed, they miss the lobsters, with cascading effects through the entire supply and demand chain."
CEI is a licensed community development financial institution, or CDFI, and has specific economic development goals. In 2014 it invested $28 million, mostly in the form of loans, and has a five-year plan to invest $128 million, primarily but not exclusively in Maine. CEI has made nearly 250 loans in the seafood sector, including $1.4 million in loans in 2014.
"We describe the activities as helping fishing communities cope with the changing effects of climate but there must be aspects to a project or program that have other specific outcomes," says Clime. "Many of the metrics address the net positive contributions to employment and new business creation in areas where unemployment is above average and earnings are below average."
CEI continues to make basic lobster-gear and boat loans as well as financing for small businesses such as a fuel distribution company that serves Maine islands. But the community lender is increasingly on the lookout for ways to diversify the income opportunities for Maine's coastal communities. To help it identify prospects and ideas, CEI is co-sponsoring Fish 2.0, the seafood business competition that in November will announce winners from among 69 semifinalists.
For example, the non-profit lent $500,000 to Maine Fair Trade Lobster to purchase processing equipment for an old herring cannery in Gouldsboro that has been remodeled for use as a lobster processing plant. A local bank, Machias Savings, provided a larger loan for the remodel itself. For all of Maine's lobster lore, more than 70 percent of the catch has been processed in Canada. The new Gouldsboro plant created about 160 local jobs.
A new emphasis on aquaculture reflects a "sea-change in the last two or three years" in the attitude of old-school fishermen, Clime says. Growing fish, shellfish or sea vegetables can provide supplementary off-season, or even replacement, income.
"Someone who's been a hunter-gatherer now has to consider what it means to be a farmer," says Clime, who developed one of the first Maine oyster farms, Dodge Cove Marine Farm. "As they see their own choices limited, and wonder how their sons, daughters will remain in that community and make a living from the sea, aquaculture is becoming part of the conversation."
The new businesses represent new opportunities for investors. Acadia Harvest, in Brunswick, Maine, is pioneering techniques for recirculating, or land-based, aquaculture, to enhance control over the growing conditions. Acadia Harvest needed matching funds to qualify for state funds to grow several thousand California yellowtail (Seriola lalandi), a high-end fish sought by chefs and home cooks in New England and New York. CEI provided $100,000, half in debt and half in equity, enabling the company to increase the scale of its research operations at the University of Maine. Some of the CEI funding helped Acadia Harvest to prepare for commercial rollout with an option to buy a seven-acre parcel and 40,000-square foot building in Corea, a classic Down East Maine fishing village near Acadia National Park.
CEI provided $190,000, in two loans, to Ocean Approved, based in Portland, a leader in developing techniques to farm sea vegetables. The loans helped Ocean Approved expand Maine's first kelp farm and purchase processing equipment and provided operating capital as sales ramped up. The 18-employee company promotes "Fresh, frozen kelp from Maine," and features on its website recipes for kelp smoothies, desserts and breakfasts, as well as salads and entrees.
Another sea vegetable start-up, Marine Fresh Sea Farms in South Bristol, tapped CEI for a line of credit to cover its early operations. One of the first commercial applications for its dried sugar kelp, a marine algae, is a featured ingredient of a new "seaweed beer," Seabelt, from Marshall Wharf Brewing Co. Marine Fresh Sea Farms has also explored markets for fresh sea greens and is in the process of developing a seaweed salad product.
CEI gets involved in educational efforts to train locals in the basics of the new-era business. A recent fishermen-to-farmers training called "Shared Waters," for example, targeted wild-harvest clam diggers, who have been hard hit by the decline in wild clams caused, at least in part, by the green crab explosion. The diggers were trained how to grow clams under protective netting in municipal mudflats and farm oysters in subtidal waters.
Such efforts help stock the deal pipeline for investors with larger funds looking for growth companies. Clime says CEI can discover companies at an early stage, where simple debt, often less than $50,000, or a combination of debt and equity, is just what the company needs. As an alternative to traditional bank financing, CEI can offer more flexible terms, or take on a higher risk company or individual.
"Right now, we have more capital than deals," Clime says. "We've been successful at getting some additional capital, so now we have to go out and find the deals. We're in the finding-the-deals stage."
Support HuffPost
The Stakes Have Never Been Higher
Related
Popular in the Community