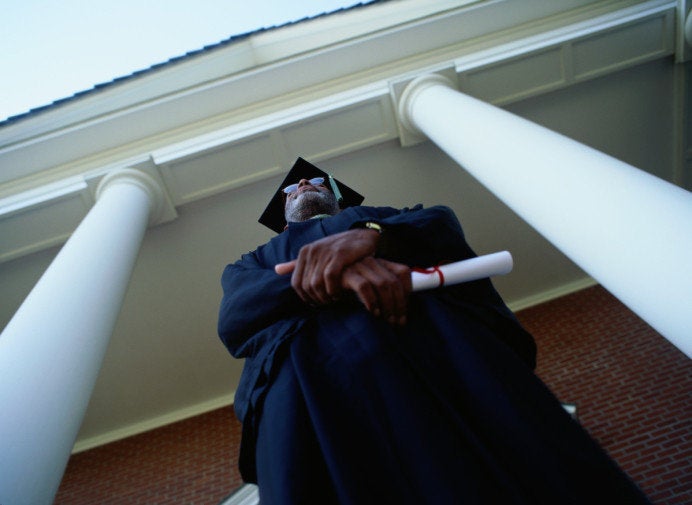 At a June Senate hearing on high student debt levels at for-profit colleges, civil rights advocate Wade Henderson pointedly criticized what he called the "cruel," "unjust" and "immoral" attempts by some for-profit colleges to actively recruit low-income minority students with assurances of bettering their lives through college education.
"The deceptive practices which many of these institutions have employed, the emphasis on recruiting among the most vulnerable and emotionally ill-prepared … this is nothing less than the hijacking of the American dream," said Henderson, the president and chief executive of the Leadership Conference on Civil and Human Rights, an advocacy group that has supported stronger regulations for the burgeoning for-profit college industry.
A month later, at a House Education hearing, the chief executive of the National Black Chamber of Commerce had a starkly different message for lawmakers about recruitment of low-income minorities.
"Proprietary colleges are the only broad group of institutions of higher learning which are stepping up to the plate and taking on the daunting task of educating 'high risk' students," said Harry Alford, who has vigorously opposed government regulations at for-profit colleges. "So the problem at hand is that minority students are already at a great disadvantage, and now the Department of Education has made it worse by shutting down a major path to education and jobs."
As the for-profit college sector has tripled in size over the past decade -- attracting government scrutiny over aggressive recruiting and poor student outcomes -- so has the rate of enrollment for low-income and minority students. Black and Hispanic students make up 28 percent of undergraduate students nationwide, but they represent nearly half of all students in the for-profit college sector, which includes large online schools such as the University of Phoenix, Kaplan University and smaller, privately owned trade schools.
The demographic makeup of such colleges has taken center stage in a year-long debate over how to protect students from low-quality schools that don't provide the promised training for careers, and how to protect taxpayers from growing federal student loan defaults. In a classic case of skillful messaging in Washington, both the student advocacy groups that criticize the industry and the for-profit college lobby have taken up the cause of low-income, minority students in efforts to sway public opinion.
In essence, the for-profit college industry has seized on its high rates of minority enrollment in much the same way as the subprime mortgage industry pointed to growth in minority home ownership during the real estate boom, asserting that too many regulations would leave black and Hispanic students lacking in educational options.
The result has been a muddled and often confusing discussion that has split members of the Congressional Black Caucus and advocacy groups such as the National Association for the Advancement of Colored People, which supported increased regulations, and the National Urban League, which argued the Obama administration would stymie access to college.
After a bruising lobbying fight waged by the for-profit college industry, the Obama administration in June released a weaker-than-anticipated set of regulations that seek to evaluate whether for-profit colleges are setting up students for "gainful employment" after leaving school. The draft regulations would have cut off federal student aid funding to poorly performing programs within a year; the final regulations give schools a three-year grace period, requiring programs to fail student debt tests three out of four years before they can be cut off from lucrative federal dollars.
Although Wall Street has welcomed the weaker regulations, with stocks surging for many of the publicly traded corporations that own for-profit colleges, industry lobbyists and some in Congress have continued to decry the regulations as being a government overreach that prevents low-income and minority students from attending college.
Alford, of the National Black Chamber of Commerce, has argued consistently that the gainful employment regulations will simply leave students without educational options.
"Rigorous implementation of the (rule) will not shift students from career colleges to traditional schools," he argued at a House committee meeting last month, urging Congress to repeal the regulations. "They will simply be frozen out of the educational marketplace, with the result impairing their employment prospects."
In April the National Black Chamber of Commerce brought on Lanny Davis, a Democratic lobbyist and former White House counsel during the Clinton administration. Davis had previously lobbied for the Coalition for Educational Success, a lobbying group formed last year by ITT Educational Services and Education Management Corp. -– two of the larger players in the for-profit college industry -– along with several other for-profit schools.
In a conference call in May, Davis questioned why the Obama administration would consider such a regulation.
"There is something wrong here," Davis said. "There is something wrong for a Democratic administration to be imposing a regulation that hurts poor people and minorities -- the base of the Democratic Party."
Yet those in support of greater protections for students argue that the reason why minority and low-income students are over-represented in the for-profit college sector is because they have been strategically targeted by well-trained sales forces and marketing campaigns.
Advertisements on television and on subway trains often cater to black or Hispanic consumers, featuring a testimonial or image of a minority student achieving his or her dream of employment. Documents obtained by a Senate committee showed one for-profit college company, Vatterott Colleges Inc., listing "welfare mom w/ kids" as an example of a top prospect in handouts given to recruiters.
The rationale is that lower-income borrowers are eligible for the most in federal student loan dollars and Pell Grants, which represent the vast majority of revenues for the for-profit sector.
"The individual gets lost in this; it's all about the dollars," said Arnold Mitchem, president of the Council for Opportunity in Education, which represents low-income students. "The students in this debate and discussion are ciphers. You might as well be talking about bushels of corn, or wheat, or soybeans. They're just commodities. That's what it amounts to."
Although minority students are enrolled at much higher rates in the for-profit college sector, critics have questioned whether programs are adequately educating students. Graduation rates for black and Hispanic students seeking bachelor's degrees in the for-profit sector are significantly lower than those of minority students who attended public universities –- hovering at 16 percent for black students and 28 percent for Hispanic students.
The likelihood of debt is also much greater. According to Department of Education data, more than 90 percent of students attending either two- or four-year programs at for-profit colleges will emerge with some amount of student loan debt. By comparison, only about 60 percent of public four-year university students accumulate student loan debt, and less than 40 percent of students attending two-year community college programs leave with any debt -– the vast majority of which is less than $10,000.
In particular, black and Hispanic women from low-income backgrounds are attending for-profit colleges at increasingly higher rates. More than a quarter of low-income black female students entering college for the first time attended for-profit colleges during the 2008 academic year, according to Department of Education data. By contrast, only 22 percent of low-income black female students attended either public or private four-year universities.
Not only are growing numbers of low-income students attending for-profit colleges, but over the last decade they are attending traditional four-year universities in fewer numbers, according to a study from the Institute for Higher Education Policy.
In 2000, more low-income students attended public four-year institutions than for-profit colleges: 20 percent of the low-income student population attended public four-year universities, and 13 percent attended for-profit schools. By 2008, those percentages had switched: 15 percent of low-income students were attending public four-year colleges, while 19 percent were attending for-profit colleges.
The report noted, "These enrollments represent substantial movements that portend the future of higher education, but in two distinct directions."
"I think it makes us ask questions of both for-profits and the public sector," said Michelle Asha Cooper, president of the Institute for Higher Education Policy, a non-partisan research group. "For the for-profits: Are you serving these students well, and are they getting an education that matters, one that will actually lead to an employment opportunity that helps them have a sustainable wage? But for the non-profit sector, you have to ask, 'Why aren't you enrolling these students?'"
Lobbyists for the for-profit college industry have argued consistently over the past year that traditional higher education is not set up to accommodate the needs of many low-income and minority students juggling jobs and families.
Marc Morial, president of the National Urban League, penned an op-ed in the Washington Post earlier this year that argued, "Career colleges are different only in that they are the schools of choice for many at-risk students, including minorities, parents and full-time workers who believe these schools offer them the best shot at a good job in a field they will enjoy."
He implored the Obama administration to delay implementation of the regulations. "The last thing that students already constrained by poverty need is another, government-erected barrier to a better life," he wrote.
"Some advocates, noting that minority students make up a large segment of for-profit college students, claim that the new rule will narrow educational choices for low-income people and people of color," they wrote. "This claim misses the mark. It's like arguing that because mortgage lenders targeted minorities with their most exploitative products and practices, we should not have stopped them."
Many critics have argued that the trend of high enrollment numbers, followed by low graduation rates, points to an inherent problem: Students are courted aggressively at enrollment, yet not provided with the necessary tools to succeed in the end.
"This can't just be about access," said Michael Lomax, president and chief executive of the United Negro College Fund, which supported stricter oversight of for-profit schools. "You've got a lot of people entering the system. The question is: Will they leave the system with education and/or degrees that qualify them for better employment, and employment that will allow them to repay their debts?"
But he pointed out that while regulations are welcome, the goal should not be driving the for-profit sector out of business.
"I think that the gainful employment (regulations) were an appropriate way to begin to regulate an industry that, at the end of the day, we don't want to destroy," Lomax said. "Because we need it to produce more graduates, but we need it to meet certain kinds of ethical and business standards.
"They cannot be the educational equivalent to payday lenders."
Popular in the Community