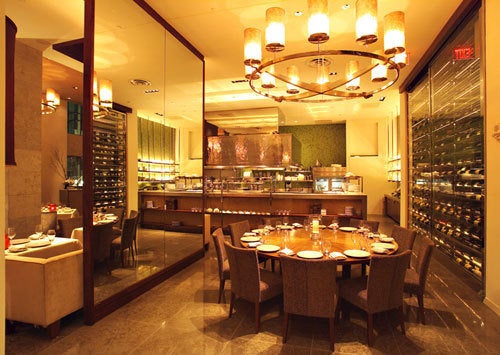 Update (10:40AM): It turns out Politico got the wrong restaurant (but right hotel) in its original post. They had initially said McCain dined at CityZen at the Mandarin Oriental Hotel. Instead, McCain dined at Cafe Mozu, another restaurant inside the hotel. The Washingtonian describes it as "sophisticated pan-Asian at the opulent Mandarin Oriental Hotel."
Original post (see update): So lawmakers struck a deal on the bailout last night, but where was John McCain?
Was he part of the negotiations that he rushed back to Washington, DC to rescue? Was he valiantly battling the forces of the status quo to get something done for Main Street?
Well, it turns out that he wasn't. Instead, he indulged in a luxury dining experience at CityZen, an icon of haute cuisine in Washington, DC.
Politico reports (update: Politico has updated the article and removed the reference to McCain's dinner, but as you can see in this Google search, the reference was there in the original article):
As his colleagues worked on the deal at the Capitol Saturday night, McCain and his wife, Cindy, dined with Sen. Joe Lieberman and his wife, Hadassah, at CityZen, one of Washington's best restaurants.
No word on exactly what McCain ate at CityZen (which boasts an 800-bottle wine selection), but there's a limited range of possibilities, according to the establishment's menu.
Three menus are offered: a three-course prix fixe menu, a six-course chef's tasting menu or a vegetarian tasting menu.
The six course meal costs $110, with an optional "Sommelier's Pairing" for $75.
The restaurant serves treats such as Monterey Bay Squid Ratatouille; Shaved Sashimi of Geoduck Clam; Basic Infused Lettuce; Fricassee of Summer Beans, Flageolets, and CityZen Chorizo; Fromage Blanc Soufle Glace with AN Almond Biscuit Navel Orange Salad and Orange-Licorice Emulsion.
You choose among three prix-fixe menus: three courses for $75, a six-course vegetarian tasting menu for $90, or a six-course $105 tasting menu. Starting with an amuse bouche of fried mushroom with truffle butter; moving on to a grilled pork jowl with marinated French green lentils, micro watercress, and shaved foie gras confit; and further on to the crispy skin filet of Atlantic black bass served with Rancho Gordo shelling beans, CityZen chorizo, and baby leeks -- every taste is exquisite and out of the ordinary. Waitstaff bring intermission refreshments, such as olive oil custard topped with infused butter or ginger sorbet in homemade root beer. Only a food artist would think to create sensations like the cardamom-dusted orange cruller with kumquat marmalade and African amber tea sorbet. The restaurant's 800-bottle wine selection concentrates on bordeaux, burgundy, and California cabernet.
Washingtonian Magazine hailed the restaurant's "chili consommé with an oval of chili-powder mousse."
Popular in the Community