There has been much debate of late as to whether "Exit Through the Gift Shop," the Oscar-shortlisted documentary by British street artist Banksy, is a hoax or searingly accurate commentary on a smug art world glutted by its own economic successes. But Banksy and his crew have stopped bickering with the disbelieving public about factuality for a moment, as they are now embroiled in another dispute, this time with Joachim Levy. The 34-year-old Swiss filmmaker is speaking up about what he sees as an unjust oversight -- the exclusion of his name from the credits of Banksy's acclaimed film, the New York Times reports.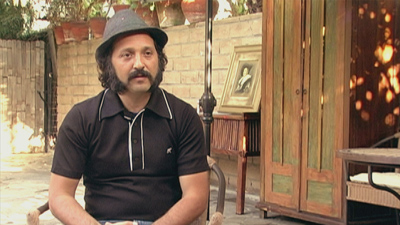 Swiss filmmaker Joachim Levy worked with Thierry Guetta (above) on a previous project that influenced "Exit Through The Gift Shop." / courtesy Banksyfilm.com, Paranoid Pictures
Levy worked as a producer and editor with Thierry Guetta -- the protagonist of Banksy's doc -- on "Life Remote Control," a shaky, rambling ode to street art that the duo first screened in 2006. When Banksy saw the film, in which he makes a guest appearance along with fellow graffiti profiteer Shepard Fairey, the Times reports that he was supremely unimpressed, so much so that he nudged Guetta into a new career wielding a spray can rather than a camera. (In Banksy's film we see Guetta's transformation from a compulsive videographer of street artists to a street artist himself -- the self-dubbed Mr. Brainwash -- who is adored by sycophantic gallerists.) But Bansky, who just weeks ago donated $127,000 to assist with the defense of the Moscow-based collective Voina, uses footage from Levy's movie as well as shots of Levy and Guetta in "Exit Through the Gift Shop," including the entirety of "Life Remote Control" in the extra features section of the newly released DVD of his film -- all without crediting Levy.
"Street art is free, it's for everyone, and you can go and put a graffiti on someone else's graffiti," Levy told the Times. "It's kind of street law. But you can't apply street art law to films, and just say, hey, let's do what ever we want." But as it is Guetta who owns the "Life Remote Control" footage and who licensed it to Banksy, Levy may have to pursue the dodgy Mr. Brainwash to resolve his intellectual property dispute. Meanwhile, Banksy's people are skirting the question of whether they are at fault. "We are currently gathering the facts about Mr. Levy's role by talking to all those involved in the making of 'Life Remote Control,' and we hope that this situation will be resolved shortly," producers of Banksy's film said in a statement released through Banksy's publicist.
One accidental product of Levy's campaign against Banksy, may be that the slighted filmmaker aids Banksy in his quest to prove the sincerity of his confounding documentary. The British artist called "Exit Through the Gift Shop" "100 percent true" in a recent email interview on the blog All These Wonderful Things. Levy said of "Exit" to the Times: "It's not a hoax, definitely not." But given that Levy is backing up Banksy's claims during the lead-up to the Academy Awards -- when free publicity for contenders is as golden as Oscar himself -- one feels compelled to ask, has everyone, even Levy, been brainwashed by Banksy?
Calling all HuffPost superfans!
Sign up for membership to become a founding member and help shape HuffPost's next chapter