Every year, hundreds of people around the world are killed and thousands more are intimidated and threatened for defending the environment from exploitation.
At a time when governments need to be taking decisive action to meet basic climate change targets, and to enact a more sustainable development (as per the Sustainable Development Goals), we're seeing the wrong trend: fossil fuel companies, mining companies, agricultural developers and logging companies are bulldozing their way further into land inhabited by Indigenous Peoples and deeper into the world's last remaining habitats.
The result? Frontlines of conflict across the world, where peaceful resistance to the expansion of corporations is retaliated against brutally.
In 2016, Global Witness reported on the deaths of 185 environmental defenders. These are people caught in the crossroads between corporations steamrolling their way to profit and the failure of governments to protect their people. Environmental defenders must be protected when doing their work - they are doing essential work on behalf of all of us - and that is also why we need to shed light on their struggles for the world to bear witness.
The following are six stories of everyday people who are either facing intimidation and threats themselves, or are supporting those who are. They were recorded late last year at an event as part of the United Nations climate talks, COP22, in Marrakesh, Morocco. We stand firm in solidarity with all of them, and to all those who are continuing their struggles despite these trends.
Roberto Marques is a chief from the Anacé People in Brazil. His community has been struggling against encroachment on their land from a hydropower scheme, a coal power plant, and the expansion of fracking in the northeast of Brazil.
"I was not there in the moment, but the police entered our lands with an authorization we don't know from whom. It was lunch time, they kicked over our Chief's food – who's my father – and the food of other elderly people. They arrested him and brought him to the police station. I felt stricken by this, because it could have happened to me and he is a very important person to our people..It was like I was feeling it too."
Roberto's experience is unfortunately terrifyingly common in Brazil, especially amongst indigenous populations, and all too often it doesn't end with intimidation, but murder. At least 50 people were killed in Brazil in 2015 for simply defending their land from the insidious creep of mines, logging and other big projects. That's the highest rate of anywhere in the world.
In the face of such threats, movements like Amnesty International and Global Witness that offer global solidarity and local support to those at risk can help to safeguard them.
Landry Nintertse is the 350.org Africa Team Leader from Burundi. Being an activist in many parts of Africa comes at high risk. Intimidation and threats of violence are commonplace in countries where fossil fuel and mining companies have a corrupting influence over the government.
"Environmental Defenders protecting natural resources in Africa are constantly being harassed, intimidated, sometimes detained or forced into exile because of their activism. ...most countries have constitutions that protect all citizens...to have it written is one thing, but to have it implemented is another thing."
Protecting Environmental Defenders, as Nintertse highlights, not only requires global solidarity, but also local and global pressure on governments and corporations to guarantee the safety of anyone who resists their projects. In many countries this is an uphill battle, and much more needs to be done.
Hindou Oumarou Ibrahim is from the Mbororo pastoralist community of Chad. She is co-chair of the International Indigenous Peoples Forum on Climate Change, the Indigenous Peoples' caucus to the UNFCCC. She is constantly working for the right of environmental defenders to be heard, and for the abuses carried out against them to be made visible to the world.
"To defend the rights of environmental defenders we need to defend their right to talk. We have to ensure that what [they] are saying is going far and louder" Beyond the media, every individual can talk about what environmental defenders are facing. For example when an environmental defender is arrested, it is not documented" When we are defending the environment, we are not defending for ourselves, but for the whole world"
Environmental Defenders are at the pointy end of what it takes to implement the Paris climate agreement - often they are stopping the projects that need to be stopped to meet ambitious climate targets, and as Ibrahim says, they're doing it for all of us. So where governments fail to protect the human rights of Environmental Defenders, it takes movements of people to win their protection. Winning protection for Environmental Defenders is also winning in the fight to stop climate change.
Victoria Tauli-Corpuz is the Philippines-based UN Special Rapporteur on the rights of Indigenous Peoples. Her work involves advocating for and reporting on the status of human rights of Indigenous Peoples to governments around the world. Indigenous Peoples are disproportionately affected by the expansion of mining and logging.
"Indigenous peoples have the right to continue living in their own lands and living the life they like. I receive three or four letters every day complaining about an indigenous person being arrested or a community which got burned, people who are displaced...It's a reality and therefore imperative for us to act… I think the presence of organisations like Amnesty International has no doubt helped defend those people who are in those kinds of situations...and we have to broaden the reach of organisations who are defending environmental defenders."
The United Nations remains an important mechanism for seeking protection for Environmental Defenders, and beyond that, global solidarity has a huge role to play.
We need to let corporations and governments know that they cannot get away with murdering, butchering or threatening those who stand in their path. Thousands of people campaigning to solve climate change are doing so in precarious situations where protection of human rights is not guaranteed. We can defend their right to talk, and promote their human rights by talking about them globally, by sharing stories and by being prepared to organise solidarity events and vigils when needed.
You can find a local 350.org group to get involved with or consider starting your own if there isn't one near you here, and sign up to hear more via email here.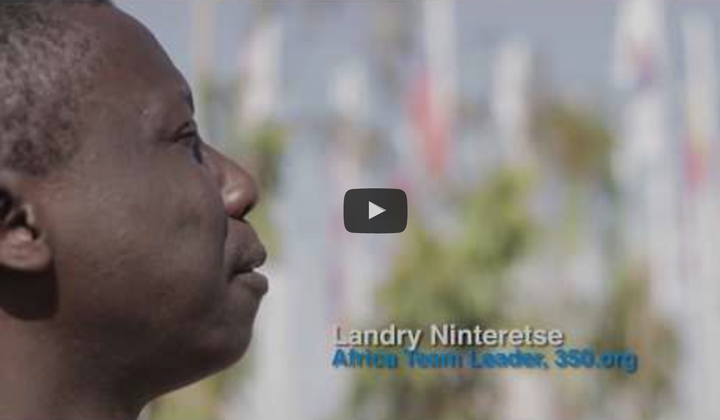 Related
Popular in the Community