I was recently on the hunt for "Dora the Explorer" Band-Aids and an at-home waxing kit at my local drugstore when something caught my attention. There, perched just at eye-level was the "Easy Feet" foot scrubber. Why would anyone get excited about a foot-cleaning device? I'll tell you why.
I live in New York City, which is, arguably the greatest city in the world. I am not alone in this sentiment, so I share it with 8 million inhabitants whose litter, gum, spit and other bodily fluids line the streets (though things are sparkling compared to the '80s, thank you, Mr.Giuliani!). Come June we are all outside in sandal-clad feet and as a result, I come home with what I like to call "summer feet."
I didn't know about summer feet until I moved back to the city from a four-year stint in L.A., but I do remember a friend of mine telling me how she'd use baby wipes to clean her feet after a day out and about. This is my third summer back in the city, and last year I wised up and stepped into the bathtub as soon as I got home for a quick scrub (a "bird bath" for the feet, if you will).
The Easy Feet Foot Scrubber is meant to be stuck to your bathtub (thanks to nifty suction cups), where you can just run the water, squeeze on a little gel and rub your feet on the stalagmite-like bristles. The thing actually looks like those Adidas shower sandals that soccer players wore in high school, except the strap has bristles, in order to get the grime off the top of your feet.
I normally wouldn't have purchased something advertised "As Seen On TV" because of dubious connotations with items like Snuggies and Thighmasters. TeleBrands Corporation, the company responsible for the "As Seen On TV" logo and infamous informercials was way ahead of its time when it started out as a mail order company in the '80s, allowing consumers to buy things directly from the vendor without a retailer in the middle, in the same way that e-commerce works today.
Despite its less-than-glamorous packaging, this product was something I didn't know that I needed/could actually put to use. I plan on keeping it outside my back door where I can run the hose and scrub to my germaphobic heart's delight without ever having to touch my feet.
Here, seven more As Seen On TV products that we can't wait to try.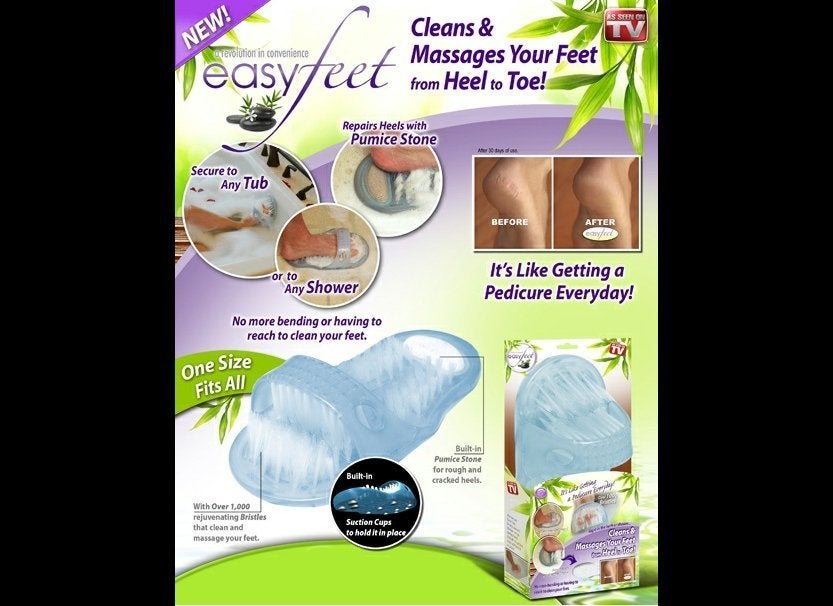 As Seen On TV: I Tried It