A loving tribute written by Gail Collins to honor political activist and feminist icon Gloria Steinem (This Is What 80 Looks Like) caused me to stop and think about some of the progress that's been made in the women's rights movement and the incredible distance that still needs to be traveled.
Since 2007, the Geena Davis Institute on Gender in Media has embarked on a campaign "to work within the entertainment industry to dramatically alter how girls and women are reflected in media."
Despite signing the Lily Ledbetter Fair Pay Act into law on January 29, 2009, President Obama is still struggling to get Congress to approve equal pay for equal work.
In partnership with the Wellesley Centers for Women, Carey Perloff (the Artistic Director of American Conservatory Theatre) recently launched a research study entitled Women's Leadership in Residential Theatres.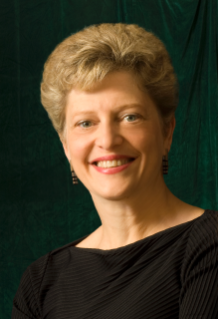 American Conservatory Theatre's Carey Perloff (Photo by: Kevin Berne)
If, however, one examines the leadership of the Bay area's performing arts organizations, there is no doubt that many women are in positions of artistic and/or managerial leadership.
In 1983, Christina Augello founded the EXIT Theatre, where she continues to produce the annual DIVAFest and San Francisco Fringe Festival.
Carole Shorenstein-Hays is President of SHN and has won six Tony Awards for her work as a theatrical producer.
Susan Medak has been Managing Director of Berkeley Repertory Theatre since 1990.
Jan Zvaifler co-founded Central Works in 1991.
Paige Rogers co-founded Cutting Ball Theater in 1999.
Melissa Hillman (who writes the brilliant Bitter Gertrude theatrical blog) has been Artistic Director of Impact Theatre since 2000.
Liz Hitchcock Lisle has been Managing Director of the Shotgun Players for 13 years.
Susi Damilano co-founded San Francisco Playhouse in 2003.
Susie Falk has been Managing Director of the California Shakespeare Theater since 2009.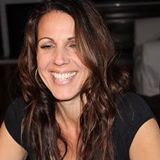 Magic Theatre's Producing Artistic Director, Loretta Greco
Loretta Greco has been the Producing Artistic Director of Magic Theatre since 2009.
Crowded Fire Theater is led by Artistic Director Marissa Wolf and Managing Director Tiffany Cothran.
Berkeley Playhouse is under the leadership of Founding Artistic Director Elizabeth McKoy and Producing Executive Director Lauren Hewitt.
Sara Nealy is Executive Director of the East Bay's Festival Opera.
Amy Mueller is the current Artistic Director of Playwrights Foundation.
When Chloe Bronzan founded Symmetry Theatre, the company's mission statement trumpeted that "The plays we choose will always have at least as many female characters as male, and in any given show there will always be at least as many Equity contracts given to women as to men. In addition we will produce plays that acknowledge that women's stories are as important as men's and, in so doing, we will hope to bring about further awareness to the public and the theatre community at large of the need for more 'balance on the boards.'"
The recently launched 3Girls Theatre Company is dedicated to putting "women's work onstage, where it belongs."
On March 15, 2010, Theresa Rebeck gave a rip-roaring speech to the ART/NY Curtain Call annual conference entitled A Thousand Voices in which she described the obstacles facing female playwrights who hope to get their work produced. Perhaps because of the Bay area's diversity (as well as the number of women in local leadership positions) our stages often play host to comedies and dramas written by talented women.
If, in addition to the organizations listed above, one includes Playground's incubator program for playwrights and Stuart Bousel's annual SFOlympians Festival, the Bay area may be ahead of the curve in presenting new works by female playwrights. Recently, two works by formidable female playwrights of different generations were being produced with especially curious results.
Ever since her triumph with 1979's Cloud Nine, British playwright Caryl Churchill has been challenging authority figures, gender roles, and other aspects of the status quo. San Francisco's Custom Made Theatre Company recently unveiled a new production of Churchill's 1982 hit, Top Girls (which had its debut at about the same time that Margaret Thatcher and the "Dress for Success" craze were peaking).
In some ways, Top Girls is nearly schizophrenic in nature. Its first act is the fantasy vision of Marlene (Cary Cronholm), a tough, handsome professional woman who has clawed her way to the top of a London employment agency and is about to host a celebratory party in a restaurant. If you've ever dreamed of having dinner with some of your favorite fictional and/or historical figures, you'll be surprised to see who is on Marlene's guest list.
Isabella Bird (Cat Luedtke) was a famous author and world traveler whose lack of interest in a traditional marriage gave her the freedom to explore new and often thrilling horizons. She frequently makes reference to her younger sister, Henrietta, who stayed at home and seemed to be much better suited to a domestic lifestyle.
Lady Nijo (Mimu Tsujimura) was a narcissistic 13th-century concubine who, at the age of 14, was forced by her father to sleep with the aged Emperor of Japan. As she describes her endless humiliations (including having her child taken away from her), Lady Nijo basks in the knowledge that, although she later became a nun, at least the Emperor seemed to like her.
Dull Gret (Katie Robbins) is a peasant woman dressed in soldier's garb whose main concern is the food she is about to eat. Gruff, coarse, and often monosyllabic, she is a cartoon of an emotionally shut-down male warrior.
Pope Joan (Monica Cappuccini) is a fictional character who started cross-dressing as a young girl, got elected Pope while disguised as a man, and had numerous male lovers. After becoming pregnant and delivering her baby during a papal procession, she was stoned to death.
Patient Griselda (Carina Lastimosa Salazar) represents the millions of women who, after marrying and being told that above all else they must obey their spouses, end up in lives of servitude which basically relegate them to the status of a doormat.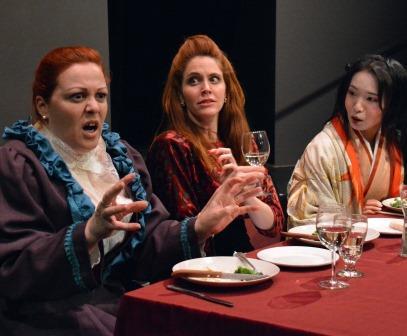 Isabella Bird (Cat Luedtke), Marlene (Cary Cronholm), and
Lady Nijo (Mimu Tsujimura) in Top Girls (Photo by: Jay Yamada)
The second half of Churchill's play is grounded in the sad realities of life in Thatcher's Britain. Marlene's homely sister, Joyce (Cat Luedtke) has had a difficult time raising the hostile and rebellious Angie (Katie Robbins) who is, in fact, the illegitimate child Marlene gave up so that she could pursue her independence, personal dreams, and build a career. Angie's well-meaning but easily frightened friend, Kit (Megan Putnam), is a neighboring teen with few friends.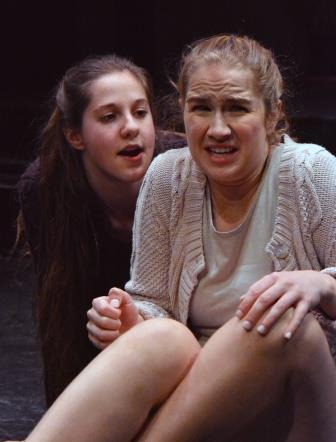 Angie (Katie Robbins) frightens Kit (Megan Putnam)
in a scene from Top Girls (Photo by: Jay Yamada)
When Angie suddenly leaves home to go visit her aunt Marlene at work, she arrives on the day that Marlene has been promoted, effectively ruining the career of a male co-worker who assumed he would inherit the position. Though fascinated by Marlene's power over others, Angie can't understand that she has arrived at an inopportune moment and is little more than an inconvenience to Marlene.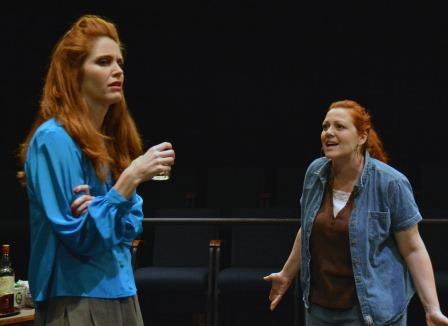 Marlene (Cary Cronholm) and her sister, Joyce (Cat Luedtke)
in a tense scene from Top Girls (Photo by: Jay Yamada)
This production of Top Girls may well have been the most lopsided evening of theatre I've experienced in years. While director Laura Lundy-Paine was clearly overwhelmed trying to stage the play's difficult first act, her work shone through in the subsequent, emotionally charged confrontations between Angie, Kit, Marlene, and Joyce. Part of the problem was that much of the first act requires two actors to speak simultaneously.
Few playwrights put words into the mouths of their characters with the desire that they be reduced to nonsense syllables or gibbering mush. A skilled director might have tried harder to find a way to make sure that the audience could follow each character's lines. Unfortunately, Lundy-Paine's inability to bring clarity to much of Act I was a severe disappointment made worse by the fact that Mimu Tsujimura and Carina Lastimosa Salazar had such poor diction that many of their lines were almost unintelligible. Megan Putnam, however, did some beautiful work as both Kit and Shona.
Over the past 50 years, I've attended numerous world premieres of operas, plays, and ballets. Few, however, have been as dramatically substantial, historically important, powerfully acted, and emotionally satisfying as Lauren Gunderson's brilliant and meaty new drama entitled Bauer, which is currently receiving its world premiere from the folks at San Francisco Playhouse.
Considering that this is a one-act, 90-minute play with three characters working on a unit set, one might be inclined to ask just how and why this drama made such a deep impression on opening night. The answer has a lot to do with the mature applications of solid theatrical craft:
Bill English's long-proven craft as a set designer and stage director.
Lauren Gunderson's increasingly dazzling craft as a fearless playwright who can transform heaping piles of love, betrayal, and exposition into dialogue that crackles with dramatic tension.
A searing performance by Stacy Ross as the deeply conflicted Baroness Hilla Rebay.
Equally moving performances by Ronald Guttman as the artist, Rudolf Bauer, and Susi Damilano as his anguished wife, Louise.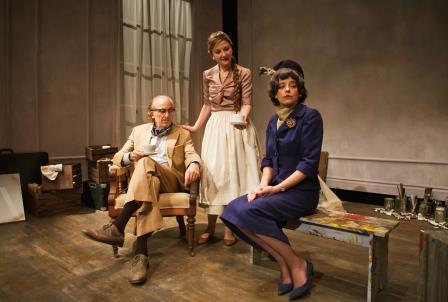 Rudolf Bauer (Ronald Guttman), Louise Bauer (Susi Damilano),
and Hilla Rebay (Stacy Ross) in a scene from Bauer
(Photo by: Jessica Palopoli)
The inspiration for a play about Rudolf Bauer first came to Bill English when he watched a documentary entitled Betrayal: The Life and Art of Rudolf Bauer. Not only did it tell the story of how Bauer rose to fame in the first third of the 20th century, it described how he was eventually betrayed by his former lover (one of Solomon R. Guggenheim's most trusted advisers), Hilla Rebay. By the time the Solomon R. Guggenheim Museum (which had originally been planned to showcase Bauer's art) opened in New York on October 21, 1959, a legal technicality had nearly destroyed the artist's legacy.
In his artistic director's note, Bill English writes:
"After seeing the documentary, I was dumbstruck by how this painter, a leader in the non-objective art movement, whose own museum had housed Kandinsky, Klee, Ernst, and many more, who defied the Nazis by painting in prison after he had been jailed for 'subversive art,' who had been the darling of Guggenheim and Frank Lloyd Wright, prominently featured in Guggenheim's first museum and proclaimed by him as 'the greatest living painter' could suddenly stop painting at the height of his powers and end up with over 200 canvases relegated to the Guggenheim basement.

How does that happen? How is the artistic process destroyed? How do painters, actors, playwrights, musicians, composers, suddenly lose the thread? How is the creative process undone? To answer these questions, we turned to Lauren Gunderson who, after reading two of her biographical plays (Emilie: La Marquise du Chatelet Defends Her Life Tonight and Silent Sky) stood out as the ideal playwright to tackle this story."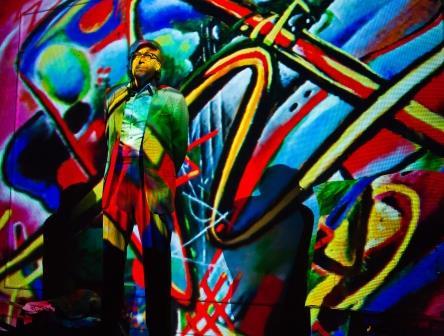 Ronald Guttman as Rudolf Bauer (Photo by: Jessica Palopoli)
In their 1984 Pulitzer Prize-winning musical, Sunday in the Park With George, James Lapine and Stephen Sondheim did a brilliant job of trying to explain what spurs an artist's creativity and how, in order to be allowed to continue creating, an artist must respond to the pressures of the marketplace.
In recent years Bay area audiences have attended performances of Herbert Siguenza's one-man show (A Weekend With Pablo Picasso) at Center Rep as well as John Logan's play, Red (about Mark Rothko) at Berkeley Repertory Theatre. Neither of these plays however, really gets into the anguish of the artistic process with the same intensity as Bauer.
Although an online archive of Rudolf Bauer's work and life history has been created by the Weinstein Gallery, it can't capture the emotions and the ripple effect of the artist's decision to stop creating on those who loved him with anywhere near the intensity of Gunderson's writing. Nor can it deliver the kind of powerhouse performance embodied in Stacy Ross's portrayal of Hilla Rebay which, with the nervous tremor of a lip, can communicate so much to an audience.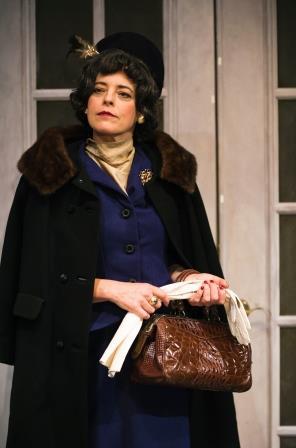 Stacy Ross as Baroness Hilla Rebay in Bauer (Photo by: Jennifer Palopoli)
In many ways, Gunderson's play provides the perfect bookend to Sunday in the Park With George by demonstrating how a legal document can so enrage an artist that it will cause him to stifle the creativity which has, for so long, been his life force. It's almost like watching an angry soul trying to give his talent the silent treatment. As Bill English notes:
"Bauer faces the betrayal of a powerful mentor and the love of his life, who (perhaps unwittingly) conspired to deprive him of his purpose. In our deeply commercialized world, what does the commodification of art do to the artist? Where does patronage leave off and ownership begin? Do artists continue to produce when their inspiration departs? Yes. Should they? How does a man choose between the thing he most loves and his integrity? Art is, by nature, an act of rebellion. Can the decision to 'not paint' become an artistic statement in its own right? Once squelched by whatever force of our conformist society, can the artistic flame be rekindled?"
The San Francisco production of Bauer (with the original cast) will take Gunderson's play to New York this fall, where it will run from September 2 to October 12 at the 59E59 Theaters. Here's the trailer:
Popular in the Community