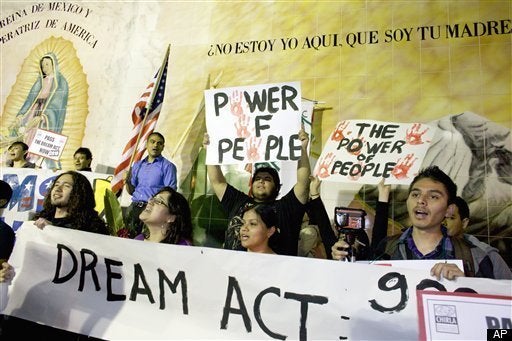 Imbued by the House of Representatives vote on the DREAM Act last night, 19-year-old University of Texas student Lucy Martinez watched from her wheelchair as the Senate moved 59-40 today to table their vote.
The Senate may now have a week to deliberate, but the debilitated Martinez has passed the precarious 30-day mark with fellow "Dreamers" on a liquids-only hunger strike for the immigration bill's passage. The teenage Martinez, who is now being monitored and tested, was recently advised by medical experts to limit her movements.
UPDATE: December 10, 9am EST: According to the San Antonio Express-News Martinez broke her hunger strike last night due to increasingly serious complications. Other strikers in Texas and across the country continue.
"My target was Sen. Hutchison," Martinez said in a special interview, referring to Texas Republican Senator Kay Hutchison, a one-time supporter of the DREAM Act. "I did this for her," Martinez said, "to show her how committed Dreamers are to this movement. I don't know what is going to happen."
Quoted in the Dallas Morning News today, Hutchison said the Senate should consider the DREAM Act when there was more time for a full debate. Hutchison declared:

I will not support the Dream Act legislation brought before the Senate because it expands the scope of the bill beyond the intended individuals who were brought here as children and grew up and were educated in the United States.
Now that the Senate has a week to take up the DREAM Act, it remains to be seen if Hutchison will meet with Martinez in Washington, D.C. or engage in the Senate debate over the bill, which provides a restricted pathway to permanent residency and citizenship for certain undocumented immigrant minors who complete a 2-year degree or military service.
Martinez, an undocumented honors student who has spent most of her life in the United States, has been in Washington, D.C. for the past week to tell her personal story to Hutchison and other House and Senate members and their staff. Hutchison has yet to meet with Martinez.
Martinez said her mother, who works at a construction site in the San Antonio area, pays her for studies at the University of Texas in the Women's Studies Program. Martinez has received no federal or state assistance.
I'd like to tell Sen. Hutchison how we'd like to give back and contribute to this country, and recognize the sacrifices we have made and are willing to make," Martinez said. "I came to this country when I was 6-years-old. I graduated from gifted and talent programs in San Antonio schools. My mother now pays my university expenses out of her pocket. Without the DREAM Act, I have nothing to fall back on. This is our last hope. Everything we 've worked so hard in this country will go to waste. Not being given the opportunity to contribute to the United States is really heartbreaking. To be told you don't deserve to live even.

According to DREAM Act activists across the country, Martinez and her UTSA hunger strikers have inspired thousands of students and their families.
"I am very proud of the students who are engaging in the hunger strike, who put their lives at risk," said Dr. Carlos Munoz, Professor Emeritus at the University of California in Berkeley and author of the award-winning book, Youth, Identity and Power: The Chicano Movement. "They have done so in the spirit of Cesar Chavez and the farm worker movement of the 1960s. The hunger strike has had a national impact, and will continue to inspire us to make positive changes in our society. My hope is that their heroic act has not been in vain, and that the US Senate follows the example of the House of Representatives and votes their approval of the DREAM Act."
"Physically, I can't take it anymore," Martinez conceded, who plans to eventually return to San Antonio to take her final exams.
Yet, while her fate remains precarious, she insisted she and her fellow Dreamers have no other option.
"We have no idea how life will turn out tomorrow," Martinez said. "It's heartbreaking to live like this. There is a lot of pain. If the DREAM Act were to pass, all of us Dreamers would be able to breathe. I just want to go home and continue to contribute and give back to my community."
Popular in the Community