Cultural & Charitable Catch-Up: September 2017
Text & Photographs © Jill Lynne, 2017
Since childhood, we been conditioned to a summer recess –
That time for play and adventure, a time to explore…near & far…
The Grounds for Sculpture & J. Seward Johnson, Hamilton New Jersey, the Equestrian World of North Salem N.Y., Lincoln Center Out of Doors Roots Celebration with Bonnie Raitt, Sunset Jazz on the Hudson, Hudson River Park, the Greenwich Village Historical Society's Garden Party at the Jefferson Market Library Garden, and a tasty new Peruvian Restaurant, Baby Brasa, and Beautiful Fleurs from Saint Luke's Garden in the WV…
For many years, I regularly visited family in Philadelphia…en route via Amtrak; we would pass an intriguing station - Hamilton - curiously pristine and highlighted by several fascinating sculptures. I would muse on what might lie beyond there…
The fascinating Grounds for Sculpture…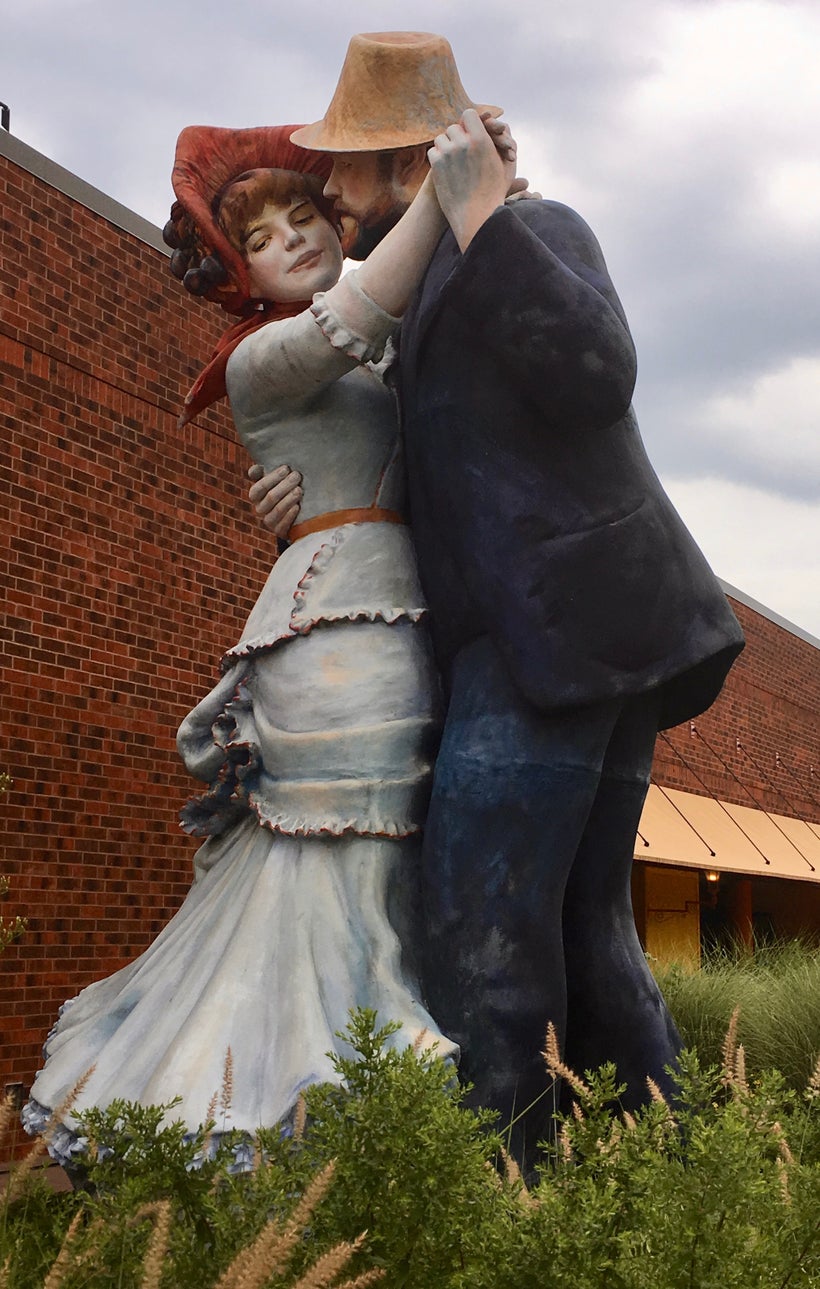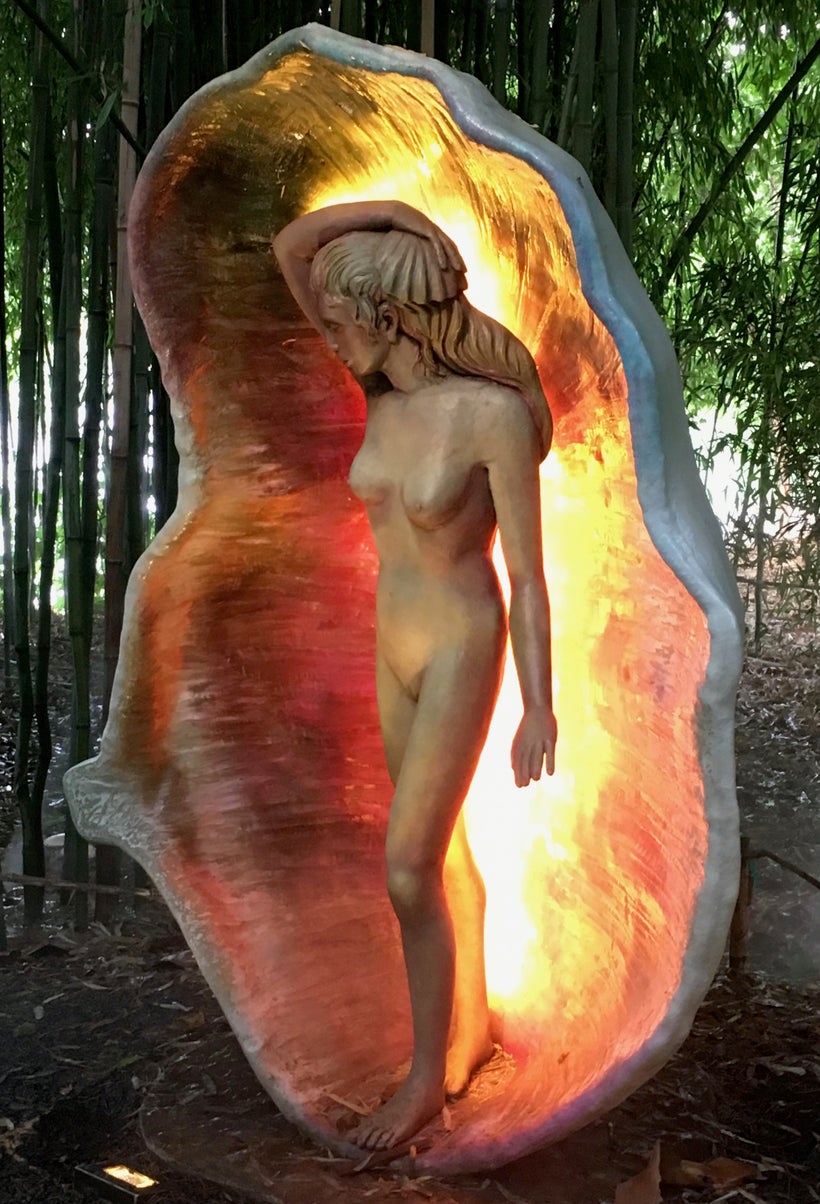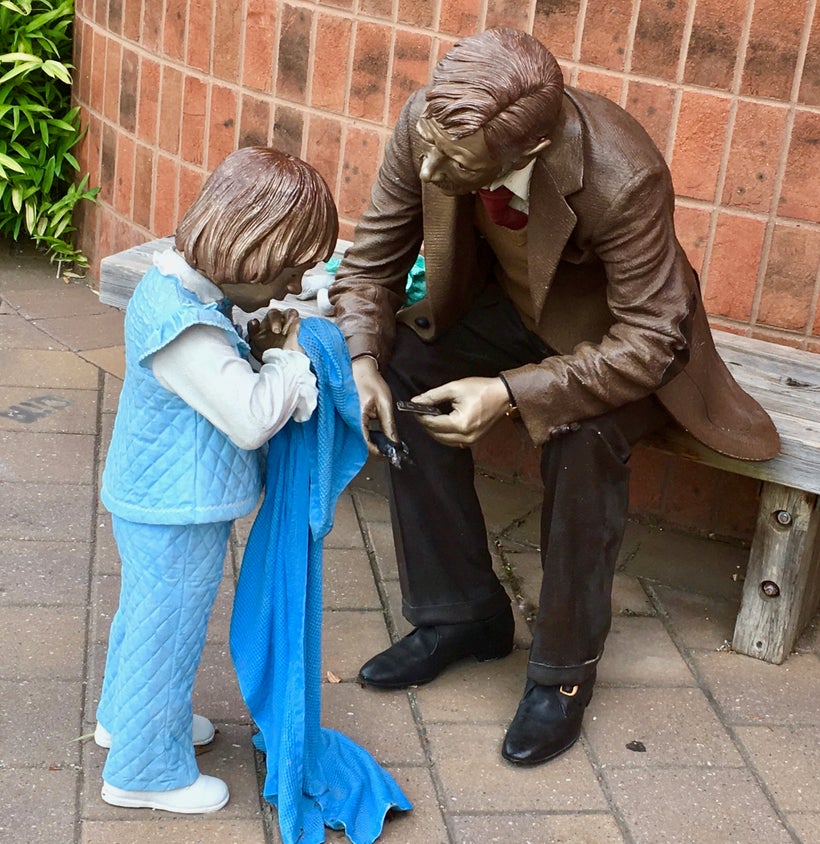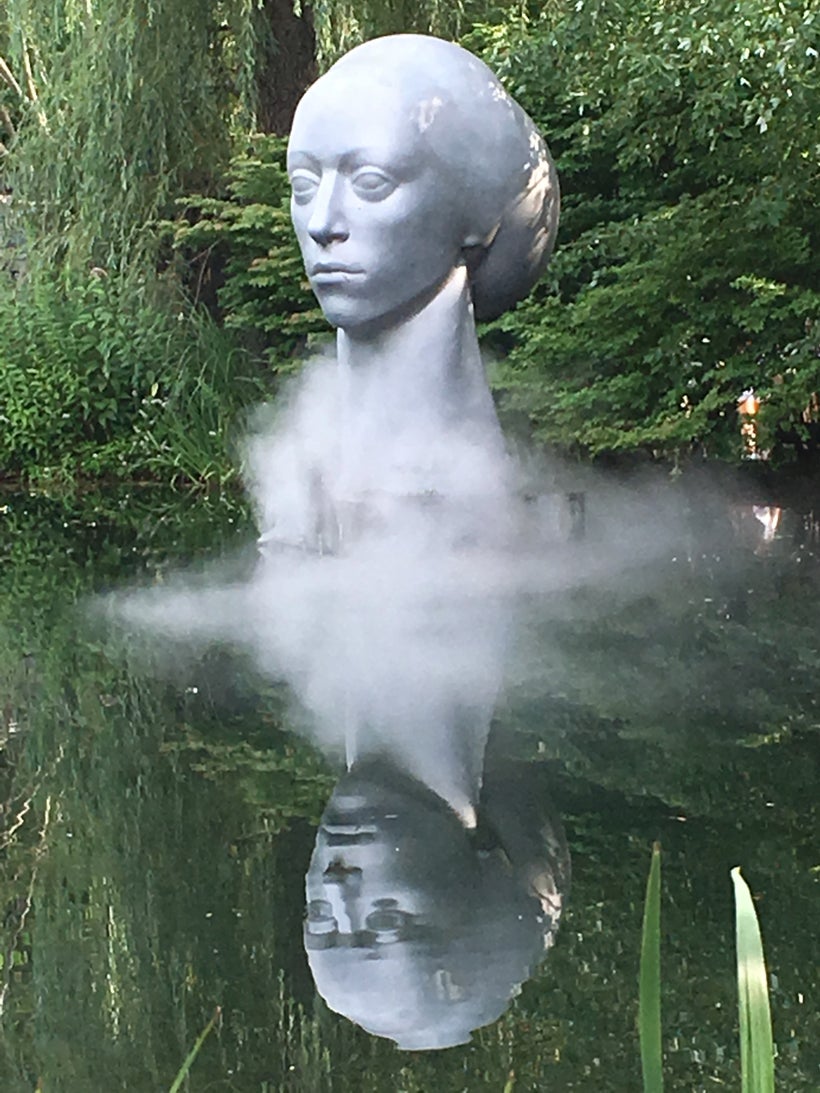 A Selections of Oversized and life-sized Sculptures by J. Seward Johnson himself…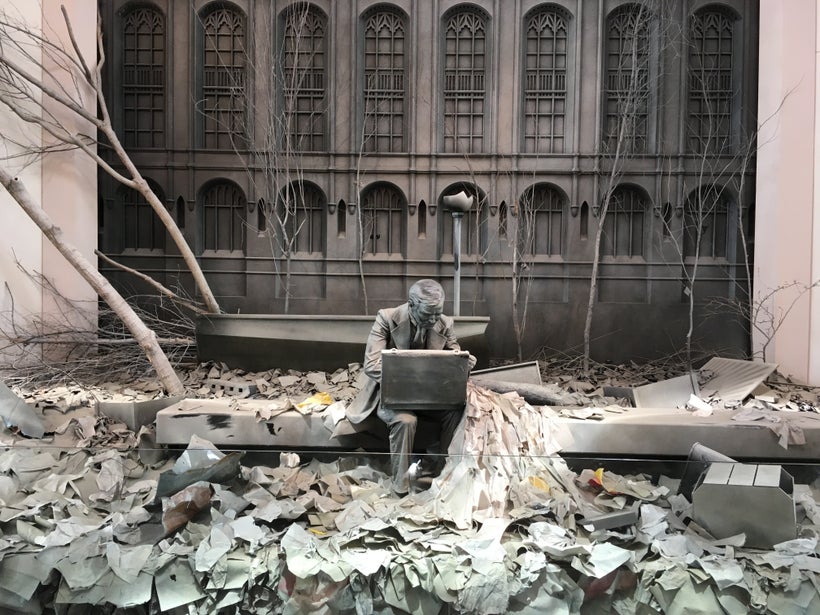 DOUBLE CHECK: THE SURVIVOR by Seward Johnson, 2004
This cast Bronze Sculpture, initially installed in Liberty Park in 1982, survived 9/11 covered in ash and debris. The Artist chose to leave all signs of devastation as an appropriate reminder of the greater devastation of that day. It then became an unofficial memorial with visitors leaving mournful flowers and notes.
In 1984, J. Seward Johnson (of the famed Johnson & Johnson family), sculptor and philanthropist, envisioned a public sculpture garden and museum. His desire was to make contemporary sculpture accessible and offer people from all backgrounds the opportunity to become comfortable with contemporary art.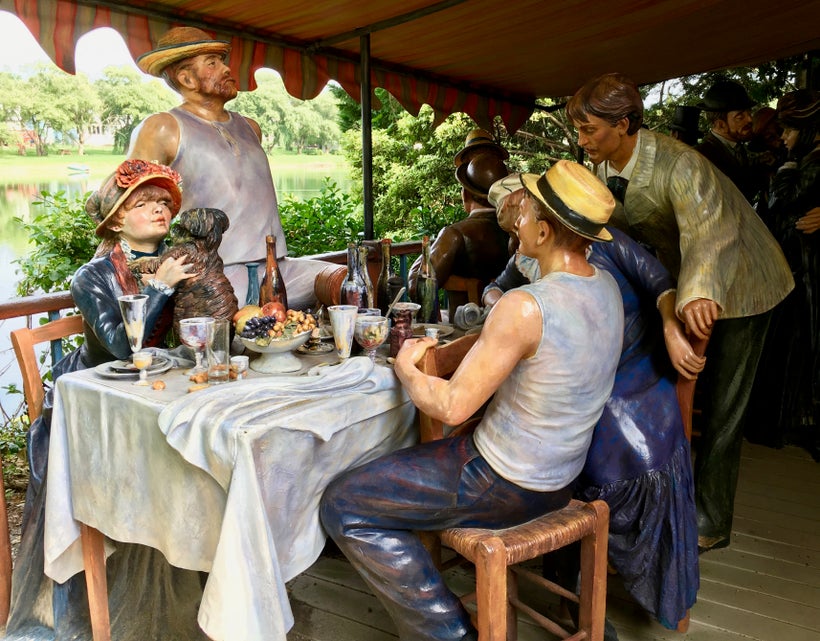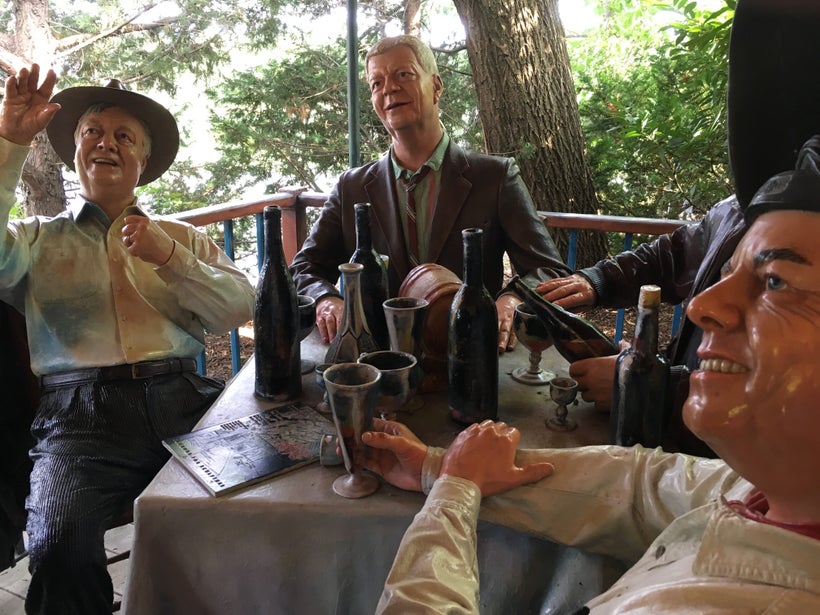 WERE YOU INVITED by Seward Johnson features a play on Renoir's "The Luncheon of The Boating Party (1881) celebrating at the Maison Founaise on the Seine outside Paris; now similarly installed on the banks of the lake…
As well as exhibiting the marvelous whimsical over-sized works of J Seward Johnson himself
Today the park exhibits over 270 works, including sculptures by renowned artists Clement Meadmore, Anthony Caro, Beverly Pepper, Kiki Smith, and New Jersey sculptor George Segal, Some of the works commissioned specifically for the sculpture park.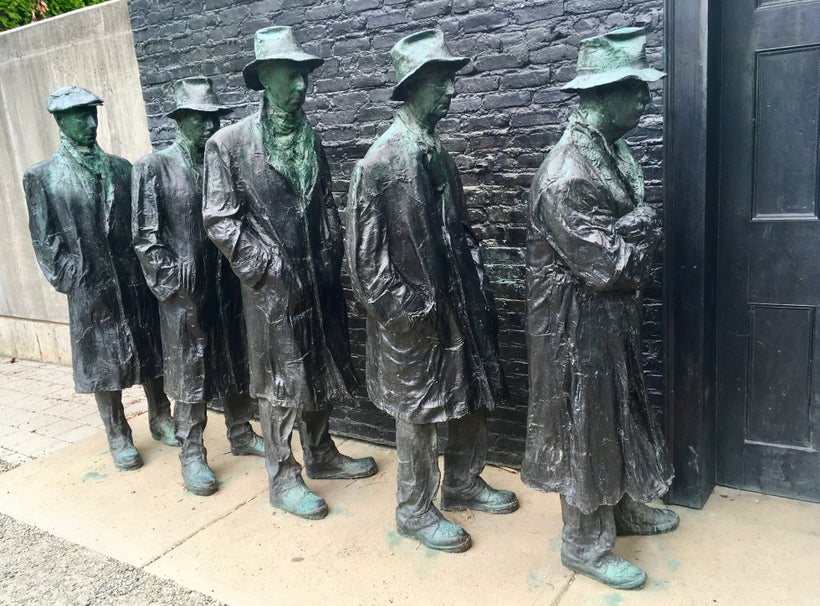 DEPRESSION BREAD LINE by George Segal 1999, Cast Bronze
The Gardens in which the Art is nestled within wonderful landscapes and tucked into mysterious half-hidden spots in, is truly magical.
Curiously several decades ago I became friendly with the late Marty Richards – best known as the Producer of "Chicago". His Southampton estate, beyond the hedges, featured many sculptures by J Seward Johnson. Richards was married to the heiress Mary Lea Johnson, who was also a Broadway Producer, whom I met at a Luncheon he gave in my honor. "Full Circle"!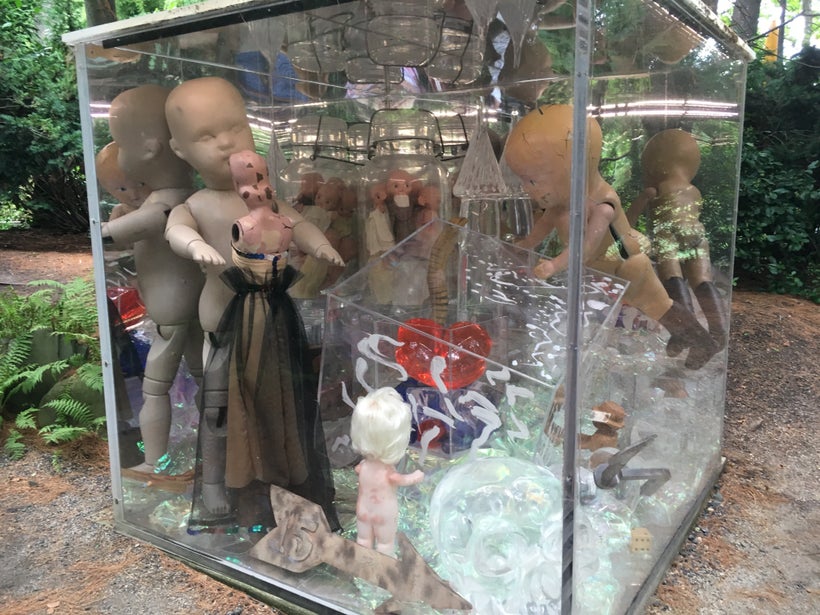 The FOREST of The SUBCONSCIOUS is a winding path that leads to a Sculpture by Gloria Vanderbilt
Midst the gardens lies a lovely Restaurant named RATZ after J. Seward Johnson's favorite character in "Wind in The Willows". Fresh healthy food a t below NYC prices…
Grounds for Sculptor is located in the Princeton area – an easy drive or train ride then NJ Transit bus running from the train station to outside the front gate. It's bus #608 (approximately 6 minutes plus a 2 minute walk). GFS is also about a 5-minute taxi ride away from Hamilton Train Station.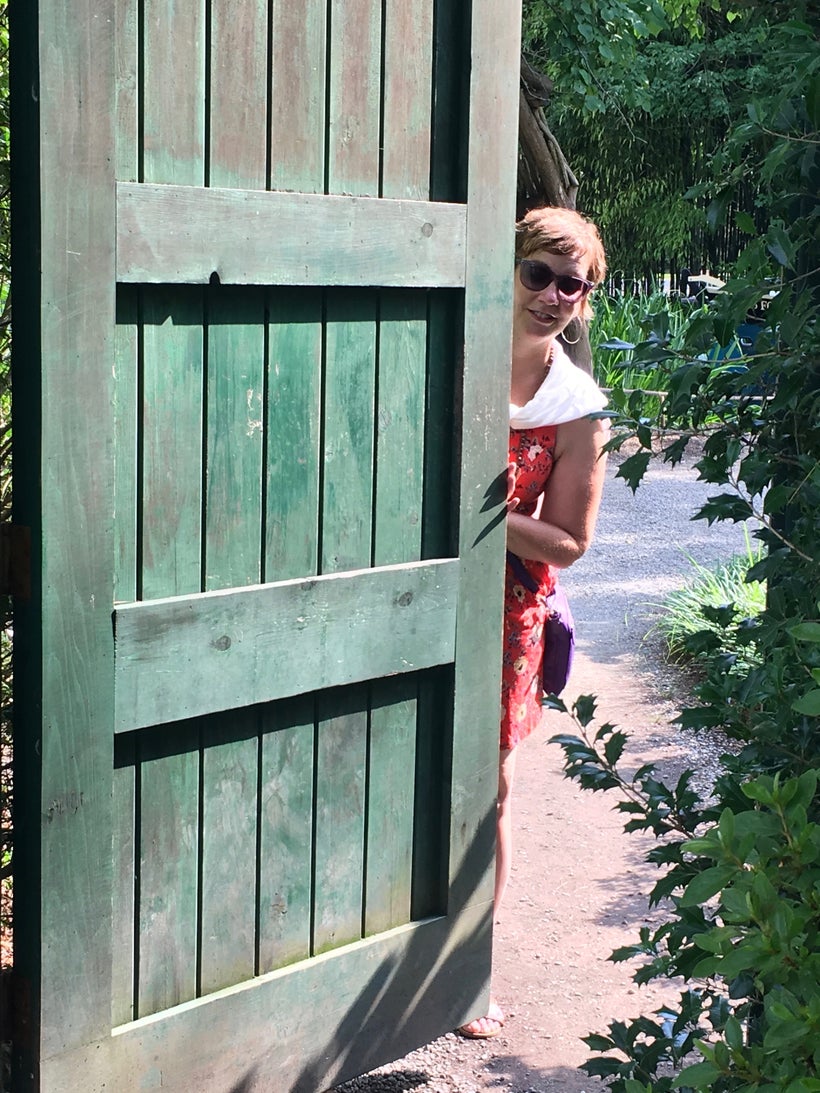 CoriAnne Playfully Peeks out from behind a Door to Nowhere…
This is Part I of my GFS exploration…so looking forward to my return in the Autumn for Part II…
_________________________________________________________________________________________
North Salem, New York is located in the Bedford area – the Northern most part of Westchester. This is equestrian country and the lovely landscape of rolling green fields dotted by white fence enclosed paddocks with beautiful well-bred horses is reminiscent of the classic British countryside.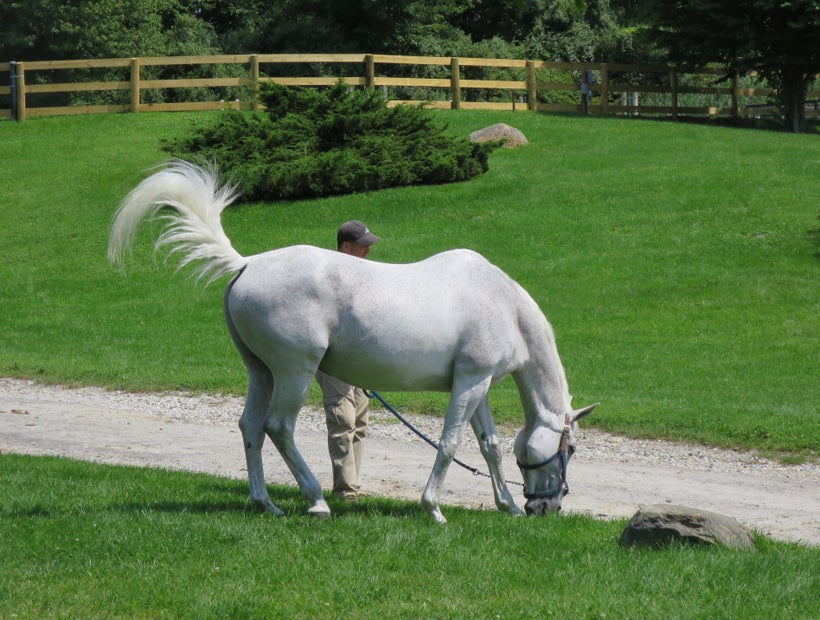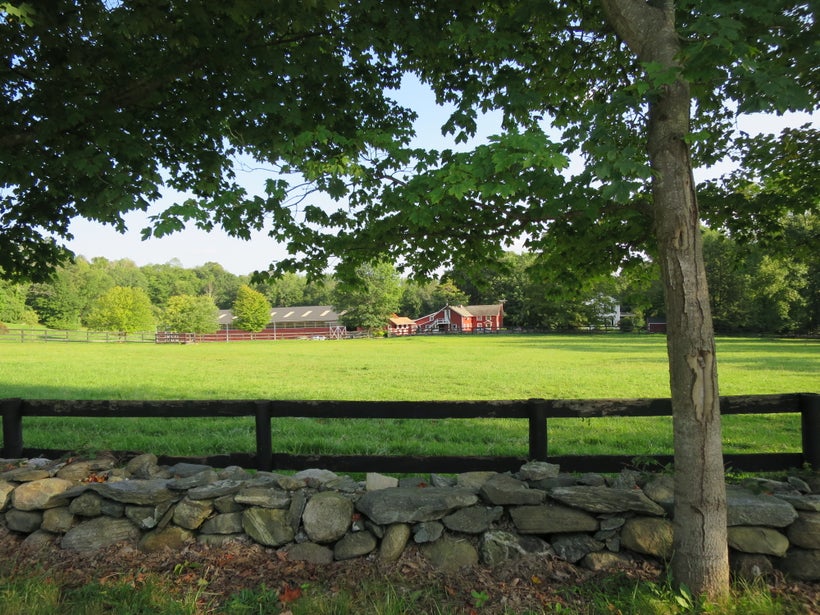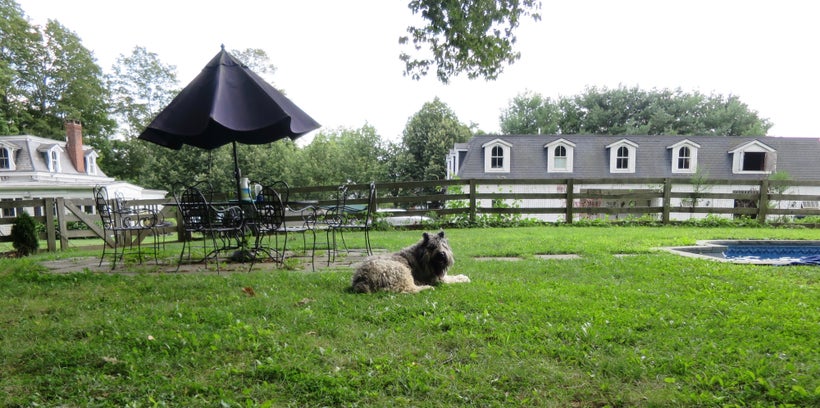 Equestrian Vistas from North Salem &
At Lorie Meg Karlin's PeachTree Horse Farm, Zazou, the Bouvier, Relaxes Poolside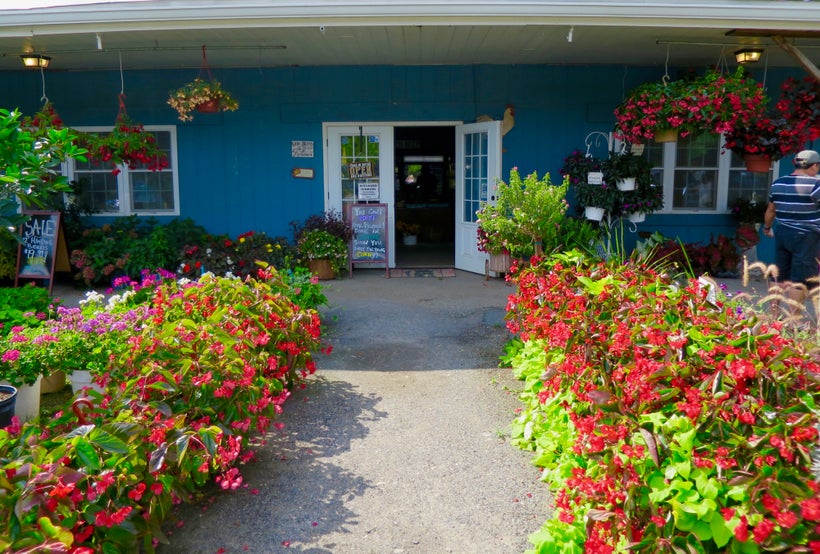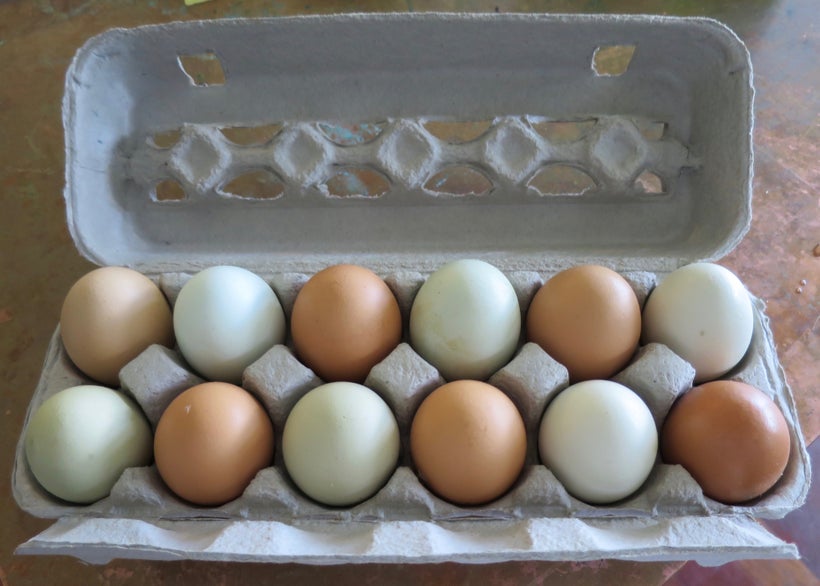 Farm Fresh Egg from a Local Country Farm Stand
Raising these glorious beasts is no easy task, but those who ride are addicted to the work and expense necessary for their complex care. And these horses – majestic creatures that they are – clearly show that TLC.
________________________________________________________________________________________
We New Yorkers are gifted with ever-expanding parkland and summers-times that are filled with inviting free and low-cost festivities.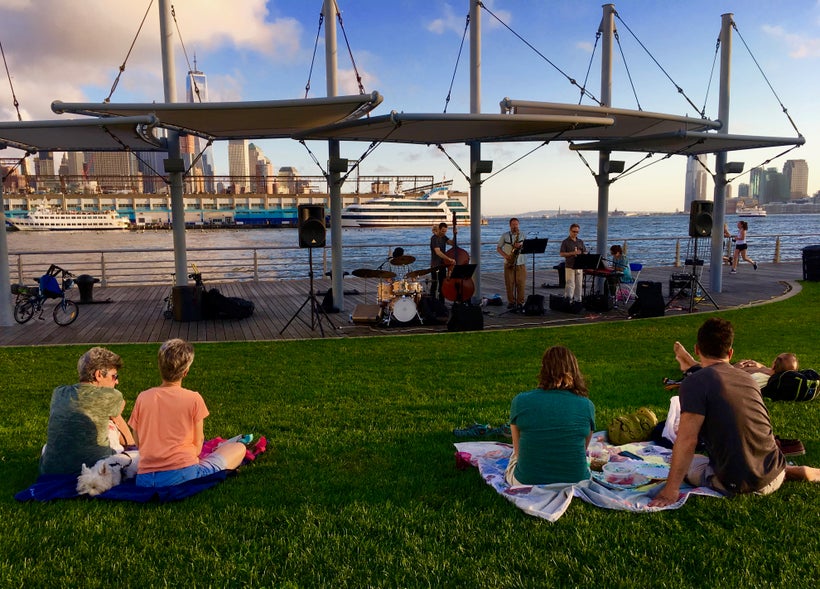 Sunset on The Hudson with Jazz, Hudson River Park, Christopher Street Pier
Featured, The Chuck Braman Jazz Band
Among my favorites is Lincoln Center's Out of Doors annual Festival of star-studded Concerts.
Since Bonnie Raitt has been one of my best-luved Songstresses, although I had seen/heard her perform just one month before at Tnglewood, I happily returned to see her as part of the Roots Festival.
Held in Damrosch Park, it is a magical experience to be part of a positive audience of like mind, while the sun sets and the wonderfully colored lights appear in the stage design.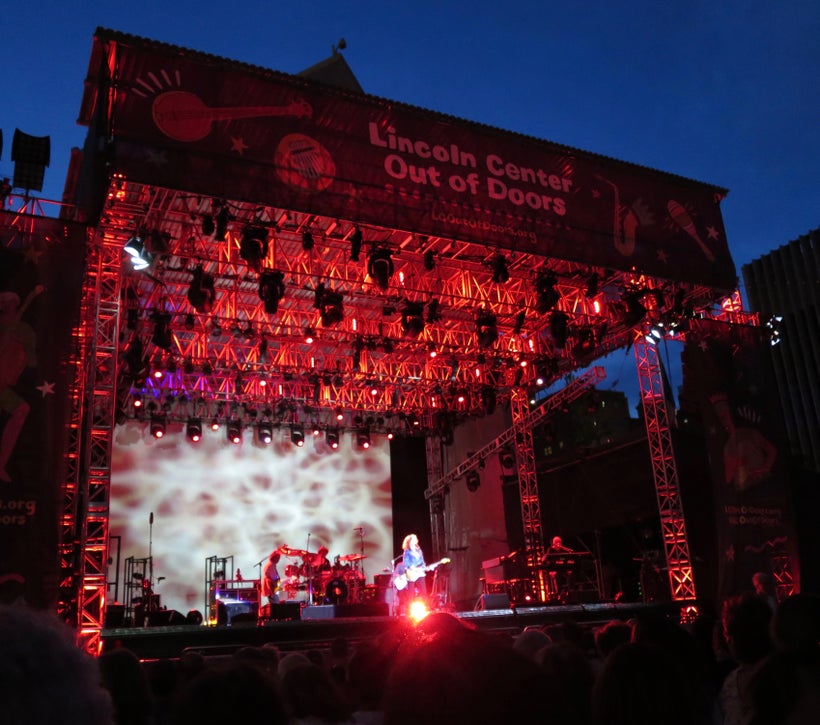 As The Sun Sets over Lincoln Center's Out of Doors Roots Festival
Bonnie Raitt reminisced about when as a 15 year old teen she accompanied her famous Father, the musician, and actor John Raitt, when he also played Lincoln Center out of Doors.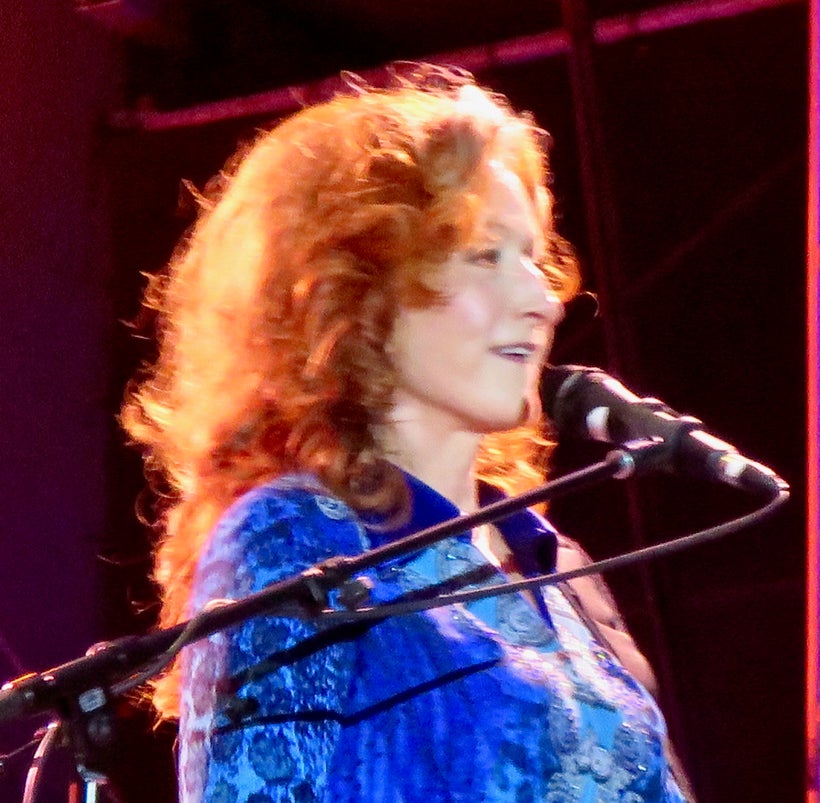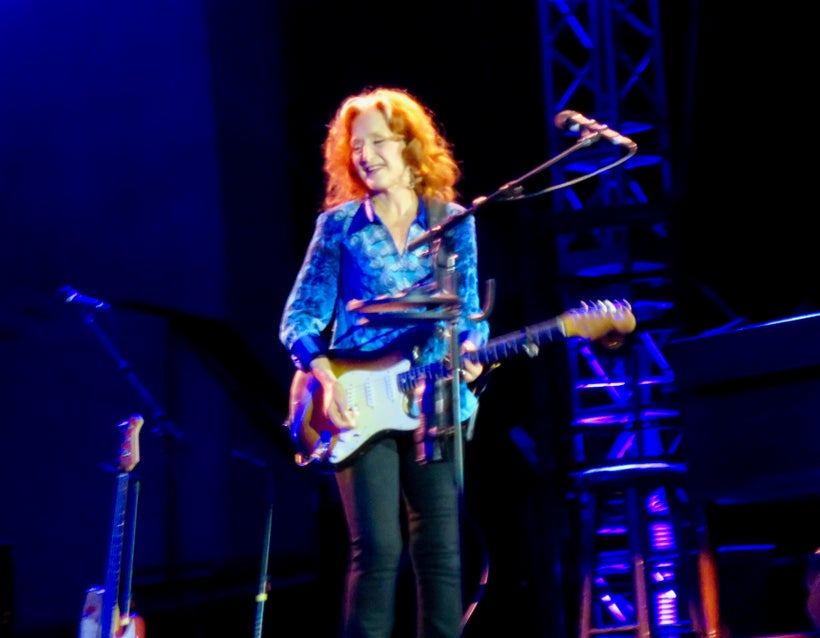 Bonnie Raitt's Strong Clear Strums…
I am delighted to report that the flaming red hair vixen's voice is as strong and clear as ever – bringing the house to their feet time and again with ecstatic cheers.
Midst the song fare, her heartfelt banter revolved about the need for peace and love and the necessity of bonding and action in these strange, dark political times.
Lincoln Center Out of Doors is celebrating its 47th year. I fondly remember my parent's enthusiasm for attending.
Congratulations LC on a job brilliantly done!!!
_______________________________________________________________________________________
Even closer to our WGV hone, the important Greenwich Village Society for Historical Preservation presented its annual Garden Party in the Jefferson Market Library Garden.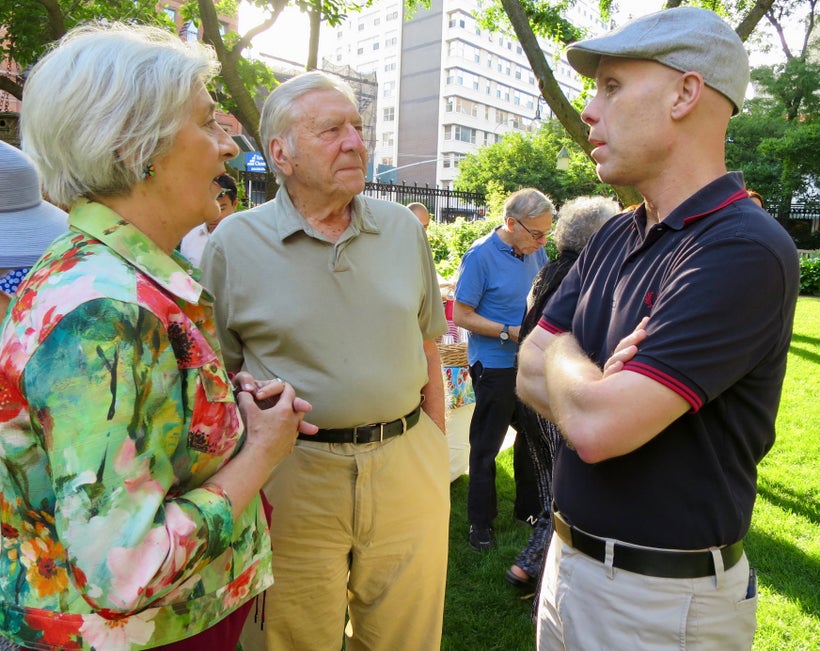 George Capsis, Publisher of WestView, with Freind Barbara, Chats with Director of the Greenwich Village Society for Historical Preservation's Andrew Berman
Carefully tended by volunteers the Park offers an oasis of glorious rainbow colored flowers as well as a thriving Coy Pond.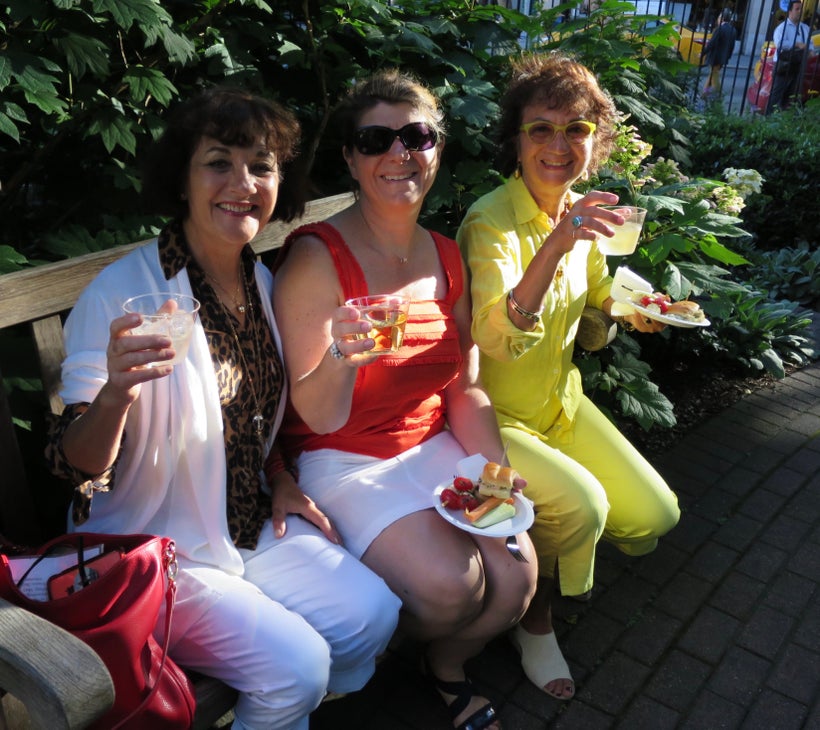 French Sisters and Friends Enjoy the Fete…
We are also very fortunate to have Saint Luke in The Field gorgeous Garden Park. This year it was in full and fabulous bloom …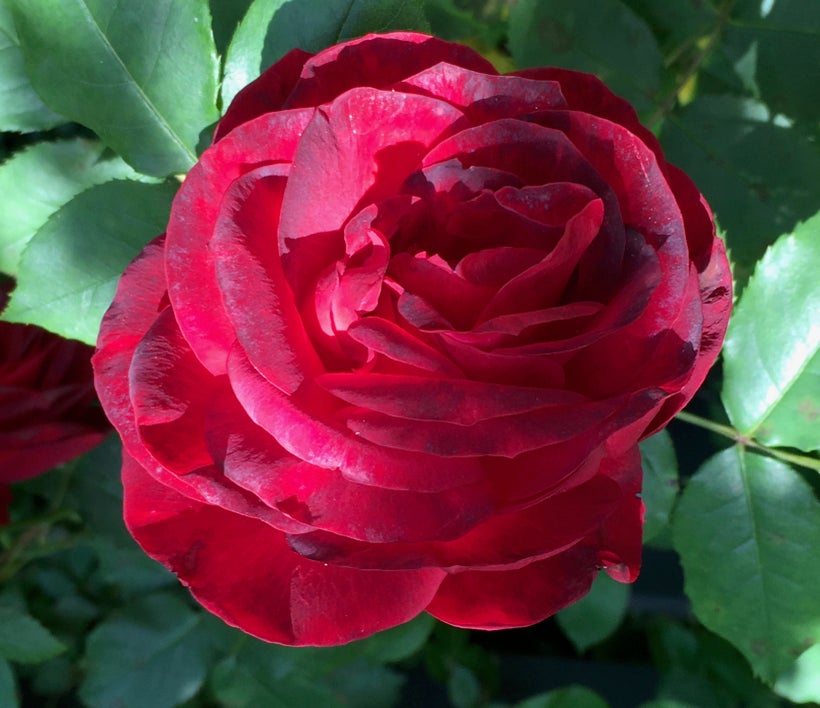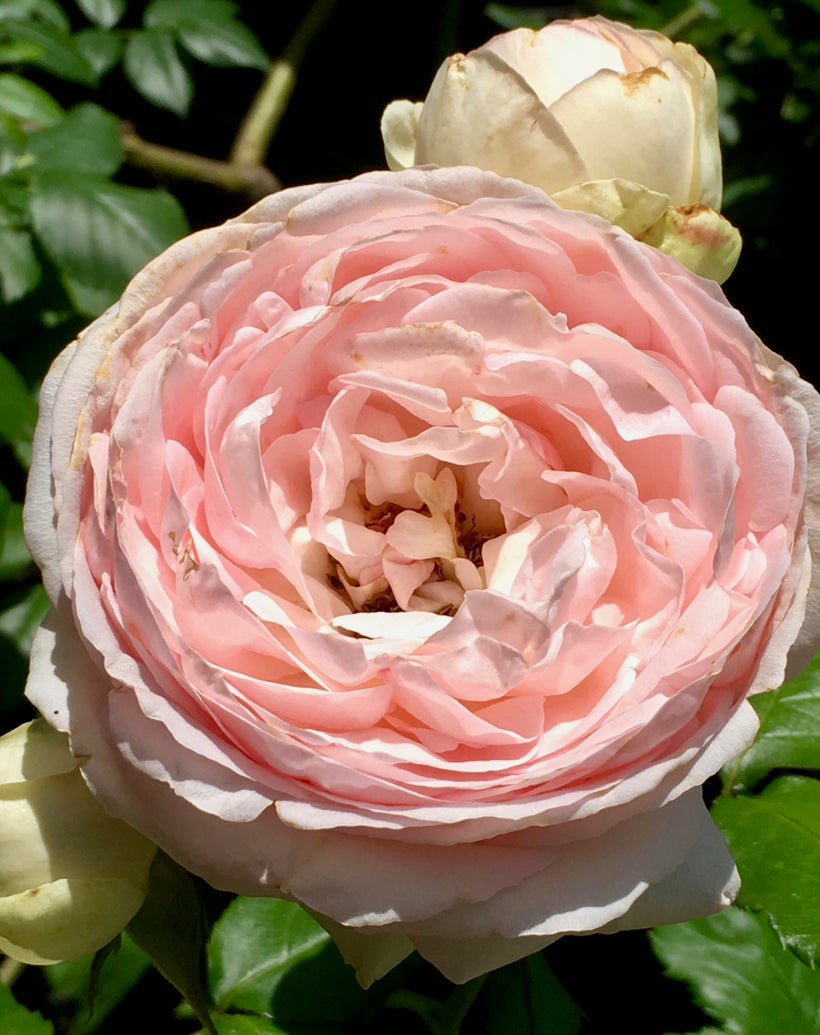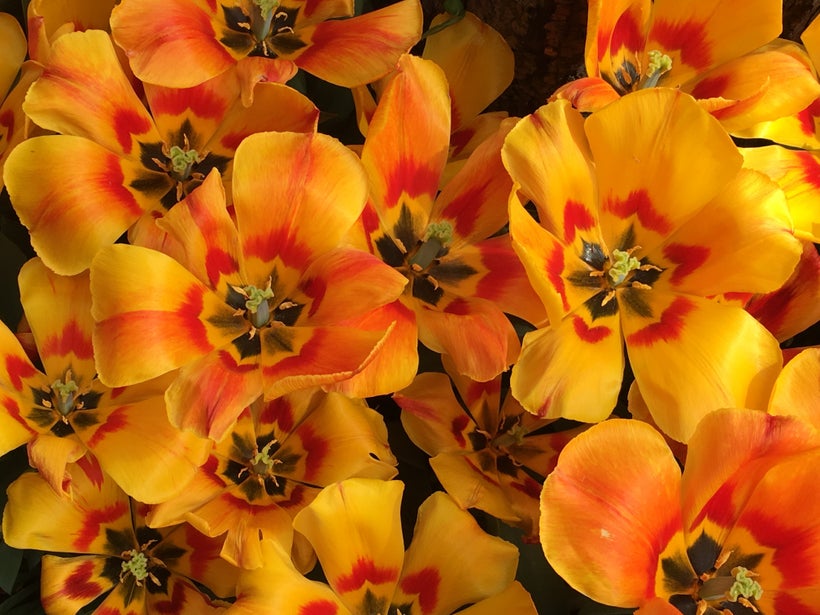 Les Fleurs de Saint Lukes…
_________________________________________________________________________________________
Also of note, is a delectable new Peruvian Restaurant, Baby Brasa...
Offering up a gourmet selection of uniquely seasoned dishes – from subtle through sharp – there is also a Full Bar with Peruvian Specialties.
Co-Owners Peruvian-born Milan Kelez and Franco Noriego- who met as top models in Peru; BABY BRASA is their second NYC eatery.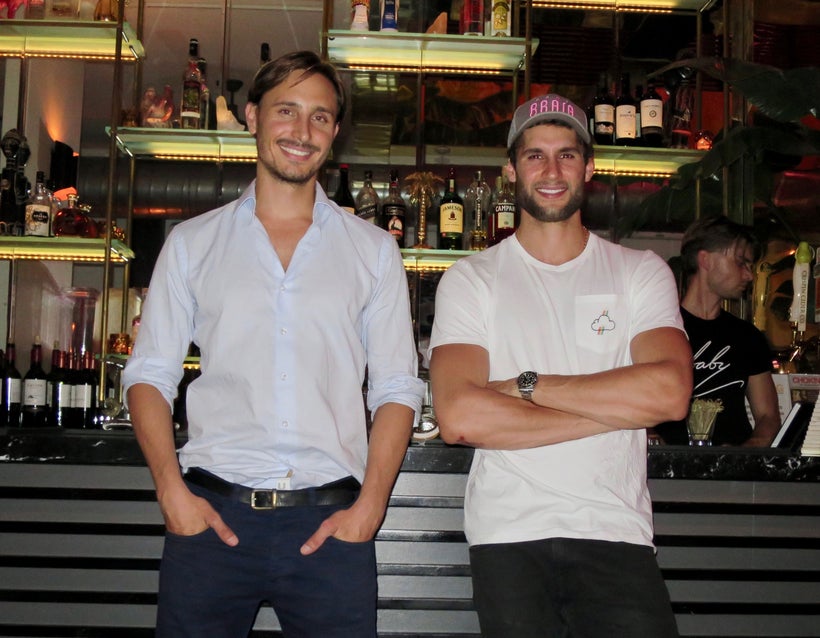 The handsome Owners Milan and Chef Franco, pose in front of Baby Brasa's Full Bar –
The BB Bar features the classic Pisco sour and Chilcano , but also a Tequila STAY GOLD which is a spicy drink, the CHICHA COLADA with rum and Chicha Morada, lime juice and coconut milk
The idea of Baby Brasa is to be a lifestyle brand – the Owners collaborate with artists and create products you can purchase while dining - hats, t-shirts and this season a limited edition plate series by artists BARON VON FANCY, the guy that stapled the now iconic I FEEL YOU BABY mural on their restaurant wall.
BABY BRASA is modeled after traditional "Pollerias" and specializes in Rotisserie-style Organic Chicken.
The rotisserie chicken is marinated for 24 hours in a blend of Peruvian classics, like cumin, 4 types of pepper, the aji amarillo, panca, rocoto, and a dark beer, among some other secrets…
We feasted on many savory and spicy dishes…here are but a few…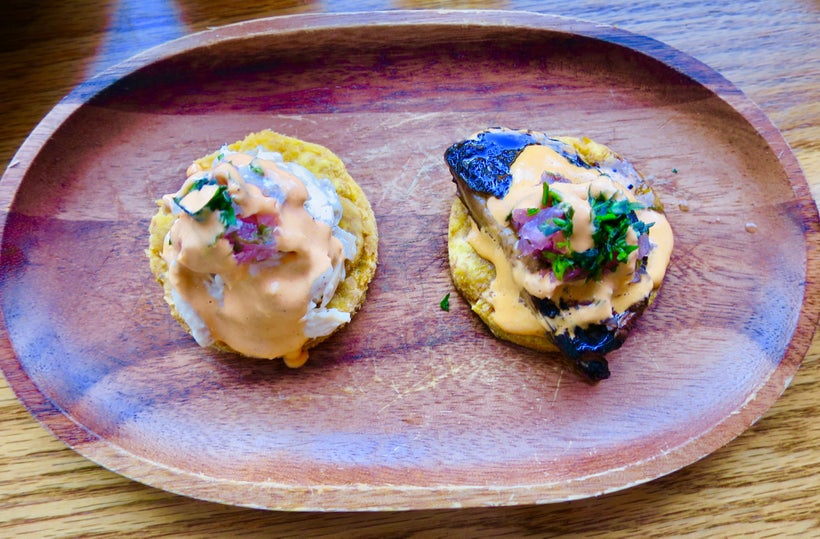 A signature appetizer this is a TOSTON (which is a crunchy plantain toast) topped with any of this 3 choices, they can be served as a threesome, or all twins,
1. POLLO - pulled rotisserie chicken, house mayo, salsa criolla (pickled onions) and rocoto sauce
2. Mushroom - grilled Portobello, rocoto salsa
3. Palta - avocado, pickled watermelon radish, rocoto vinaigrette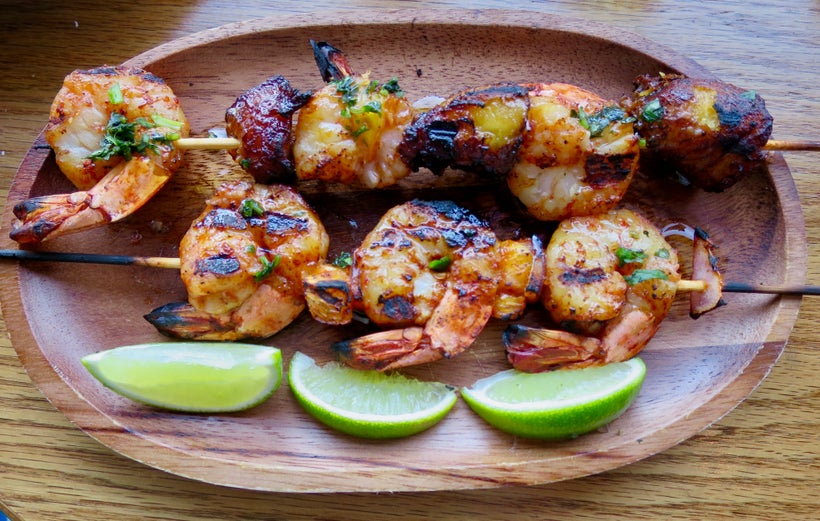 2 grilled shrimp skewers, one with Plantains and one with pineapple
The shrimp is seasoned with AJI PANCA, a very particular used at the grill in BBQs in PERU, Served with limes to squeeze before taste!
Aji (PEPPER) is regularly used at BABY BRASA. As in Mexican cuisine, CHILIS are a necessity and
Here AJI AMARILLO is employed HUANCAINA SAUCE (AJI AMARILLO (yellow pepper) with cheese
Chef Franco's favorite is the ROCOTO pepper, the spiciest of them all, and he uses them in his vinaigrette, and the spicy organic sauce served with chicken and the yucca and sweet potato fries…
THE QUINOA SALAD is a healthful tasty choice...
The now trendy Quinoa, is considered a SUPERFOOD...
The BB Salad includes Kale, Red QUINOA, Sunflower Seeds Plantains, and tis topped with Salsa Criolla and watermelon radish and ROCOTO VINAGRETTE.
Rocoto is a spicy red brown pepper,
For Entrees we enjoyed the WILD CAUGHT SALMON Seared and Served over a Tropical Ceviche Blend of Passion Fruit Rocot and Yucca Fries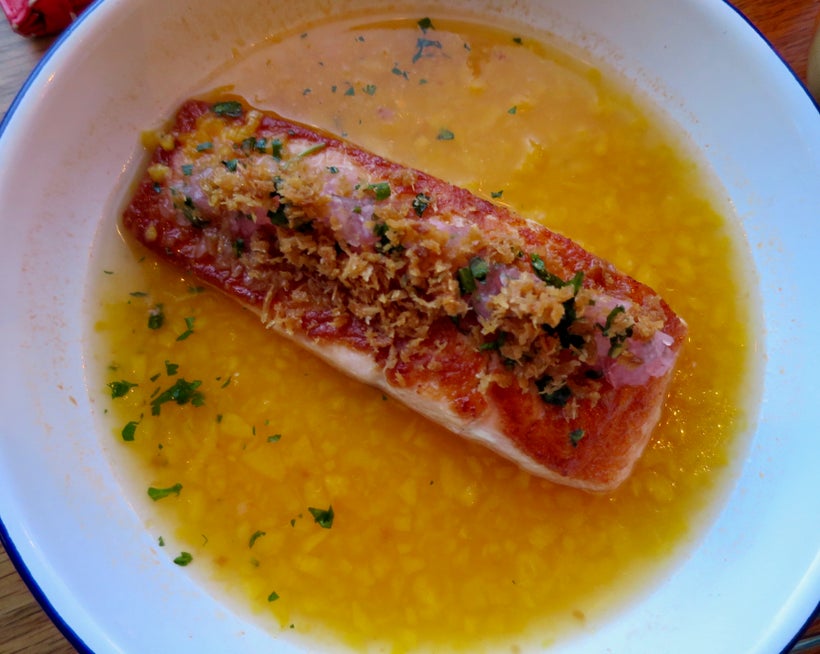 Also the Organic Pork Porterhouse with Grilled Rosemary Rice Plantains, Salsa Criolla, and Banana Ginger Chutney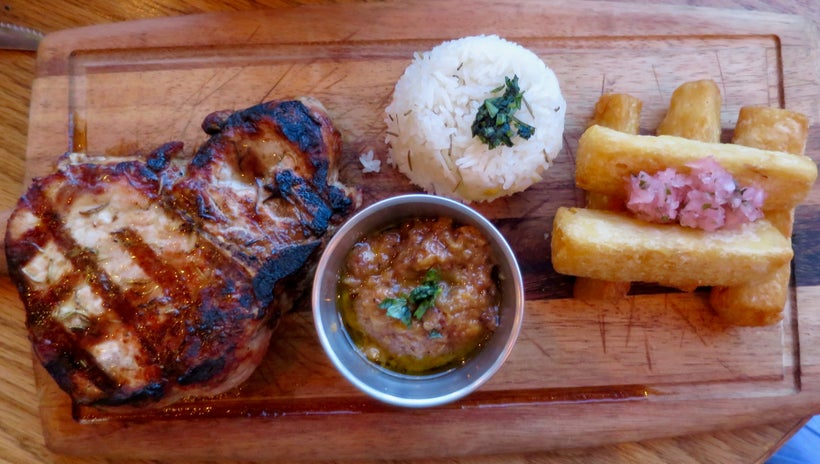 For Dessert we delighted in the LUCUMA ICE CREAM - lucuma is a mango-like fruit that tastes naturally like butterscotch, also a sweet Pudding made of Chia seeds
Conveniently located in the heart of the West Village, BABY BRASA is open for Lunch and Dinner as well as serving Brunch.
173 Seventh Ave South, Cross street with Perry St. NY, NY 10014 I (646) 590-9010
__________________________________________________________________________________
All Photographs are (c) Jill Lynne 2017
Available for Purchase at jilllynne@jilllynne.com
REAL LIFE. REAL NEWS. REAL VOICES.
Help us tell more of the stories that matter from voices that too often remain unheard.
This post was published on the now-closed HuffPost Contributor platform. Contributors control their own work and posted freely to our site. If you need to flag this entry as abusive,
send us an email
.