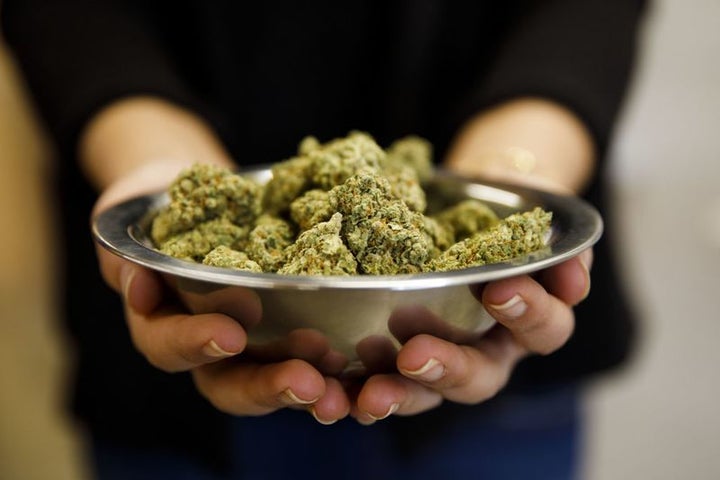 A few days ago, Attorney General Jeff Sessions, a frequent critic of the legalization of marijuana, rescinded a set of memos put forth by the Obama Administration. In essence, the memo effectively discouraged federal prosecutors from targeting cannabis operations that were in compliance with state law.
According to a recent poll by HuffPost/YouGov, a majority of Americans, 56 percent of them, say they would oppose federal efforts to stop the sale and use of marijuana in states where it's been legalized.
And the Nation's Attorney General isn't the only one pushing back against the legalization of marijuana, States and Cities, such as the City of Detroit, most recently, are pushing back too.
To explain this further, I spoke with Lloyd Banks, CEO of Cannabis Practice Group, a leading provider of strategic management, consulting, and communications in the Cannabis industry.
Your firm Cannabis Practice Group just celebrated a big win and made history for pot activists in Detroit, how was that for your team?
It was exciting & positive for our team. It was important to open up Michigan's largest market to opt into the Michigan Medical Marijuana Facility & Licensing Act (MMFLA) for compliancy & health care delivery. Because Detroit's legislative body didn't pass the MMFLA enabling ordinance, voters had to pass this initiative or the industry & citizens would have been locked out of an $870 million industry with over 272,000 medical marihuana patients (only 31 communities out of 1,775 have opted into the MMFLA). We view this as a win for patients in this growing market segment of Healthcare.
We also see this as a validation for our campaign strategic approach of analytics, tactics and sales messaging. We identified the turnout within 4% of actual totals & composition of the voting consumer electorate. We matched tactics to meet their voter buying profiles so we could move them through the three steps of voter "purchase" psychology (Identification, acceptance & selection/purchase). Finally, we honed concise messaging focusing on the economic development, tax impact & healthcare accessibility for the various voting audiences to craft a winning base of support
Lastly, as a Minority owned firm, that was a great positive for our team. There aren't many African American owned firms in this space in the industry yet, so having such a high profile victory is a boom for our firm and other Firms of Color in this industry. Only 19% of the businesses in the Medical Marijuana & Recreational Marijuana are owned by people of color.
As legal pot expands, do you think corporations will turn the marijuana industry into Big Tobacco 2.0?
From a practical standpoint, yes, yet it also provides opportunities for serious, capitalized persons of color to make their mark as well. Medical Marijuana (prescription-based) & Recreational Marijuana (over the counter) are a continued expansion of healthcare in America while bringing an underground economy out of the shadows & into the light. According to a report from Hexa Research, the U.S. medical cannabis market size was valued at $5.44 billion in 2016 and its expected to be worth just short of $20 billion by 2024. Recreational Marijuana generated an estimated $1.9 billion in sales in the U.S. in 2016 & is expected to triple when California, Maine, and Massachusetts start selling recreational marijuana. When an industry grows this fast & has access to a growing consumer market, it will become corporatized over time. We are still in the early stage development of this industry, so the opportunities for small to mid-size businesses of color to enter and thrive is still there.
As Cannabis Practice Group helps company's push towards full legalization, what challenges do you face?
Education, legislation, lobbying, ballot initiatives & vision. Education on the evolving parts to the industry & the need to work within the rules of the operational governance and solid business principles. Legislation to help support the growth of the industry & apply common sense regulatory oversight & taxation. The need for the small business owners to understand & embrace the value of lobbying elected officials, bureaucratic staff & community stakeholders. Getting industry stakeholders to fully support the ballot initiative legwork necessary to construct the language, gain ballot placement and to execute a campaign. Vision to play the long game. It takes time to build the right approach, fit inside the proper regulatory and operating environment, but with vision, our firm can guide you there.
Most people in favor of the pot movement say that it is a new economy, but there's a concern that corporate America doesn't view free enterprise in that manor. Where does Cannabis Practice Group stand?
We view this as an opportunity for our firm to grow & help others see the vision. It's comparable to the Tech Industry, in which a number of new players developed during the growth phase and are now global firms in the maturity phase. States have provided the framework to build a new economic engine that can bring entrepreneurial & business growth, jobs, tax revenue and significant economic development to those who embrace this evolution in healthcare. "We see businesses that chose to embrace this industry will be able to plant their flag early & with the right guidance, grow into successful businesses. Cannabis Practice Group is ready to lead the businesses, Corporate America & small Mom & Pop, into the light of growing this emerging economy
As you firm works to push towards full legalization, do you think legal weed laws will actually be able to edge out the black market drug trade?
I don't think you will ever fully eliminate the illegal drug trade. Similar to traditional prescription drugs, there will always be some illegal trading and trafficking that goes on. Full legalization will reduce the opportunity cost for entering the illegal trading side, while providing additional tax revenue for policing and rehabilitation services. Some studies have also found a link in reducing the need for opioids with the use of Medical Marihuana. It not perfect, but this can have an impact on reducing criminal activity related to marijuana.
Passing those ballot initiatives came with much resistance, how does your team plan for taking on other governments and municipalities that are skeptics?
Proactive lobbying & governmental education, Economic Impact analysis, regulatory language to both codify the concerns of communities we are entering & providing a realistic framework for these Businesses to operate legitimately.
Obviously you are an advocate for weed legalization; there are a number of studies that suggest that cannabis could have negative health effects on users, what do you say to that?
Similar to the traditional pharma market, all medications have negative side effects, unfortunately. By helping this sector of the medication industry into the mainstream, we can work with the industry & Governmental sector to ensure proper safeguards for testing, safety protocols to limit the negative side effects from both Medical Marijuana & Recreational Marijuana.
Being an African American owned agency in the industry, what challenges do you face?
We face the same challenges in any industry, not enough capital to fully take advantage of this booming industry. We do not have enough bandwidth to move as fast to other markets around the country. This is one industry that is open and receptive to work with anyone. Only 19% of the businesses in the Medical Marihuana & Recreational Marijuana are owned by persons of color so we believe the opportunity for revenue growth and being a leader in the marketplace presents a great opportunity for us.
The black community continues to pay a high price in the criminal justice system even where marijuana is legal, what is Cannabis Practice Group doing to advocate in the community?
We have an advocacy arm that we are very passionate about. We are working with urban cities like Detroit to influence policy or administrative rules through ordinances that will ensure participation from the black community and address the social ills of marijuana through community benefit agreements. In addition we are working to position the company to be a participant on the federal level to assist in getting this approved federally and at the same time influence a wholistic approach that will be inclusive of changes to the law and workplace policies relative to marijuana. We also will work in leading the charge to identify African Americans and other persons of Color, who can become licensed owner-operators and working to develop the workforce necessary for the establishments within the industry.
Related
Popular in the Community