Conversations with Playwright Terrence McNally and Director Darko Tresnjak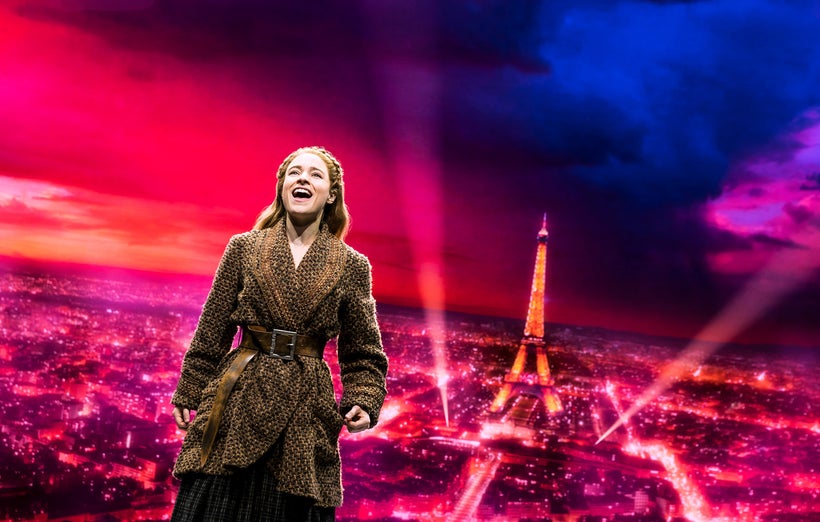 On January 23, 1911, the Empress Maria Fyodorovna Romanov went to see the ballet Giselle at the Mariinsky Theatre in Saint Petersburg but left at intermission, because dancer Vaslav Nijinsky's revealing costume offended her.
Every night at the Broadhurst Theatre in New York, in the second act of the new Broadway musical Anastasia, the Empress Maria Fyodorovna Romanov attends a performance of Swan Lake in Paris and stays until the very end.
The real Empress never got to see the fairy-tale played out. The Empress at the Broadhurst not only gets to watch it, but she gets to participate, as well.
These discrepancies, between history and fairy-tale, spectator and player, are crucial to understanding Anastasia's extraordinary crossover appeal. While Evan Hansen and Dolly Levi may be reaping more awards, their Shubert Alley neighbor Anastasia— with mettle, smarts, and a tiny music box— has been changing the world night by night and gaining the stalwart followers ("Fanastasias") she deserves.
Anastasia is partly based on the beloved Twentieth Century Fox animated feature, which celebrated its twentieth anniversary on November 14. Unlike that movie, and unlike delicate-damsel stories such as Giselle and Swan Lake, there are no sorcerers or spells in the Broadway version. Without a fairy godmother or the cure-all of a prince's kiss, Anastasia isn't your standard fairy-tale princess who is adored for her beauty and virtue. She's not the object of intrigue, she's a participant in it.
The character Anastasia is part of a real time and place, but that's not say the musical is some gloomy Russian play. It's a triumphant celebration of love, courage, and reconciliation, a journey that unfolds with much wonder and joy.
I first approached librettist Terrence McNally and director Darko Tresnjak because I wanted to talk about America's abiding fascination with Russia. Russian-American relations are now as complicated and puzzling as they've ever been, and last summer, three Russia-themed shows—Anastasia, Natasha, Pierre & The Great Comet of 1812, and The Inspector General—were simultaneously running on and off-Broadway.
As I listened to McNally and Tresnjak, I realized Anastasia is more about agency than anything else. The tale of Anya, an amnesiac street sweeper (a perfect Christy Altomare), who, with the help of two con men, flees Leningrad to Paris and discovers that she's the lost princess Anastasia Romanov, Anastasia is a family musical that imparts the hope that we all can experience our own agency. Regardless of what we've witnessed or endured, we can reconcile our personal history with the present, and stand center stage in our own lives.
The relevance and power of this message are undeniable, at a moment when the national conversation is, in part, about how men are raised and how women are raised to react to those men. Anya/Anastasia does all the rescuing in the play. She speaks her mind, and she has total control over her personal space. This is not mere "girl power;" this is out-and-out women's liberation.
"History does not have to repeat itself"
All great musicals are an alchemical collaboration among writers, directors, choreographers, producers, designers, and actors. (Stephen Flaherty and Lynn Ahrens wrote Anastasia's rich, vibrant music and lyrics. Linda Cho, notably, designed the sumptuous costumes.) McNally and Tresnjak approached the project from different points of view: the former with an interest in Russia and historiography, the latter, as if Shakespeare had written a play for contemporary family audiences.
"I knew if I was going to do it, it would have to be about real people," McNally tells me during a telephone interview. "You have to remember, when I was a child, there was real basis for the rumors that Anastasia was still alive." (In 2007, DNA testing confirmed that Anastasia Romanov was killed by firing squad in Yekaterinburg in 1918, along with her family and a few servants.)
"I've had a fascination with Russia always," McNally continues. "The first time I went there, while it was the USSR, I got very emotional when I got off the plane…Only Russia and India have ever produced such a reaction in me."
I ask him about the attraction of Russia. There are several, contradictory Russias in the American imagination. There is the Russia of Cold War villains and Vladimir Putin, and then there's the romantic world of Old Russia, all exotic, red-and-gold glamor and troika rides taken once upon a December.
"That grandeur is staggering," says McNally, referring to the Hermitage and the palaces of the tsars, "but it's a fairy-tale now. A fairy-tale of court life perpetuated by the White Russians," the nobles who fled after the Bolshevik takeover.
The images and sensations of the Cold War overtook those of Old Russia:
"'Where's my dream of Russia?' I thought. Everyone seemed so depressed. The second time I went was during the fall of communism, and the conditions were really austere: the heat would come on for five minutes in the morning and five minutes at night. I remember eating a lot of salami."
McNally sees the turning point of Anastasia in the musical's final moments. "It shows us that history does not have to repeat itself. [Anastasia] would rather be a citizen of the new century than go back to Russia and reclaim her tiara. That's significant."
McNally's "rendezvous with Russia," as he calls it, continues with a new play, Fire and Air, "a fever dream" about the Russian impresario Sergei Diaghilev and his relationship with the great Nijinsky (of the skimpy tunic). It opens in January 2018 at Classic Stage Company in New York. Once again, it's about movement forward.
"Diaghilev wasn't interested in the elegant role of the Romanovs," McNally adds. "He found Russian arts mired in the past; he wanted to push art to new limits."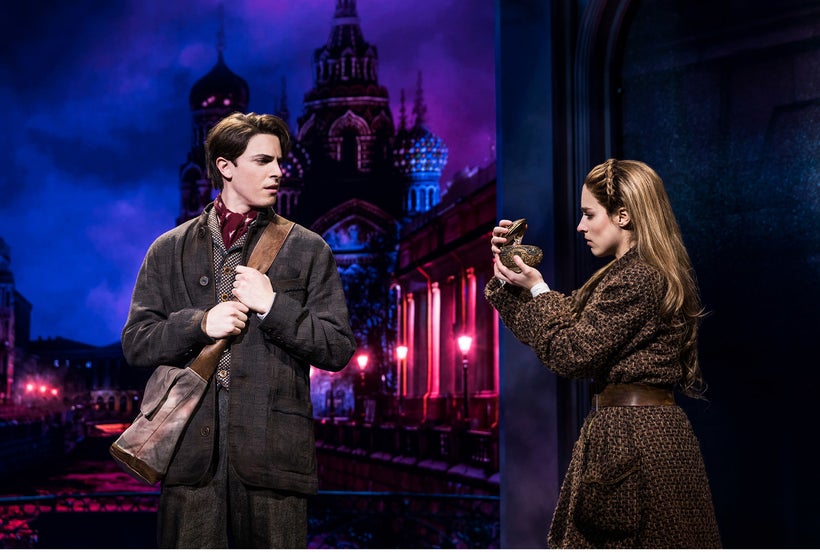 "An immigrant's story"
"Anastasia and Dmitry are now living somewhere in Pennsylvania," jokes Darko Tresnjak over salad in Hartford, where he is the artistic director of Hartford Stage. We're discussing the happily-ever-after of Anastasia and her prince "of character, not birth," the con man Dmitry (movingly portrayed by Derek Klena). "That's what the cast and I joke about anyway."
It's an apt epilogue to a work that ultimately feels more American than Russian, not just because, as a musical, it's in an American art form, but because it insists that life can go on with optimism and not sink into the despondence of Chekhov, for example. ("I wouldn't know how to direct Chekhov," says Tresnjak wistfully.)
Though there really were an Anastasia and a Dowager Empress, Tresnjak insists that those in the musical are fictional characters. In fact, he found that the cast and creative team had done too much research.
"I told them that imagination is OK. The lens of this musical is the eye of a child: how trauma and history are confronted through a child's memory. It's also an immigrant's story, as much about today."
As Amanda Prahl points out in a recent essay, most fairy-tales are about restoration: the heroine becomes a princess again and gets what is rightfully hers. Anastasia is about reconciliation. In that sense, argues Tresnjak, the work is less like a fairy-tale and more like one of Shakespeare's romances about reunion and forgiveness.
"I see it as being in the same stream as late Shakespeare: families torn asunder, reunion scenes. And Anastasia is mysterious and powerful, like Imogen [from Cymbeline] or Miranda [from The Tempest]."
Tresnjak has twice directed All's Well That Ends Well, Shakespeare's rarely-performed "problem play" that includes the same conflict of naturalism and fantasy, as well as a mighty heroine in the character of Helena, a commoner who seems able to "quicken a rock" the way Anastasia can open a broken music box.
"Shakespeare is like home. Without Shakespeare, I'd have never done Anastasia."
Tresnjak's recent, exquisite staging of A Midsummer Night's Dream at Hartford Stage contained one of the best plays-within-a-play I've ever seen. If there's something that links McNally's work with Tresnjak's, it's an extravagant love of the theater: its endless possibilities, the handmade care that goes into it, the layers of artifice through which the ideas of the playwright and the director reach the audience.
Once the masks and pretense are stripped away in Anastasia's last scene, we reach the turning point: Anastasia and Dmitry revealing their true selves. In ballet, it's the "apotheosis"— here, though, no one dies for love. As McNally's final stage directions state: "Anya and her prince can dance all the way back to St. Petersburg. They are the stuff of dreams. They belong to all of us."
Precisely because it is part history and part fiction, Anastasia convinces us that there's equal room, and home, for everyone.
Anya and Dmitry are refugees who cross the Soviet border on foot. In my imagination, all has indeed ended well for them in Wilkes-Barre. They run a community theater and are currently staging a feminist rethinking of Giselle.
Calling all HuffPost superfans!
Sign up for membership to become a founding member and help shape HuffPost's next chapter
This post was published on the now-closed HuffPost Contributor platform. Contributors control their own work and posted freely to our site. If you need to flag this entry as abusive,
send us an email
.