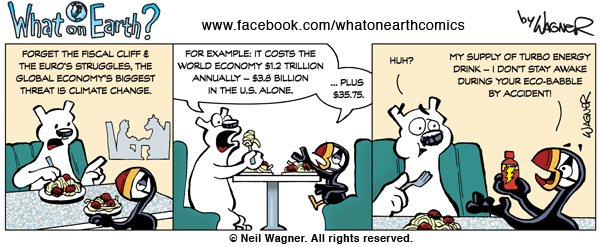 The financial costs linked to climate change represent the biggest threat to the global economy, according to Nobel Prize winning economist Joseph Stiglitz of Columbia University.
Stiglitz, who has served as both chief economist of the World Bank and Chairman of the Council of Economic Advisers, says, "...while we focus on immediate concerns, [long-term problems] continue to fester, and we overlook them at our peril. The most serious is global warming."
Drought has drained enough water from the mighty Mississippi River that a shutdown of shipping traffic is considered a possibility, costing billions of dollars and thousands of jobs.
Add all these costs to research that says the cost of dealing with climate change will only increase in time, then ask yourself, "Why exactly do we avoid taking action to prevent more damage?" As Chiemi Hayashi of the World Economic Forum's Risk Response Network says, "...with economic and environmental stresses playing out over different timeframes, deep-rooted biases in the way we judge risks may mean we are too preoccupied with firefighting short-term economic problems to tackle longer-term climate threats."
Some suggest that, given the economic slowdown, we should put global warming on the backburner. On the contrary, retrofitting the global economy for climate change would help to restore aggregate demand and growth.
Of course, when you put it that way, making simultaneous progress towards both the economic and literal survival of the human race, combatting climate change sounds like a good idea. But how can we be expected to focus on such abstract quandaries when we are being confronted by more immediate issues, like Kim Kardashian's baby bump, and Taylor Swift's romantic status?
I guess ivory tower academic elites like Stiglitz just don't understand the importance of real-life issues like the rest of us.
Related
Popular in the Community