I still have trouble sometimes believing that HIV most likely won't kill me as I once thought it would. When I was first diagnosed with the virus in 1992, I thought that would be the case for sure.

I now have the happy problem of dealing with all that comes with getting older, just like most people. As they say, aging is better than the alternative. However, the combination of aging with HIV has its own special challenges. Much remains to be learned about how people with HIV handle aging.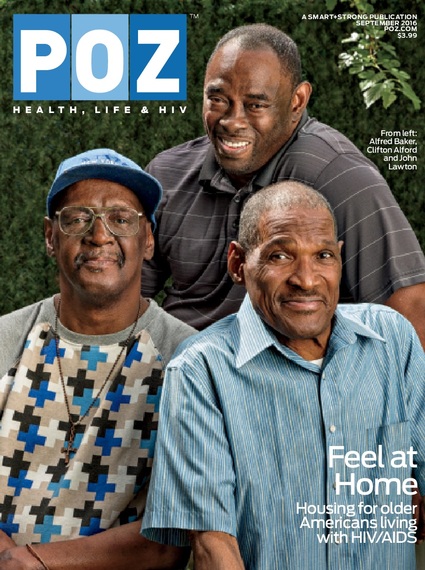 A commonly overlooked aspect of aging is housing. For those of us fortunate enough to have stable housing, as we get older such stability can be threatened. For those of us without such stability in the first place, getting older can become much more difficult.

Now add HIV to the equation and the challenges multiply. This situation will only worsen as more people living with the virus reach their golden years. Fortunately, an increasing number of advocates and organizations nationwide have realized this and are successfully addressing this need.

The solutions are as varied as the people who have HIV. The gentlemen gracing our cover -- Alfred Baker, Clifton Alford and John Lawton -- are benefiting from one such example in New York City. They are residents of a South Bronx senior-housing building with units set aside for formerly homeless HIV-positive seniors like them. Please click here to read about more solutions.

Not all older people living with HIV are long-term survivors, but by definition all long-term survivors are aging with HIV. The Reunion Project, a series of one-day summits for long-term survivors, not only gives them a forum to share their stories of loss and survival, but also helps them to better cope with aging. Click here to read our Q&A with Matt Sharp, one of the group's core members.

Now 62 years old, Wanda Brendle-Moss, a former nurse and a relatively new face to HIV activism, tested positive for the virus in 2000.Since 2010, she has built an impressive advocacy résumé. One of her main topics is aging among women living with HIV. Click here to read more about Brendle-Moss.

In addition to dealing with issues related to aging and the effects of HIV medications, long-term survivors often also face isolation, depression, stigma and a lack of support systems. Since many of you -- our readers -- are long-term survivors, we want to know more about the challenges you face. Please click here to take our reader survey.

Another often ignored pressure point in the HIV epidemic is harm reduction. The idea is to meet people where they are in their addiction, instead of where you want them to be. For injection drug users, this idea can manifest as needle exchanges, for example, or supervised injection facilities (SIFs). No SIFs exist in the United States. Can opening SIFs help reduce our HIV rates? Click here to find out.

Also in this issue is the latest edition of SeroZero, which is independently published by GMHC. Click here to read more about its Buddy Program for long-term survivors.
Popular in the Community