AUSTIN ― When Karla Pérez handed over a stack of paperwork including her home address, photographs and her fingerprints to U.S. Citizenship and Immigration Services five years ago to apply for DACA, she was still living at home with her parents. To gain the ability to work legally under the new program despite being undocumented, Pérez had to make the tough choice to give the Department of Homeland Security not just her own address, but the one for her mom and dad as well.
"That always weighs heavily on my mind," Pérez said. "My biggest concern right now is my parents because DHS has my information… I'm not so much worried for myself as for my family."
After the Trump administration announced the termination of DACA on Tuesday, several of the program's recipients interviewed by HuffPost described feeling a sense of both injustice and betrayal. The program, whose full title is Deferred Action for Childhood Arrivals, shielded undocumented immigrants who came to the country as minors from deportation and allowed them to work legally in the United States.
To take advantage of the program, DACA recipients had to make a leap of faith that the federal government would not turn around after Barack Obama's presidency ended and use their own information against them.
Many of them, like Pérez, were living with undocumented family members when they provided their address to USCIS on their first applications. As the Trump administration eviscerates the last major immigration reform of the Obama years, many DACA beneficiaries were not worried so much about themselves as their parents or other family members left out of the program and in limbo by stalled attempts to pass farther-reaching reforms through Congress.
"I'm freaked out," Pérez said. "But at the same time, there's this renewed commitment to fight for everyone in the immigrant community, including my parents."
Juan Belman, 24, obtained DACA while studying at the University of Texas at Austin. He has graduated, but continues to organize with the University Leadership Initiative, a student group at the school. The address Belman submitted with his DACA application was his family home, where his undocumented parents live.
"That's a concern," Belman told HuffPost. "I'm not always home. That's something I worry about. We've given them all our information."
Another DACA recipient, who asked to be identified only as Luis in order to protect his family, remembered feeling ecstatic back in 2012 when the Obama administration rolled out DACA. Having fled years ago as an unaccompanied minor from gang violence and an abusive father in Central America, Luis had no way to apply to normalize his status before DACA.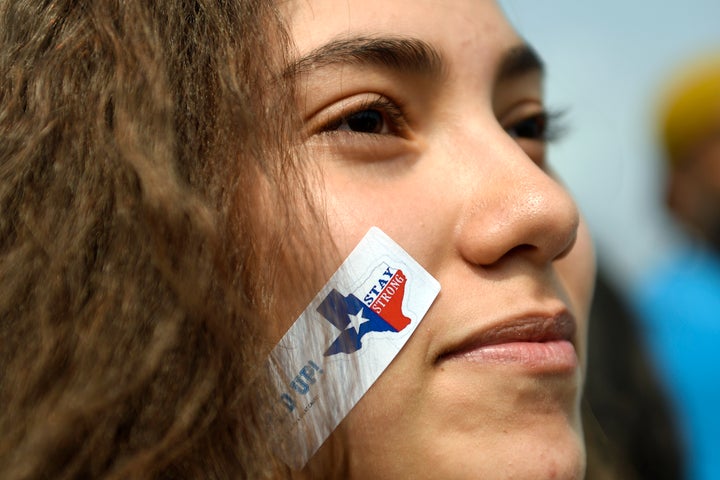 "Many of us ran from persecution, from violence, from absolute levels of poverty," Luis said. "All of the sudden, a Dreamer is told that there is going to be a line. Of course you're going to jump on line!"
"Of course I trusted it," he continued. "Because I believe in this nation and I want to serve this nation, regardless of its politics and its different administrations."
Now enrolled in graduate school, he worries about what the Trump administration's decision to kill the program will mean for his ability to work here, or the impact it will have on more mundane but life-changing opportunities the program granted him, like the ability to obtain a driver's license. (A spokeswoman for the Texas Department of Public Security wrote in an email that DACA recipients' licenses would expire along with their participation in the program.)
But more than that, he's concerned about the impact the decision will have on his mother.
"I wonder what my mom is thinking," Luis said. "I talk to her and she's crying… I am in college and so is my mom every single day I'm in class because I have her in my heart. My family trusted. And now the entire nation has been betrayed."
Homeland Security officials insist that they will not use the information provided by DACA recipients against them to pursue deportation orders. Those who participated in the program gave their information to U.S. Citizenship and Immigration Services, the agency that processes applications to obtain legal residency or to obtain American citizenship. That agency is separate from Immigration and Customs Enforcement, which carries out deportation policy.
But both agencies belong to DHS, leading to unease among the program's recipients that their trust of federal authorities may backfire on them.
Ahead of Tuesday's announcement that the Trump administration would end DACA, Homeland Security officials told reporters that USCIS will not share information with ICE, unless they had a compelling reason. "In instances of criminality or law enforcement, we will use all of our law enforcement databases," one of the department's senior officials said.
A statement posted on the DHS website noted that the information-sharing policy between the department's agencies could change without warning.
"This policy, which may be modified, superseded, or rescinded at any time without notice, is not intended to, does not, and may not be relied upon to create any right or benefit, substantive or procedural, enforceable by law by any party in any administrative, civil, or criminal matter," the statement reads.
The vagueness of those assertions offers little assurance to the individuals concerned about what Tuesday's changes mean for themselves or their families.
At the same time, concerns about information sharing through the soon-to-be-defunct DACA program is unlikely to keep many of the program's beneficiaries quiet.
These days, he practices immigration law in Staten Island. Despite concerns about information sharing between USCIS and ICE, Vargas emphasized that until it's phased out, the program continues.
"I'm telling clients, 'your information should be safe,'" he said. "But don't get in trouble. That's where we're at right now."
While his hard-fought ability to practice law was plunged into doubt with the Trump administration's decision, Vargas urged other Dreamers to keep publicly pushing for reform, noting like most others interviewed for this story that it was their efforts that led to the creation of DACA in the first place.
"One of the things we try to tell people is that this is a moment not to regress back to the shadows," Vargas said. "This is a moment where we're undocumented and unafraid. Trump and [Attorney General] Jeff Sessions want us to regress back to the shadows. They tell stories that portray us as criminals and rapists. But we need to keep telling our own stories."
Popular in the Community