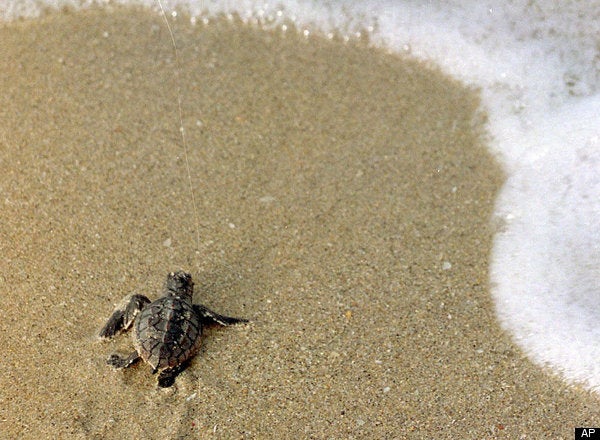 Since the Gulf oil gusher was capped, observed wildlife impacts have actually gotten significantly worse.
[W]ildlife officials are rounding up more oiled birds than ever as fledgling birds get stuck in the residual goo and rescuers make initial visits to rookeries they had avoided disturbing during nesting season.

Before BP plugged the well with a temporary cap on July 15, an average of 37 oiled birds were being collected dead or alive each day. Since then, the figure has nearly doubled to 71 per day, according to a Times-Picayune review of daily wildlife rescue reports.

The figures for sea turtles have climbed even higher, with more oiled turtles recovered in the past 10 days than during the spill's first three months.
Over the weekend, the number of endangered sea turtles collected topped 1,000 (PDF), according to the Deepwater Horizon Response Consolidated Fish & Wildlife Collection Report (includes both live & dead, visibly oiled & not visibly oiled turtles).
Today, the National Wildlife Federation will be following up on yesterday's sightings of unusual discolorations in Louisiana's Chandeleur Sound. Here's what our team reported:
On Sunday, August 8th, NWF staff did an overflight of the oil spill (thanks to SouthWings). Leaving out of New Orleans, we crossed the Chandeleur Sound and saw red streams on the surface of the water caught in a rip line. As we flew farther into the sound, we saw mile after mile -- as far at the eye could see -- of what looked like red tide or dispersed oil just below the surface:



We sent some photos to a coastal scientist who is not sure if it is oil or possibly a major red tide. Either way, that would mean massive wildlife kills.

Our team is headed back out Monday with scientists to sample the water.

GPS coords for discolorations: 29 46 58 ... 89 02 11
For all the latest news on how the oil spill is impacting the Gulf Coast's wildlife & to learn how you can help, visit NWF.org/OilSpill.
Calling all HuffPost superfans!
Sign up for membership to become a founding member and help shape HuffPost's next chapter