It was a day like any other. Noemia Mario was working around the house with her four children when a wave of water suddenly came crashing down around them. Within seconds, a flood engulfed the family's home. Noemia had no time to collect food or belongings. She clutched her children and boarded a passing canoe, surrendering their home and all that they owned to the milky brown deluge.
From the boat, she watched the choppy current consume everything: trees, parts of houses, even a refrigerator. "There were many bodies in the water," Noemia says, shaking her head. "Many people were taken by the floods....All of the houses were destroyed...I was very afraid. Thank God we survived."

The family now lives in a tent in Mussaia, a relocation area in Maganja da Costa, a district in Zambezia province in central Mozambique. Along with hundreds of other families who fled to Mussaia, they are unsure of when, where, or how they will start over again. "Everything was washed away," she says. "We have nothing."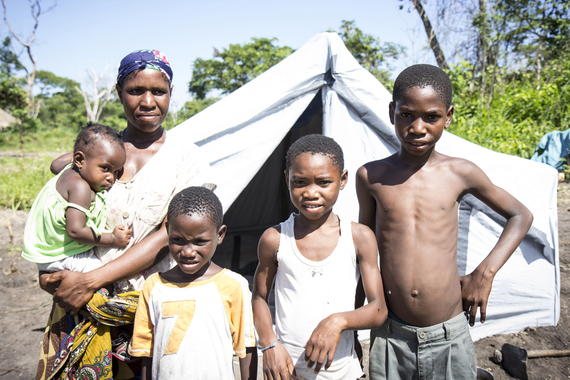 Noemia Mario stands in front of their temporary shelter with her four children ages one, four, nine, and 10.
Three weeks have passed since relentless rainfall unleashed the worst flooding in Mozambique's Licungo River basin since 1971. Since the Government of Mozambique declared a red alert on January 12, an estimated 157,000 people have been affected, the vast majority of whom are in Zambezia province.

"Forty-four years have passed here without this level of flooding," says Gilbeiro Ononade, emergency coordinator for Concern Worldwide in Mozambique. "That is why they built their houses on the river, where they could easily fish and plant their crops in fertile soil. They lost everything--food, clothes, houses."
The people of Zambezia are not strangers, however, to milder levels of flooding. Spanning nearly 40,000 square miles, Zambezia is a web of flat, sandy land and rivers snaking their way to the Indian Ocean. During the rainy season, which runs from December to April, the rivers often overflow, but usually gradually, giving families time to gather their belongings and head to higher ground.
This year, the floods happened instantly and without warning, due to rains in Mozambique, as well as further upstream in Malawi, where rivers swelled and came barreling into Mozambique on the way to the Indian Ocean. "In some areas, the water was 12 meters above the normal level," says Ononade.
The floods wreaked havoc on infrastructure along the Licungo River. The destruction to roads and bridges left 70 percent of the province completely unreachable by land, making delivering relief items extremely difficult. Concern Worldwide, which has worked in Mozambique since 1987, has teams traveling by helicopter, boat, and truck to reach communities across Zambezia.
The assistance cannot come soon enough for families like Lordes Fernando, 42, who has been sleeping in the open for weeks with her three children. Like Noemia, she was at home when the water came and she fled immediately with her children in her arms. "It happened very fast," she says. "[The water] destroyed our house and our crops. Our potatoes, our flour, it's all gone."
Her youngest child, two-year-old Lavinho, sits beside her drawing shapes in the sand and wearing a white cotton dress dotted with small flower buds. Lordes explains that the dress is all she has to wear after all of their clothes washed away.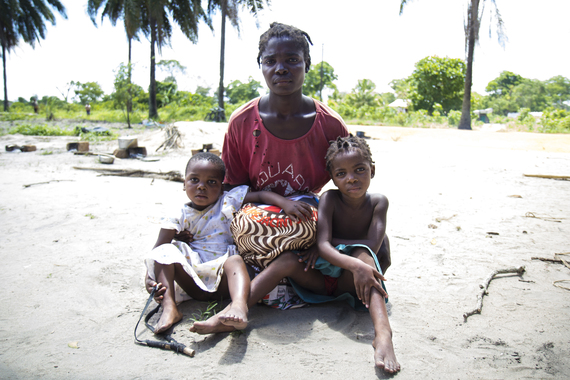 Lordes Fernando, 42, and two of her three children, Lavinha (right), 10, and Lavinho (left), 2, sit on the ground where they have been sleeping after floods destroyed their home.
Concern, as part of a consortium with Save the Children, Oxfam, and CARE, had emergency supplies prepositioned in Zambezia and is distributing hygiene items, jerry cans, tarps, sleeping mats, blankets, water purification solution, and other relief items to thousands of people in four affected districts in Zambezia. In Maganja da Costa, where Noemia and Lordes live, Concern has registered approximately 4,000 families who need assistance. In total, Concern plans to reach more than 5,000 families in Zambezia with emergency supplies.
But the relief items only skim the surface of the true need. Most affected families survive on whatever food they can grow and sell. Preliminary estimates suggest that 65,000 hectares of crops were destroyed in the floods. The waters also washed away seeds and tools, leaving families with no way to plant again before the rains stop. If families do not have anything planted in time, they will have little food to eat, let alone sell, in the coming year.

"Concern plans to distribute seeds and tools to families in the coming months," says Marianne Byrne, Concern Worldwide Country Director in Mozambique. "Our fear is that we will not get enough funding to reach all the families who are now receiving relief items. These are people who were living on the edge before the floods and have no resources to fall back on to plant again on their own."
More rains are also expected in the coming weeks, which has made many apprehensive to rebuild for fear they would lose yet another home to the floods. Even after the rains stop, the choice for families about where to settle is difficult: return to the land they have always called home or settle on higher ground where they will be safe from future floods?

For Noemia, the decision is clear. Despite the challenges she and her family are facing in Mussaia, she does not want to take her family back to their land. "I want to stay here," she says. "I want to be away from the water."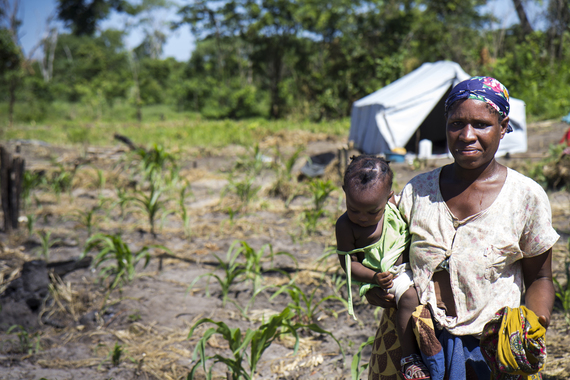 REAL LIFE. REAL NEWS. REAL VOICES.
Help us tell more of the stories that matter from voices that too often remain unheard.