This World Wildlife Day reminds me how far we have come since the spring of 2013, when the world received a wake-up call to the plight of elephants.

That March, three years ago, WCS conservationists Fiona Maisels and Samantha Strindberg along with 60 other scientists published a groundbreaking report that detailed just how dire the poaching crisis in central Africa had gotten. In that study, Drs. Maisels and Strindberg found that 62 percent of forest elephants had vanished over the previous decade. At that rate, they could disappear completely within the next decade.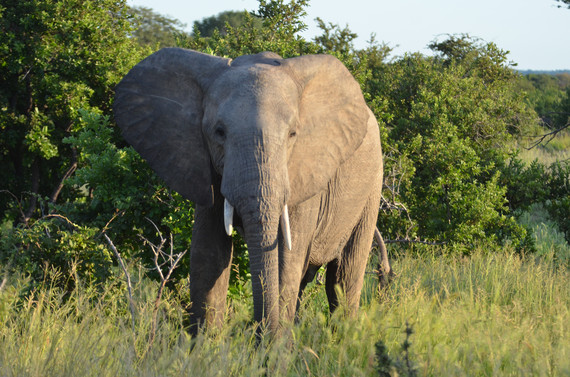 An African elephant in Tanzania. Photo by Cristián Samper ©WCS

What followed was an urgent call for action by the general public and concerned parties, including the conservation community, the U.S. government and other countries around the world. Leaders of seven African elephant range countries came together at the Clinton Global Initiative to call on the world to stop buying ivory. President Obama released a National Strategy to Combat Wildlife Trafficking to better marshal the resources of the federal government in a unified strategy. To send a message that ivory from a dead elephant should not be sold, the U.S. and many other countries conducted crushes or burns of their stockpiles of illegal ivory, including an event in the middle of New York's Times Square.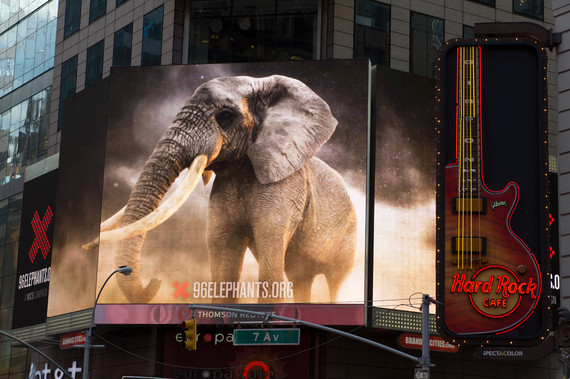 The 96 Elephants campaign is highlighted in Times Square during an ivory crush event in June 2015. Photo by Julie Larsen Maher ©WCS
Perhaps most importantly, a movement began to ban or severely restrict any trade in ivory. It is nearly impossible to differentiate legal ivory, which would have been imported prior to a 1989 ban, from illegal ivory. The U.S. Fish and Wildlife Service (FWS), under President Obama's direction, proposed a rule revision of Section 4(d) of the Endangered Species Act (ESA), which would prohibit most sales of ivory in interstate or foreign commerce (with exemptions for bona fide antiques and certain manufactured items containing small quantities of ivory). Several states, including New York, New Jersey and California, passed laws banning sales of ivory within their borders. In Washington State, a ballot initiative to ban the sale of ivory and other wildlife products garnered the support of more than 70 percent of the electorate in a ballot initiative. China has also signaled its intention to ending its domestic ivory trade.
With support from 96 Elephants, a coalition of more than 200 organizations in 45 states, more than one million messages have been generated from concerned individuals in support of stronger ivory ban legislation. Americans have rallied behind the FWS's proposed 4(d) rule revision which is still under review.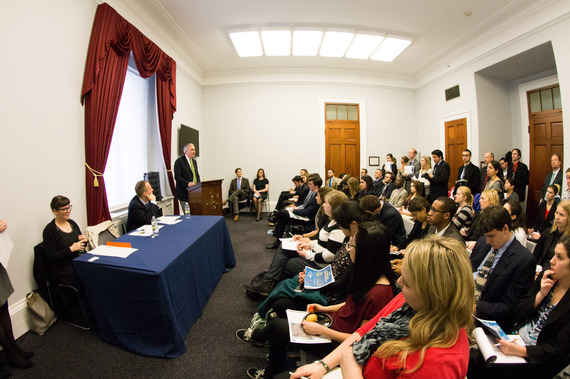 WCS's John F. Calvelli leads a panel discussion on the proposed 4(d) rule revision on ivory in the U.S. House of Representatives in February 2016. Photo by Chip Weiskotten ©WCS
That brings us to today, World Wildlife Day 2016. The rule is not yet final, and opposition to its implementation has become more determined. Despite the fact that the proposed rule makes exceptions for small amounts of ivory that would have exempted almost all ivory-handled guns, the National Rifle Association continues to publicly criticize the proposed rule.

To this day, opponents continue attempts to rob the proposed ivory ban of its teeth. A toxic "policy rider" added to last fall's FY2016 Interior Appropriations bill, which would have prevented the rule from going into effect, nearly passed in Congress. The "Sportsman's Bill" passed the U.S. House of Representatives last week and contains the same language that would doom the proposed ivory ban.

This World Wildlife Day, let us recommit our energies to saving Africa's elephants. Each day that passes signifies another 96 elephants lost. Let's not mark this moment by allowing misinformation to win the day. I hope that in the not too distant future the U.S. Fish and Wildlife Service, and the rest of the Obama Administration, will have fully implemented the proposed strong ban on ivory trade. We have a responsibility to tell our friends in government that we are engaged, we care, and we are here to help make sure there is a future for elephants. What better day to do that than World Wildlife Day?
For further information on the elephant crisis and how you can get involved visit 96 Elephants at www.96elephants.org.
Popular in the Community