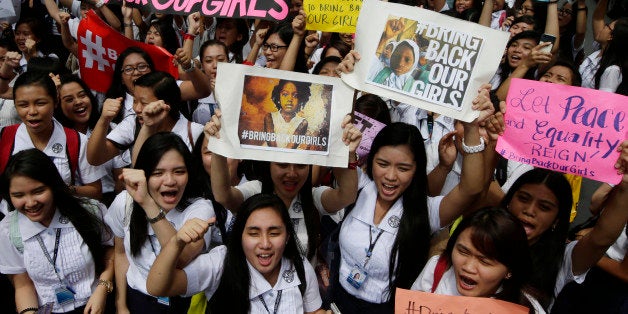 In one month the world will commemorate a sad anniversary. It will be a year since 219 girls were abducted from their school in Chibok, northern Nigeria, and taken into the dense forest never to be seen again despite global efforts to rescue them.
Even now parents cannot be sure whether their children are dead or alive.
Even now parents wake up worried their children are being abused by terrorists.
And inspired by the passion and strength of the #BringBackOurGirls campaign a new concept has emerged. The Safe Schools plan draws on the expertise of those who have worked persistently and quietly for years on this issue, and their ideas have been brought together by A World at School.
We plan to offer support everywhere girls feel too afraid of terrorists to go to school. This support will include physical fortifications, guards, telecommunications connections and protective community safeguards.
The speed at which the Safe Schools plan was started and put into practice over the last year is remarkable. Backed by Nigerian business leaders, and set into action by President Goodluck Jonathan and Finance Minister Ngozi Okonjo-Iweala in Nigeria, it offers a way forward for the protection of girls (and boys) in the years ahead.
Globally few years have seen so many threats to girl's rights as the past 12 months. From Syria and Iraq to Nigeria, India, Pakistan and Afghanistan girls' education is under attack. The basic human rights set out in the UN's universal declaration are being systematically abused by the failure to protect girls against abduction, child marriage, child trafficking, sexual abuse and violence.
Once again, International Women's Day gives us the chance to refocus the world's attention on giving every girl their rightful place in school.
Throughout this year events are being planned to call for access to education for girls. These young women are being prevented from learning for a multitude of reasons: because their personal safety is at risk; because they are forced to marry young; or made to work to support their families.
It is time to acknowledge that the current treacherous reality is robbing children of their future. I hear this regularly from A World at School's Global Youth Ambassadors, 500 young people spearheading a new children's rights movement. This movement sees children demanding an education and demanding it now. A global petition -- the #UpForSchool petition -- has already been signed by 3 million people. It is on the way to becoming the biggest petition for education and it won't stop there.
The world is calling for a safe education for all children. People everywhere feel strongly that it is unacceptable for parents to keep children at home because they are too afraid to send them to school. With half the world's out of school children caught up in conflict and post conflict areas, with girls threatened by violence and fearful of the journey to school, it is time to act.
In 2015 the world has seen education come under attack from many quarters. From diseases such as Ebola to terrorist groups such as ISIS and Boko Haram and brutal civil wars, children have been taken away from their classrooms. There is a growing call to provide properly funded education as part of any humanitarian response to children trapped in refugee camps, and displaced from their own homes.
This International Women's Day we can all stand #UpForSchool for the next generation of women and ensure that they have the opportunity to grow, learn at school and lead. For #Throwback Thursday many people are posting a photo of themselves as a schoolchild. You can see mine here.
This post is part of a series produced by The Huffington Post in partnership with A World At School's "Girls Stand #UpForSchool" petition launch on International Women's Day 2015 (March 8). There are currently 31 million girls out of school around the world. This launch is part of a wider petition that will be delivered to world leaders to ensure they keep a promise to get every girl and boy into school and learning by the end of 2015. Find out more -- and add your name -- at upforschool.org.
Related