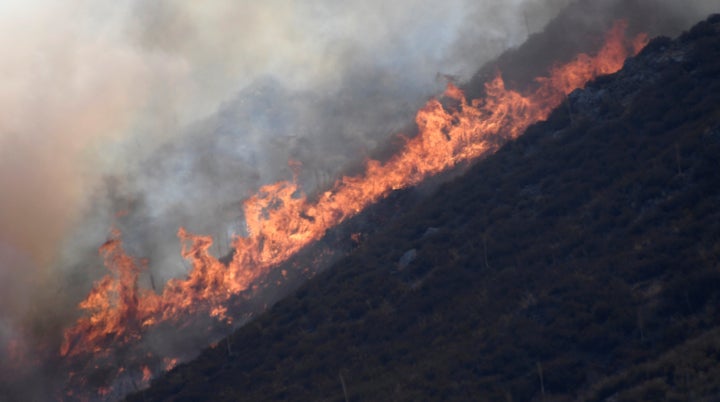 by Charlotte Stanton Ph.D. & Katharine Mach Ph.D.
In The Grapes of Wrath, beloved Californian and Nobel Laureate John Steinback wrote: "This land, this red land, is us; and the flood years and the dust years and the drought years are us." Among much else, Steinback was writing about the connection between Californians and their land in an era when both confronted climate-driven problems. That era was the 1930's but similar problems confront Californians and their land today ― with scientists predicting bigger floods, larger wildfires, and longer droughts until states tackle the source of the problem: greenhouse gas emissions. 
California passed the first and most ambitious climate law in the country, the Global Warming Solutions Act, in 2006. Since then, the state has executed a succession of policies to reduce emissions in most sectors of its economy, including renewable energy mandates in its electricity sector, energy efficiency standards in its building sector, and tailpipe emissions, smart growth, and low carbon fuel standards in its transportation sector. While these and other policies affirm California's climate leadership among states, its advances in the natural and working lands sector are especially promising.
The natural and working lands sector ― including farms, forests, rangelands, and wetlands ― is complex because land can be an emissions sink or source. Land is a "sink" when plants and soils remove greenhouse gases from the atmosphere and store them in bigger plants and richer soils. Land becomes a "source" when plants and soils release greenhouse gases through natural processes like wildfire and management actions like conversion to farming. Ever-intrepid, California aims to manage this complexity, while preserving the countless benefits ― from recreation to food production ― that Californians derive from their land.
California's vision for managing its natural and working lands is presented in "Healthy Landscapes 2030," a discussion paper prepared by a suite of state agencies earlier this year. The paper proposes a collection of promising concepts, such as smart agriculture, urban forestry, bioenergy, and blue carbon, among others. But the concept of greatest promise remains the state's ambition to manage its assorted landscapes in concert, rather than independently, for conservation, development, public safety, and climate resilience; an example other states are likely to follow.
In May this year, the Natural and Working Lands Climate Solutions Act (Senate Bill 1386), passed the State Senate. Now the State Assembly will determine whether California will be the first state in the country to account for natural and working lands ― a requisite for any serious attempt to tackle climate change. California would also be the first state to drive emissions reductions across its entire economy. As Steinback wrote: "Need is the stimulus to concept, concept to action."
Calling all HuffPost superfans!
Sign up for membership to become a founding member and help shape HuffPost's next chapter