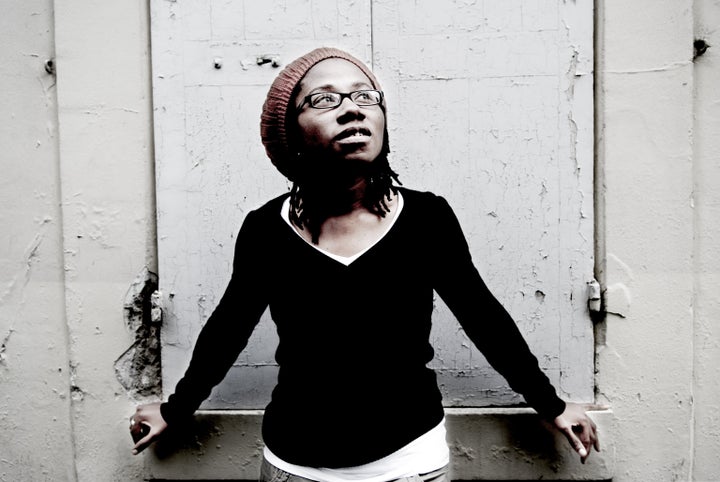 This is HuffPost World's regular feature that highlights interesting musicians and musical trends around the world. Know of a great musician doing ground-breaking work outside the United States? Send us your ideas for bands to profile or up-and-coming musicians to follow. Please fill out this survey form.
What do you get when you take a little bit of Bob Marley, a chunk of Fela Anikulapo Kuti, add some India Arie pre-mixed with Miriam Makeba and Angélique Kidjo and finish it off with a whole lot of Yoruba classics like King Sunny Ade? Asa, the Nigerian singer who's first full-length album "Asa" hit U.S. markets January 27, 2009 on Downtown Records' new imprint, Mercer St. Records.
Asa has a politically conscious yet sweet sounding vocal presentation that with the help of her dreadlocks and guitar is exceptionally reminiscent of Bob Marley. After she was born in Paris, Asa moved back to the homeland of her parents, Lagos, Nigeria, at the age of two. It was there that her identity musically and otherwise took shape. "Growing up in Lagos, you get to see the realities of life. Things were not perfect. My parents were struggling parents. We were always looking for a better future, but in my time I think things haven't changed, they've only gotten worse. You can't escape the political sides of life when you live in Nigeria. I felt I needed to use my music to talk about this."
Asa's father exposed her to music from all over Africa as well as the United States. "I grew up around music, my father had a lot of records, Aretha Franklin, Miriam Makeba, Yoruba Classic songs I listened to all kinds of music, I drew inspiration and picked pieces from everybody. Angelique Kidjo, Femi Kuti, Keziah Jones, Lagbaja, they all inspire me in different ways. Coming from the Yoruba culture there's a strong musical identity blending with my language to create what I do."
The Yoruba people of West Africa have one of the most pronounced musical traditions of any culture in the world dating back multiple centuries. International African superstars such as King Sunny Ade and Fela Anikulapo Kuti are two of the most famous examples of Yoruba musicians, but there is a long history of lesser known Yoruba folk music in a variety of styles such as Fuji, Juju, Highlife, Apala, and others that all influenced Asa's cultural development. Asa represents the next generation of Yoruba musicians, along with other contemporary Yoruba artists such as Keziah Jones and Femi Kuti, to continue the tradition of using music as a common ground to bring their culture to the attention of the world. "I come as an African singer, someone who originated in Africa but talking about things that relate to everybody. I also use it as way to introduce myself, my culture and my language. I don't like to be seen as World Music, that's a misconception. I am a singer who puts my roots down in Africa for you to see, but it doesn't matter my nationality."
While Asa's music has a sweet, aesthetically pleasing overall sound, it does have a social commentary message. Bob Marley and Fela Anikulapo Kuti, two of the world's biggest icons of musical protest and Asa's stated two biggest influences, taught Asa to use her music as a weapon to effect positive change and increase awareness of the world's unrecognized realities. "Fela used to be like the newspaper. You would get up in the morning and read the newspaper like listening to Fela to know what's going on. People who were educated and informed were listening to Fela. While I was growing up and listening to this man, I saw a lot of things, I saw courage, I saw the ability to use music as a weapon to educate and inform people and also to connect other people, Africans, to give them hope and also have the rest of the world informed about Africa and its people and the world at large. Fela has helped me see this way to use my music, not only Fela but Bob Marley, today we still listen to him, we use his lyrics in our everyday experiences. They used music as a weapon, and as a tool to bring people together."
Check out her "Jailer" video here.
Related
Popular in the Community