Asad Faulwell's massive canvases channel the ornate appearance of tapestries or kilim, weaving together intricate designs from paint, paper and pins. Yet the repeating patterns flowing in and out of the foreground are interrupted by decidedly darker, psychedelic imagery.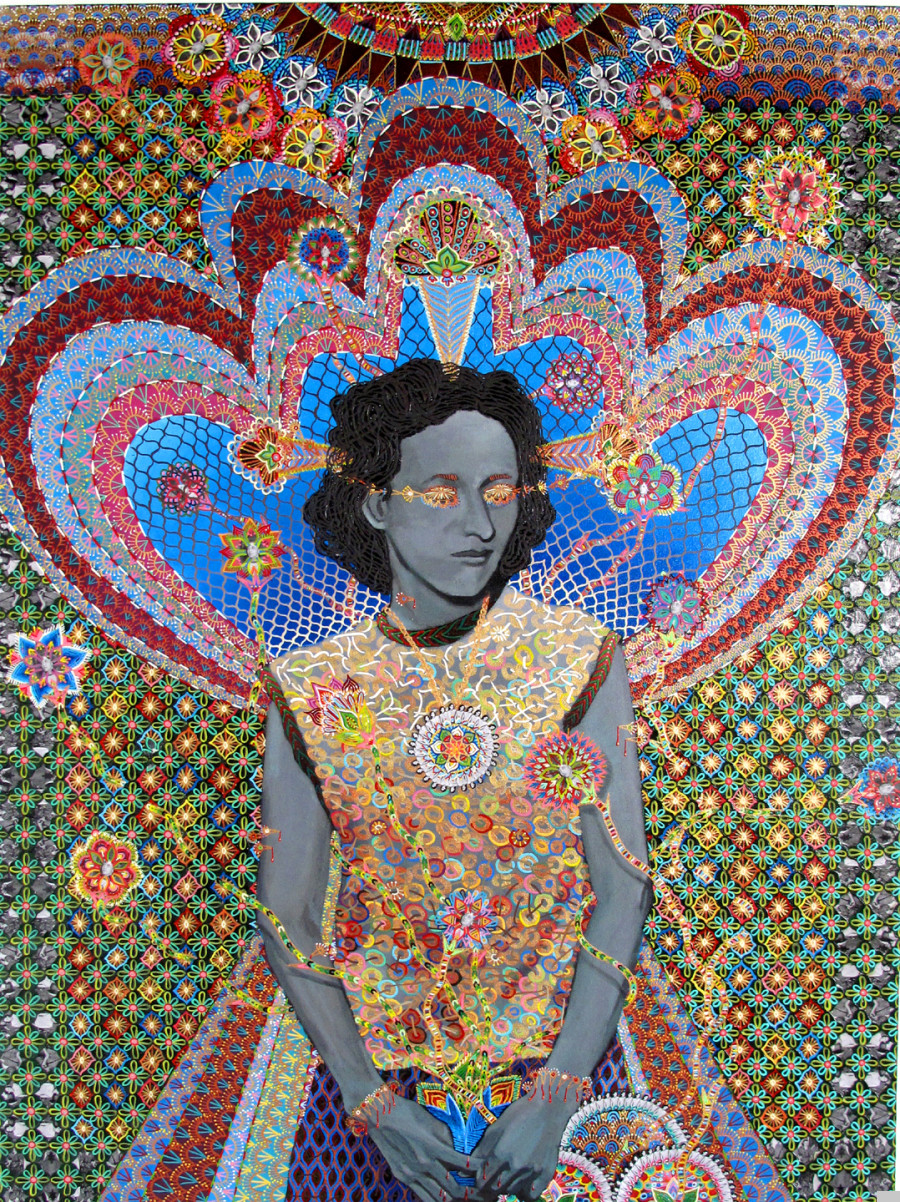 The faces of phantom women populate the frame, their faces and bodies obscured at times by neon adornments that creep around limbs and back into the canvases' backgrounds. You might not recognize the female visages, but the series, "Les Femmes D'Alger," centers on Algerian female combatants from the Algerian War of Independence. The blacked-out eyes and whimsically cloaked figures are meant to belong to women who took part in the guerrilla attacks that took place from 1954 to 1962 in French-occupied Algeria.
Faulwell was inspired by the controversial, Gillo Pontecorvo-directed film "The Battle of Algiers." In the 1966 movie, members of Algeria's National Liberation Front (FLN) recruit three women to enact a terrorist attack in the French quarter of Algiers. "They recruited women because they could pass through check points without detection and would not raise suspicion when planting bombs," Faulwell recalled to HuffPost.
Pontecorvo's characters are based on real women: Djamila Bouhired, Zohra Drif and Hassiba Ben Bouali, all three of whom participated in the Algerian nationalist movement in the 1950s. Bouhired is likely the most infamous of the trio, as she -- after being tried for her involvement in a cafe bombing that killed 11, sentenced to death and later released -- would go on to fight for women's representation in the new Algeria.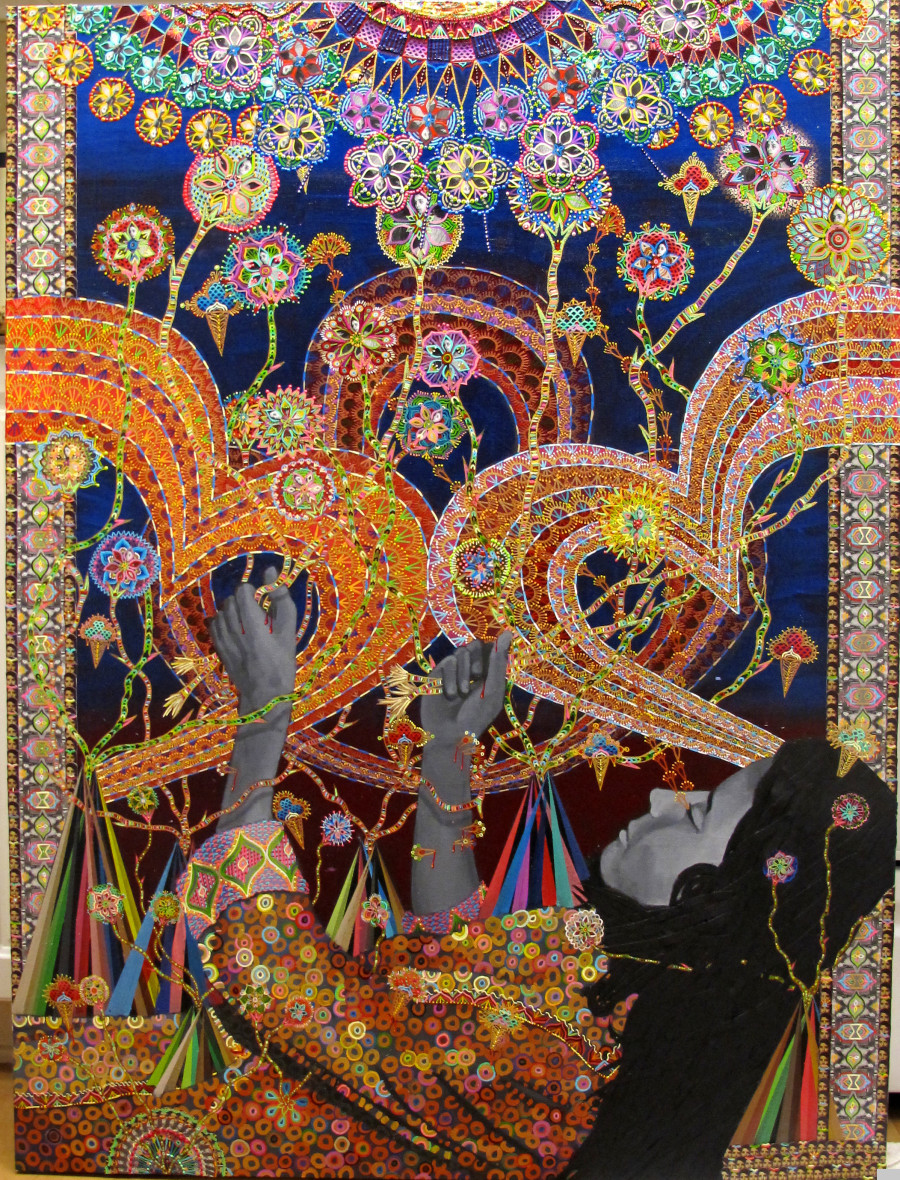 Bouhired is a contested icon. Her legacy in the Western world remains heavily intertwined with that of the lawyer that aided in her release, her eventual husband Jacques Verges. In his obituaries, he has been called a "defender of terrorists and war criminals" by The New York Times (he represented Slobodan Milosevic), and more mildly a "'Devil's advocate' for taking on controversial and high-profile cases" by the BBC. Yet she has maintained a reputation as a "freedom fighter" in much of the Middle East.
Faulwell's series seems to place the woman, and others like her, somewhere in the middle of the villain and heroine archetypes. The images themselves are based on real photographs of the combatants, captured before or during their trials in the French courts, "when they were young and innocent," as Lawrie Shabibi describes them.
"Many of these women carried out deadly attacks against the French," Faulwell admits. "Most of them were captured, tortured and put on trial, others were killed in battle. Those who were put on trial were sentenced to prison or death before being pardoned at the end of the war. Then they returned to Algeria to find that women had no place in the new independent Algerian government."
While a number of women, like Bouhired, continued to campaign for women's rights following independence, others fell back into obscurity after the war, Faulwell explained. "In many ways these women were both victims and aggressors. They had killed civilians indiscriminately but they had also themselves been used by their countrymen and brutally tortured by the French. They exist in a moral grey area."
The canvases of "Les Femmes D'Alger" combine the positive and negative images of these women that persist today, rendering their figures as both sinister and auspicious, shadowy yet vibrant. As the title notes, the works also channel the treatment of women by the old masters of art. Referencing pieces by both Eugene Delacroix and Pablo Picasso, Faulwell turns away from art history's tendency to eroticize the female body and instead depicts the women as warriors.
"I wanted to create a version of the 'Les Femmes D'Alger' series that was more applicable to modern society than the Orientalist works of the 19th and 20th century," he proclaimed.
Feast your eyes on Faulwell's works below and let us know your thoughts on the series in the comments.
REAL LIFE. REAL NEWS. REAL VOICES.
Help us tell more of the stories that matter from voices that too often remain unheard.