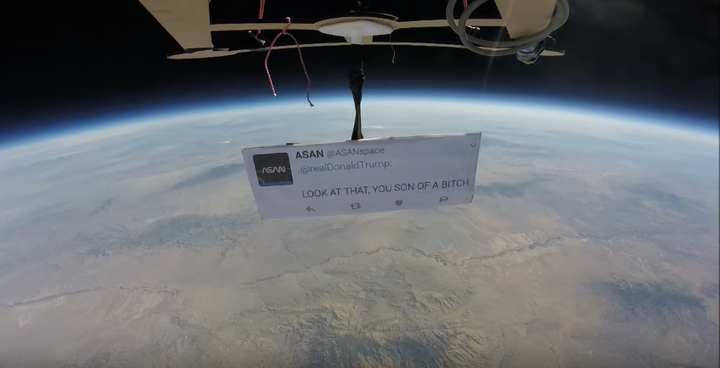 Edgar Mitchell, the late NASA astronaut who had walked on the moon, once said that when you see Earth from outer space, you develop a "global consciousness ... an intense dissatisfaction with the state of the world, and a compulsion to do something about it."
"From out there on the Moon, international politics look so petty," Mitchell continued. "You want to grab a politician by the scruff of the neck and drag him a quarter of a million miles out and say, 'Look at that, you son of a bitch.'"
The balloon floated 90,000 feet into the sky, toting a large printed tweet for Trump and a video camera. Although it didn't reach the layer of atmosphere that is technically considered outer space, the balloon did get high enough for the camera to record the tweet floating above the curvature of the planet.
Its message was exactly what Mitchell had suggested: "LOOK AT THAT, YOU SON OF A BITCH."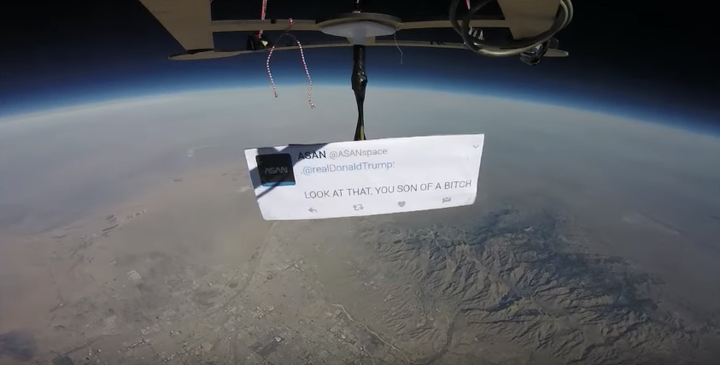 The network "is a decentralized and open group of like minded autonomous astronauts," said an ASAN spokesperson, who only identified themselves as "LV," in a message to The Huffington Post.
"Our purpose is to promote DIY space exploration using both art and science, free from the influence of military or corporate interests."
"In solidarity with the upcoming March for Science (4/22), the Autonomous Space Agency Network is proud to have executed the first protest in near space (~90,000 ft)," the group wrote on its YouTube channel.
Last month, Trump signed a bill into law that approved NASA's $19.5 billion budget and added the human exploration of Mars as an objective for the agency. But the president's administration also called on NASA to abandon its climate change research and focus largely on space missions instead.
Some people saw ASAN's sky-high tweet as an innovative jab at Trump's policies, while others were simply in awe of seeing a tweet above space.
Watch the tweet travel through the sky in ASAN's video below.
REAL LIFE. REAL NEWS. REAL VOICES.
Help us tell more of the stories that matter from voices that too often remain unheard.
BEFORE YOU GO
PHOTO GALLERY
Spacewalk Photos