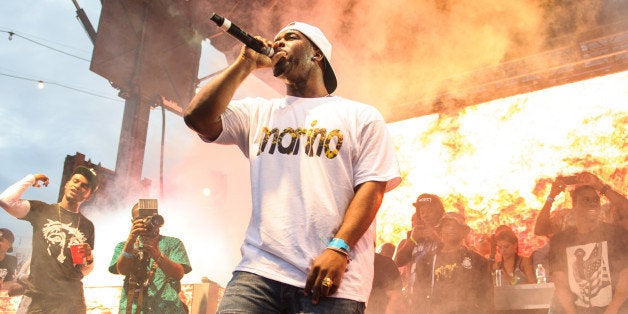 Harlem rapper A$AP Ferg releases his debut studio album "Trap Lord" on Tuesday, following A$AP Rocky to become the second A$AP Mob artist to drop a full-length. But when Ferg was 17 years old, he was busy doing other things, like going leather shopping and asking lots of questions.
"I met a guy in Global Leathers," Ferg, born Darold Ferguson Jr., said during a recent visit to The Huffington Post's New York headquarters. "I always ask people what they do, there were lots of students in there coming from FIT, lots of people who worked for other brands just picking up swatches. That's how I found this one guy -- he just gave me a belt connect that was just right down the block."
That hook up -- "two guys named Mike and Oosh" -- gave Ferg the break he had been looking for. The enterprising adolescent had decided to start making and selling designer belts, accessories he himself was fashioning. "The belts was just an idea for me because we were suffering -- it wasn't a great depression, but our country was losing at the time," he explained. "But people still wanted to have some fly stuff on, so I thought I'll just go into accessories."
It took two years of research and lots of searching, but eventually Ferg got it popping. "It's not like I bought belts and painted on them," he stressed. "I was making leather belts from scratch. It was a three-layer belt with a double stitch and it had a gold-plated buckle on it." Business took off soon after the two guys down the block from Manhattan's Global Leathers took the bait. "They've been in business for like 30 years," Ferg explained. "They make belts for everybody, like the whole industry. They were so used to making zillions of belts for people, and I was just this young kid with an idea. We started at six belts, and I told them, 'I promise you, I'll get more belts made.' Every time we came, we were increasing the order until we were doing 500 belts."
But selling boatloads of high-end belts wasn't enough for the young artist in training, and he wasn't interested in making mixtapes either. "Mixtapes are always small scale to me -- they never get taken seriously and they're always short-lived," he said. His intention, which is made clear on "Trap Lord," was to stay true to the style he calls "The Fergestein" -- syrupy, Southern-inflected beats and flows that fans of Rocky will find familiar, but punctuated with more clarity and bite. The A$AP Mob is essentially a crew, a sort of new wave Ruff Ryders with plenty of affiliates all following the lead of Rocky, the group's signature artist, and A$AP Yams, the ringleader.
Ahead, read a transcript of our wide-ranging discussion with Ferg, who speaks candidly about being an outcast ("people wanted to throw rocks at us"), being influenced by Kurt Cobain, BMX biking and, of course, all things "Trap Lord."
I'm curious how far in advance you A$AP guys planned the timing and progression of your debuts. I know Yams is highly involved in that, but how does that planning work?
I think Rocky has his own plan, and I have my own plan. But right now, we're basically freestyling because it's working. We're kind of going with the flow and we don't really have something set up, we're not following some pamphlet on how to become the best rapper alive or the best artist. We're feeling people out to see what they want at the particular time, because the time changes so much, especially with the internet now. You put one thing out and it's viral, and the world knows about it, so we just use that as a tool of forecasting what comes up next.
Is Yams really involved in your work as well?
He's really involved in everybody's stuff. I go to Yams for more his opinions and advice. It's not only Yams, I got Rocky, Chace [Johnson] (who is Rocky's manager), and Geno [Sims] (who manages me and Rocky). We got a whole team of people who put through their efforts.
When did you realize that you would put out your own full length album?
From the beginning. I never went into this with the idea of making a mixtape. Mixtapes are always small scale to me -- they never get taken seriously and they're always short-lived. Whenever somebody puts a mixtape out, people are like, "Alright, this is dope, now I can't wait for the album." Except for back in the day when people were really loving mixtapes. Music is really short-lived now. People are starting to hear with their eyes, they want to see the visuals. Before, you would listen more, but now people want to see what the artist look like, etc.
But you're into the idea of an album as a full concept--
Definitely.
Were there songs that you cut because they didn't work with the album?
Definitely, there are some songs that I did with the Mob because they're just going to go on the Mob album. With this album, I was just trying to sonically create a vibe that was cohesive from beginning to end. Certain songs didn't make it because I couldn't get the clearances on them. I did a crazy song called "Uncle" with Clams Casino, but it didn't go on the album.
Will that go on the Mob album?
I'm not sure. If it feels right. But I'm also not into doing the single thing because you have artists that will just put out a bunch of singles, and when you listen to their album, it's just a bunch of singles, and that sounds like a mixtape. It just sounds sporadic.
It's always fun to see a newer artist get good performances out of legends. I love the Bone Thugs feature here -- were you in the studio together or was this done remotely?
It was important that I met them and I worked with them. For the first couple of hours, we just vibed. Well, me and Flesh-n-Bone vibed, but Bizzy was just studying his raps. He felt like he had something to prove -- he was like, "Nah, I'm doing this over." I was like, "It sounds good the way it is!" He's a perfectionist -- he'll say it a million times until it floats off of the rhythm.
Where did you do the song?
We met in L.A. It was there that I found out that they were big fans of A$AP. They were asking me about Rocky and the other members. It's funny because then I met up with Onyx and did that track, and it was like I was in a time warp.
How did you pick both Bone Thugs and Onyx, as features for the album?
I was inspired by them, and when I heard those beats, it just seemed right. When I heard what Crystal Caines did with the "Lord" beat, I wanted that to be some monumental, grand song. I just felt like the Bone Thugs would take it there, with the prayer at the end with Bizzy Bone… It was crazy.
It's dope that you're already putting people on, I saw that Crystal did an interview with Complex. Is that fun?
It's OD fun! That, right there? I might be more satisfied seeing my friends really come up than myself. I'm really happy for my success, but I can't really see it, because I'm myself working. You can see it, everyone around me can see it. But when Rocky was blowing up? Well, I always knew he was, but it was great.
I read somewhere that you guys always thought Rocky was going to blow up.
I didn't think, I knew. There are just certain people that are destined to make it. I'm an artist, so I probably have a weird sixth sense about that. I have a real meticulous feel for things, because I can really feel when there's a new wave or trend about to start. That's why when I was younger -- and all of A$AP can relate to this -- we were kind of ahead of other people. And people would always look down on us because they didn't understand the movement or the clothes.
Can you give me an example of a particular style that this theory applies to?
Slim jeans with rips in them, Jeremy Scott sneakers with wings and tails on them, Rick Owens. Just the name brands -- it was real European, and they're used to that cut out there, but in New York, it was real different. Anything different is just … you just feel like an outcast in your community. [Pauses] Sort of like how Jesus was called the witch, and people wouldn't mess with him. We were just young lords, and people wanted to throw rocks at us.
Is there, in your estimation, an "A$AP sound" that permeates throughout all of your vibes?
I think the A$AP sound is just us being us and doing what we want to do. That's the whole sound -- not trying to be trendy, but innovative.
What do you think of the criticism that you and the mob rap more like Southern rappers and don't have a true New York sound? Do you feel any pressure?
I never feel any pressure. I just feel like people are stuck in their old ways. They're kind of stagnant and they can't get out of the box, so they crucify others that are crawling out of it. I get it. First of all, imagine you see a dude come up out of Harlem with French braids, gold teeth, looking like Snoop Dogg, rapping like Bone Thugs with a Southern swag… This is what we were inspired by. We were inspired by Kurt Cobain, ripped jeans, baggy sweaters with holes in them. If people can't understand that, it's because either they're not using the internet, or they're just in bliss.
What's your favorite track on the record?
"Cocaine Castles."
What inspired it?
It was inspired by "Jungle Fever," the scene in which Samuel L. Jackson is sitting with Halle Berry smoking crack in a cocaine castle, which they call Taj Mahal. This place is sort of like a big crackhouse, like a mansion full of crackheads, babies crying, running around with Pampers, mothers, you see lawyers, doctors in there with prostitutes. That's the picture I wanted to paint.
At what point in the making of the record did that come in?
That was actually the last song I did before "Murder Something" with Waka Flocka. I thought it was going to be the same song, but when I went to Miami, me and Waka just cooked that up.
What's something that you've learned about the industry in the past year or so that's been pretty disappointing?
There are some things that since I'm a workaholic and very meticulous, I'll pick out and complain about, but overall, my team has been doing an incredible job. And I want to commend them for that.
Has anything been surprisingly easy?
I knew that it would be easy because I'm not a fan of just working with people who I don't know. I could have probably gotten some big artist to do some stuff, like my cover art, but that's not what it was about. If I don't know anything about their art or it doesn't evoke anything in me, then it's nothing for me. With Jay West [who designed the "Trap Lord" cover art], I grew up with him in Harlem, all the things we experienced together -- he represents coming up out of the trap and being a lord.
You could ask this next question from most rappers and many musicians, but is there every anything uncomfortable about putting these experiences or stories that may or may not be specific to your upbringing on a record that will be listened to by people of all types and eventually yelled aloud by white finance dudes at clubs? I thought about this after I was in a club when "New Slaves" came on.
I don't have a problem with how people receive the music. I feel like it's for everybody. Just like how you said, there are probably middle class or rich white people bumping "New Slaves," he was talking about consumers in that song. In a way, he's a consumer too -- he's rich too! That doesn't mean anything, he's just bringing up a point, and he's entitled to his opinion. It's for everybody.
I heard that you're really into bikes.
Yeah, we used to have these small groups and crews, like branched off of Ruff Ryders. Everyone else used to do dirt bikes, but we would just do BMX, and we'd ride around like a big parade in Harlem. I used to do the dirt jumps and all that. Nigel Sylvester just built me a bike.
Do you still have time for that?
We actually have the bikes on tour, we'd keep them in the bottom of the bus. We'd just be riding around the venues mostly.
Do you think about branding, or are all these different interests just different parts of who you are?
It's definitely who I am, because of the way I work, I need to be doing seven things at the same time. Because each project inspires the next project. I'll take ideas off of this and branch it off to that. And I just get bored easy. I get bored real quick.
What's next?
[Pauses] I got one hand on the world, and I'm just going to put my other hand on it. And just own it.
Before You Go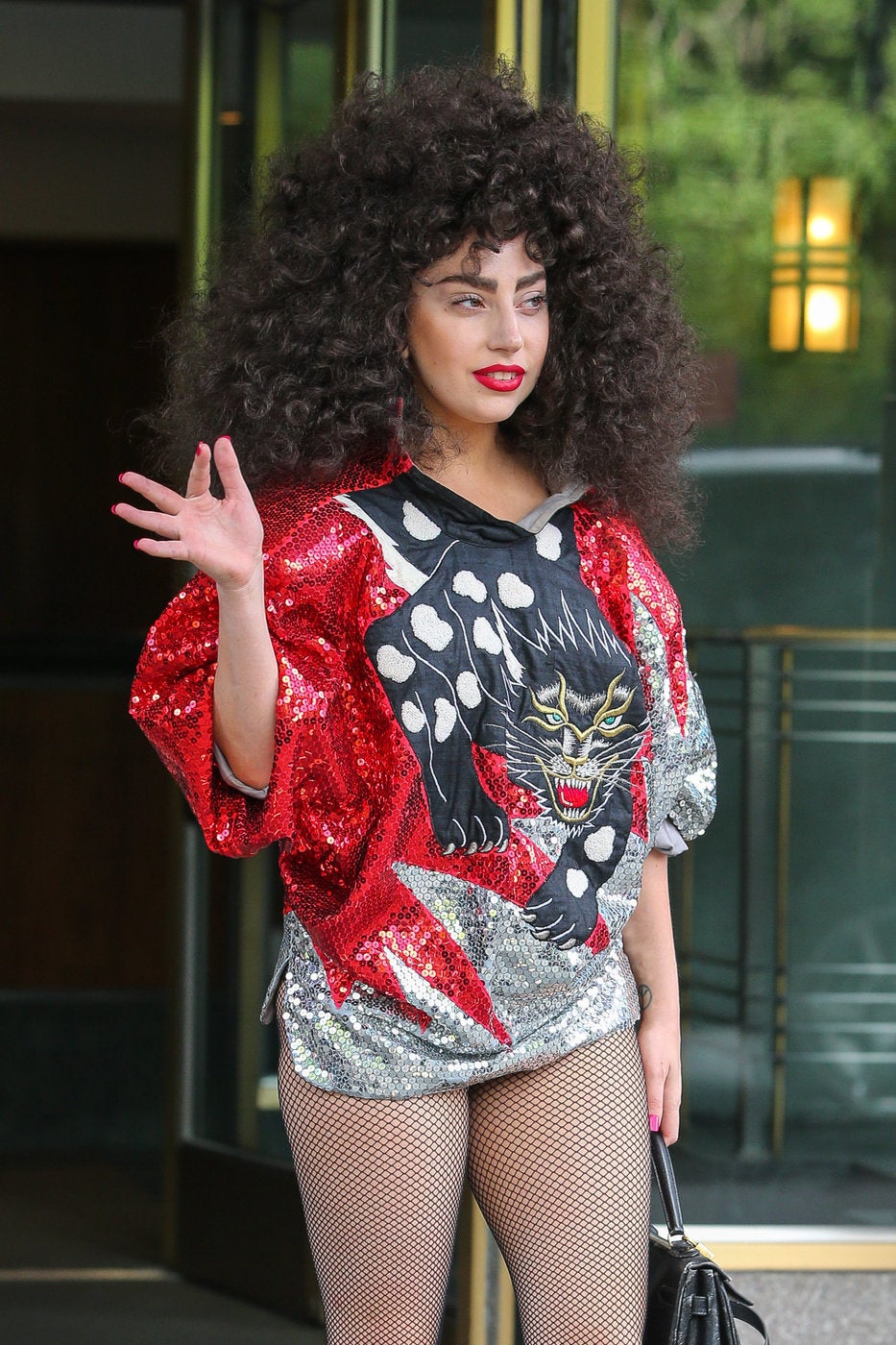 Celebrity News & Photos
Popular in the Community