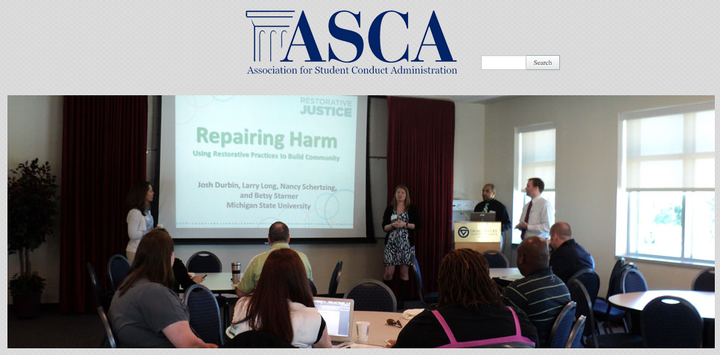 A top official in a higher education group representing administrators who handle student misconduct cases resigned after a fellow board member accused him of sexual assault.
Jill Creighton accused Jason Casares of sexual assault during a fraternity advisers conference in December. Both of them were board members of the Association for Student Conduct Administration, a group that trains and provides guidance for college officials dealing with student misconduct, including sexual assault.
Creighton released a letter dated Feb. 3 that is being circulated widely among college administrators just as an annual ASCA conference began in Florida on Thursday. In the letter, Creighton said Casares "took advantage" of her and is under investigation for a "sex offense," and said she's taking a leave of absence from the organization.
Casares denies the charges, but resigned his position following an investigation by an outside law firm hired by the ASCA board.
Police in Fort Worth, Texas -- where the conference and alleged assault took place -- confirmed to The Huffington Post on Thursday that they received a sexual assault report against Casares just after 9:30 p.m. on Dec. 9. Since there is an open investigation in connection with the report, Fort Worth police said they could not release further details.
On Thursday morning, ASCA's Board of Directors released a statement to its members saying that Casares resigned his position on Jan. 29, but that came after an investigation that cleared him of the accusations. Each year, the ASCA board rotates the members elected to the positions of president-elect, president and past president. Casares had been the current president-elect, and Creighton had been elected president-elect for the 2016-17 term.
Creighton said she is protesting against ASCA for not canceling Casares' presentations on campus sexual assault investigations at the group's annual conference this week, and for not living up to the group's own ideals. Her letter said she still plans to attend the conference.
"If you see me during the conference, don't avoid me," she wrote in her letter to colleagues. "I may be upset, I may look defeated, I may even be crying, but I need your strength and support. I am here. I am not leaving. I can be both a survivor and your President-Elect. I declined to take on the role of president right away, though the bylaws permitted it, as I still need time to heal, and to become more seasoned as a leader."
Creighton declined to be interviewed for this story, but said briefly that her reason for going public was to help the organization improve its handling of such matters and to help the organization's practices reflect the care and concern she and her colleagues apply to their students. She also noted that going public was a risk to her professional life: "I have everything to lose and nothing to gain."
Casares declined to comment directly, but attorney F. Anthony Paganelli said on his behalf that Casares completely denies the sexual assault accusation. The whole process of the ASCA adjudication was supposed to be kept confidential, Paganelli said, adding, "We are very disappointed that she made any statements at all."
The ASCA board declined to provide further comment.
During an interview with HuffPost in October, Casares mentioned that American culture overall needed to change to address sexual violence.
"We can't even sell hamburgers without a half-naked female eating a burger, and that's problematic," Casares told HuffPost, in reference to Hardee's commercials. He said too many students arrive on campus believing a woman must be drunk in order to have sex.
Creighton said in her letter that the incident between her and Casares happened after drinks.
"I made the mistake of letting my guard down while socializing with Jason about Association business," Creighton said in her letter. "Jason took advantage of me after I had had too much to drink. I filed a criminal complaint with the police in Texas, and then decided that I felt unsafe in ASCA. I also could not stand the hypocrisy of Jason parading his expertise on Title IX, knowing how he had behaved with me. While I knew it could blow up in my face, and that I had nothing to gain but my own sense of safety, I asked ASCA to impeach Jason."
ASCA hired an independent investigator from the law firm of Hutcheson Bowers LLP to conduct an investigation and present findings to the board. Creighton's claims could not be substantiated, the law firm concluded, and so the complaint was resolved in Executive Session.
"The complaint resolution process has come to a close for the Association and we are focused on the future and moving forward," ASCA's board said to members on Thursday. "We hope that all of our 1,025 conference attendees have a fulfilling conference experience and we look forward to providing an update to all of our members regarding the accomplishments from the past year and the priorities for the upcoming year."
Creighton said she was not informed of the details of the internal sanctioning. Paganelli, the lawyer representing Casares, said his client only resigned after the investigation concluded and after he was "exonerated" against the charges.
"It's not a deal that the board would say nothing if he resigned," Paganelli said. He added that he and his client are "investigating the possibility" of further action against Creighton.
Popular in the Community