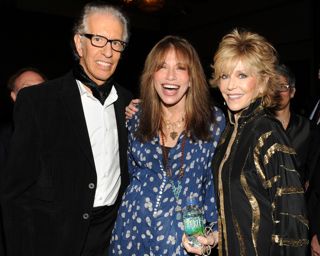 Producer Richard Perry, Carly Simon and Jane Fonda.
Photo credit: PictureGroup
When the invitation arrived to attend the 29th Annual ASCAP Pop Music Awards with a dress code listed as "Creative Black Tie," I quickly sent a tweet to find out what others thought the correct attire would be. After all, it's the music industry, so there really are no fashion rules.
It was a day of mixed emotions for many as it was held on April 18, 2012, the same day we learned that Dick Clark had passed away. Dick Clark was an important part of my life growing up and for many whose musical careers were touched by his brilliance. ASCAP president and chairman of the board Paul Williams reflected on watching both Don Cornelius on Soul Train and Dick Clark on American Bandstand, who both had a profound impact on his life growing up.
For the writers being honored at the Awards ceremony, it was night of joy and excitement at the Renaissance Hotel in Hollywood.
Singer-songwriter Bill Withers introduced Simon by telling the crowd that her lyrics could be compared to entrusting a rare and invaluable painting on a wall. He added, "She tells it like it is, especially in matters of the heart."
Carly Simon, whose 40-year career was highlighted in a video tribute accepted the ASCAP Founders Award and performed two of her songs, "Anticipation" and "You're So Vain." Peter Frampton was the recipient of the Global Impact Award. Trent Reznor, best known for his work with Nine Inch Nails, received the Golden Note Award.
So how did people dress for the "Creative Black Tie" affair? Katy Perry was dressed in a stunning Tempereley London white beaded full-length dress fit for a bride. Perry's voice coach, Eric Vetro dressed dashing for the occasion. Both received a "thumbs up" for best dressed in my opinion.
For more videos, visit ASCAP